The NAMM Foundation hosted Recreation Music Making (RMM) programming in the Member Center at The 2016 NAMM Show.
The RMM Forum, hosted by Executive Director Mary Luehrsen on Sunday, January 24, focused on music making and community outreach activities. Panelists included Gay Hannah, Executive Director, Center for Creative Aging, and Rick Mowatt, CLC Coordinator and D.C. Veterans Affairs Medical Center Speaker.
"You're in the healing business," Mowatt said to NAMM Members in the audience, "There's a reason why someone goes to a concert on a Saturday night."
NAMM Members also had the opportunity to hear from Aaron Friedman, Executive Director of Make Music Alliance. He answered questions about Make Music Day 2016, and presented ideas for participating in the global day of making music.
"Anyone with a song in their heart can have their own stage," said Friedman.
RMM Programming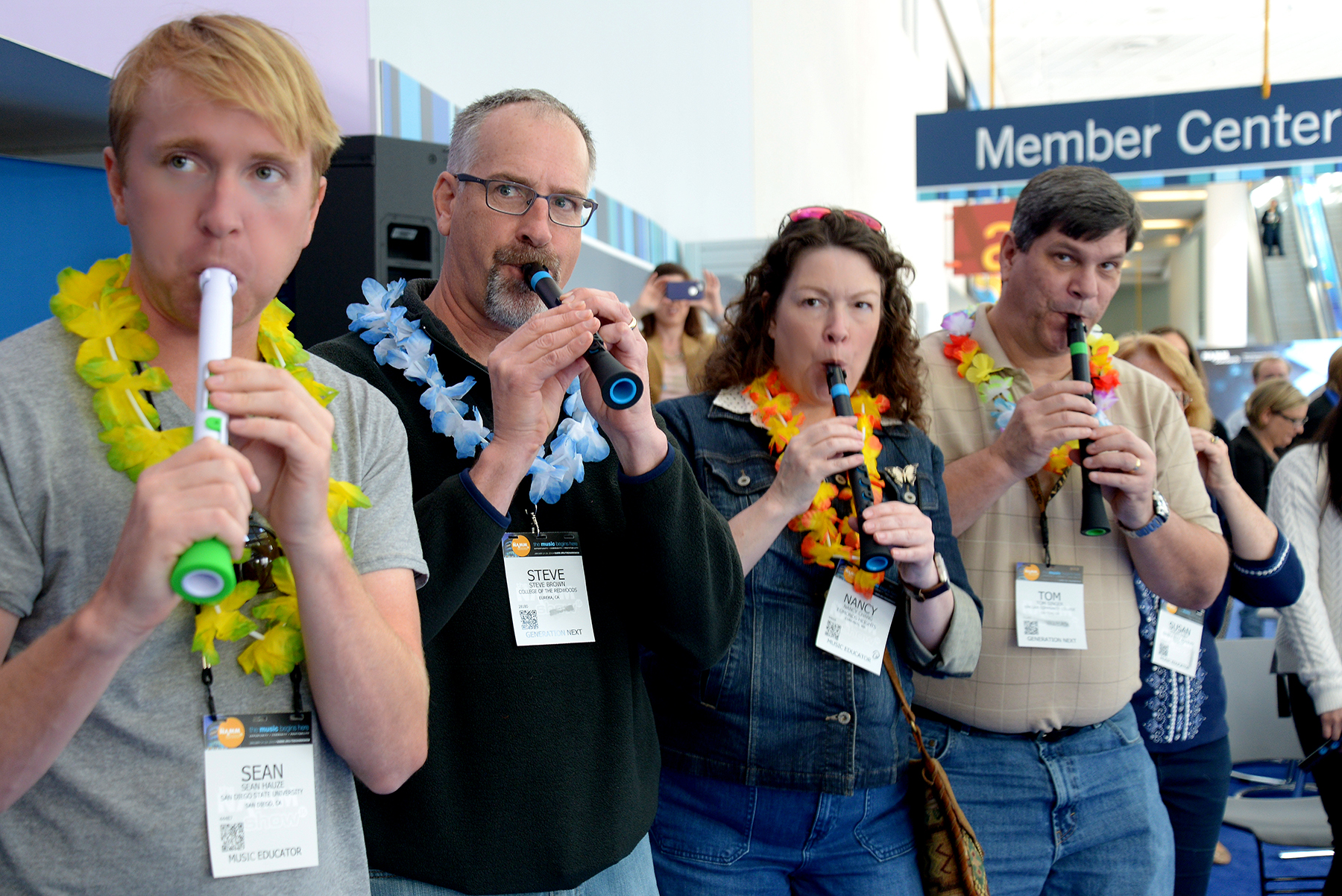 NAMM Members and the local community drummed up enthusiasm for the music industry at the all-industry Drum Circle on Friday, January 22. In collaboration with Remo, Inc., this quintessential NAMM Show experience brought hundreds of participants to the circle. Attendees played drums, tambourines, and shakers and were given sound shapes to keep.
To close out the show, a series of music-making circles took place in the Member Center. NAMM Members were given the opportunity to play Doods and Toots (Nuvo), harmonicas (Hohner), ukuleles (Kala), as well as trumpets and trombones (Conn-Selmer). Beginners learned the basics and expanded their musical experiences.
Make Music Day is a "movement" open to all NAMM Members. is a free celebration of music around the world on June 21st, and open to all NAMM Members. Launched in 1982 in France as the Fête de la Musique, it is now held on the same day in more than 700 cities in 120 countries.