New York Times columnist, David Brooks; President of Americans for the Arts, Bob Lynch; and President and CEO of NAMM, Joe Lamond, join host Mary Luehrsen for this special 2016 Presidential Election episode recorded LIVE from the Republican National Convention in Cleveland, OH.
"The number-one challenge facing [this] generation is social isolation," said Brooks. "Music [and] the arts create community, and they can end social isolation, they can create connection."
The episode was recorded in conjunction with ARTSSpeak; a national nonpartisan policy forum held at both conventions to discuss the transformative power of the arts to impact 21st century learning.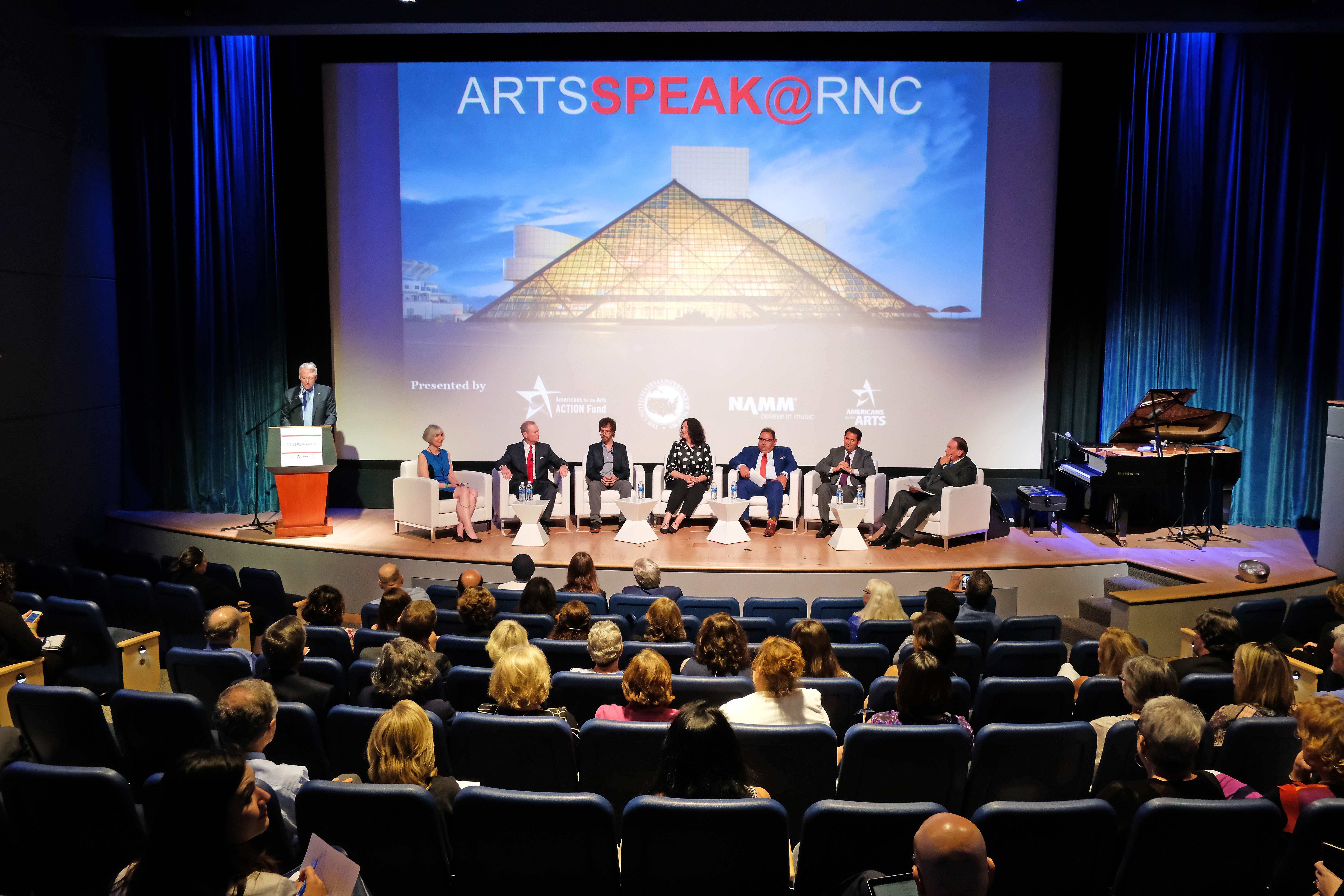 Sound bites from the podcast:
"There's nothing better, to me, than music to link culture and to break down barriers." – Joe Lamond
"A school superintendent in California said, 'You know what keeps kids in school? It's the ABCs: athletics, band, and cheerleading.' And there are a lot of kids who are just not academic… and if they can be inspired by an artist coming to their school and changing their life or providing a model, that's a life-altering thing." – David Brooks
"A music teacher in a school, one at a time, [can help] help plant a seed for someone that may grow up someday to be a great contributor to society, maybe in a policy way, maybe President of the United States." – Joe Lamond
"The human side of the arts was a motivator for me, but in that pathway it ended up also being a career; and in the career, I had all of the same kinds of experiences that David [Brooks] described about artists and individuals from the community coming together and being better off—being happier, being healed in some cases, being motivated—because the arts were in their lives." - Bob Lynch
"Music gave me good direction. A language and a way to act and to belong in a way that was very, very meaningful to me. Getting a first drum set when I was about ten years old changed everything. – Joe Lamond
Talking Up Music Education is a podcast produced by The NAMM Foundation about music education. Host Mary Luehrsen chats with teachers, parents, students and community leaders who share stories about what they are doing to create music learning opportunities. Please download, share and subscribe to keep up with the stories that make a difference in music education advocacy.