At The Midwest Clinic International Band, Orchestra and Music Conference, Dec. 20-22, in Chicago, Illinois, The NAMM Foundation sponsored several music-education related events including The SupportMusic Coalition on Coalitions Advocacy Roundtable and the "Celebrating Musical Excellence Through Diversity" Reception. In addition, staff from The NAMM Foundation visited Meadowview School on Thursday morning, for a student "Drum Line" performance.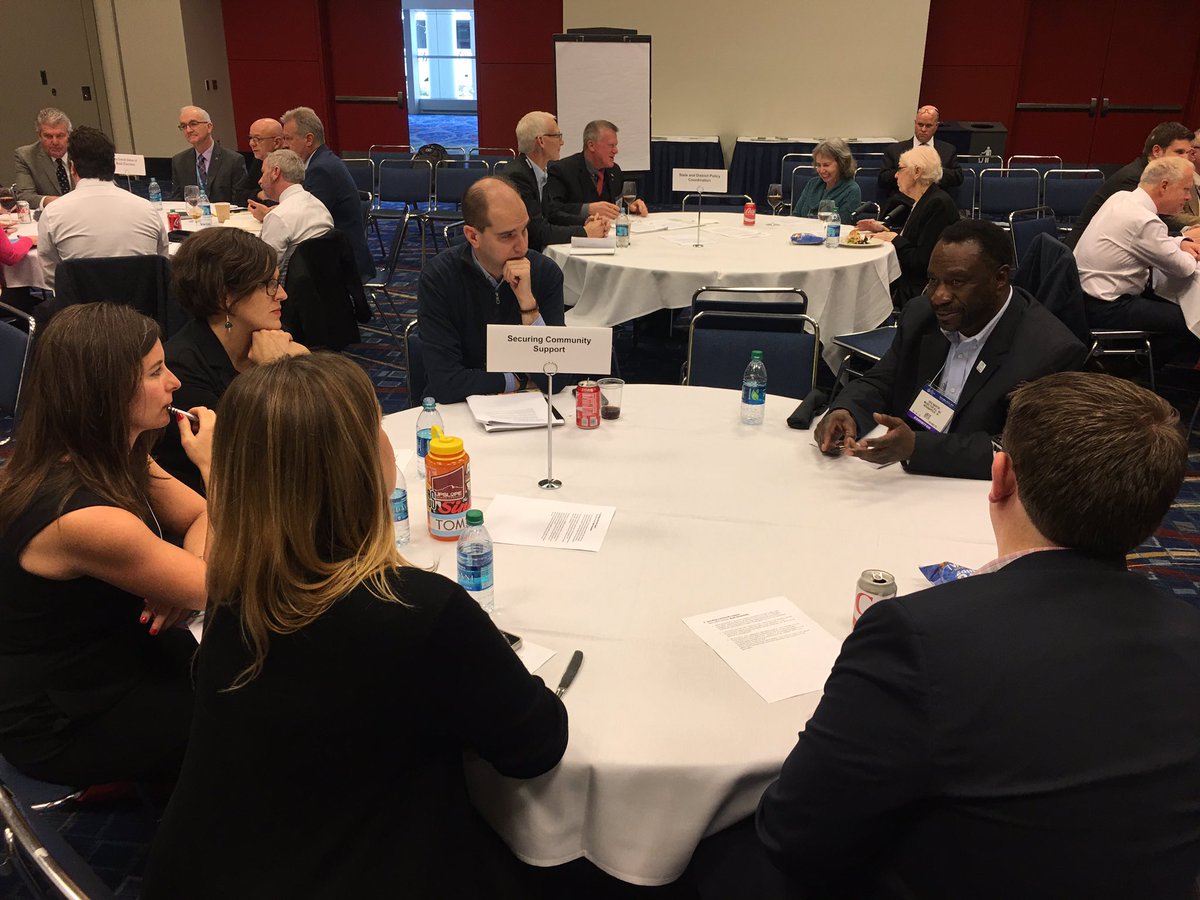 Wednesday morning began with The SupportMusic Coalition on Coalitions Advocacy Roundtable event, which offered a lively debate on topics that advance and support music education. The event was hosted by Mary Luehrsen, executive director of The NAMM Foundation, and featured special guest, Myran Parker-Brass, executive director for the Arts of Instructional Research and Development at Boston Public Schools.
"Schools are really understanding the space and impact for arts education on student success," said Parker-Brass. "Principals are really owning why they need the arts in their building."
NAMM members and Midwest Band Clinic attendees conversed on topics including: state and district policy coordination; securing administration support; the role of fundraising; public and private partnerships; securing community support and the overall status of music education.
Speaking on securing community support for music education programs, Eric Martin, president and CEO of Music For All, relayed good advice: "Be proactively active and actively aware."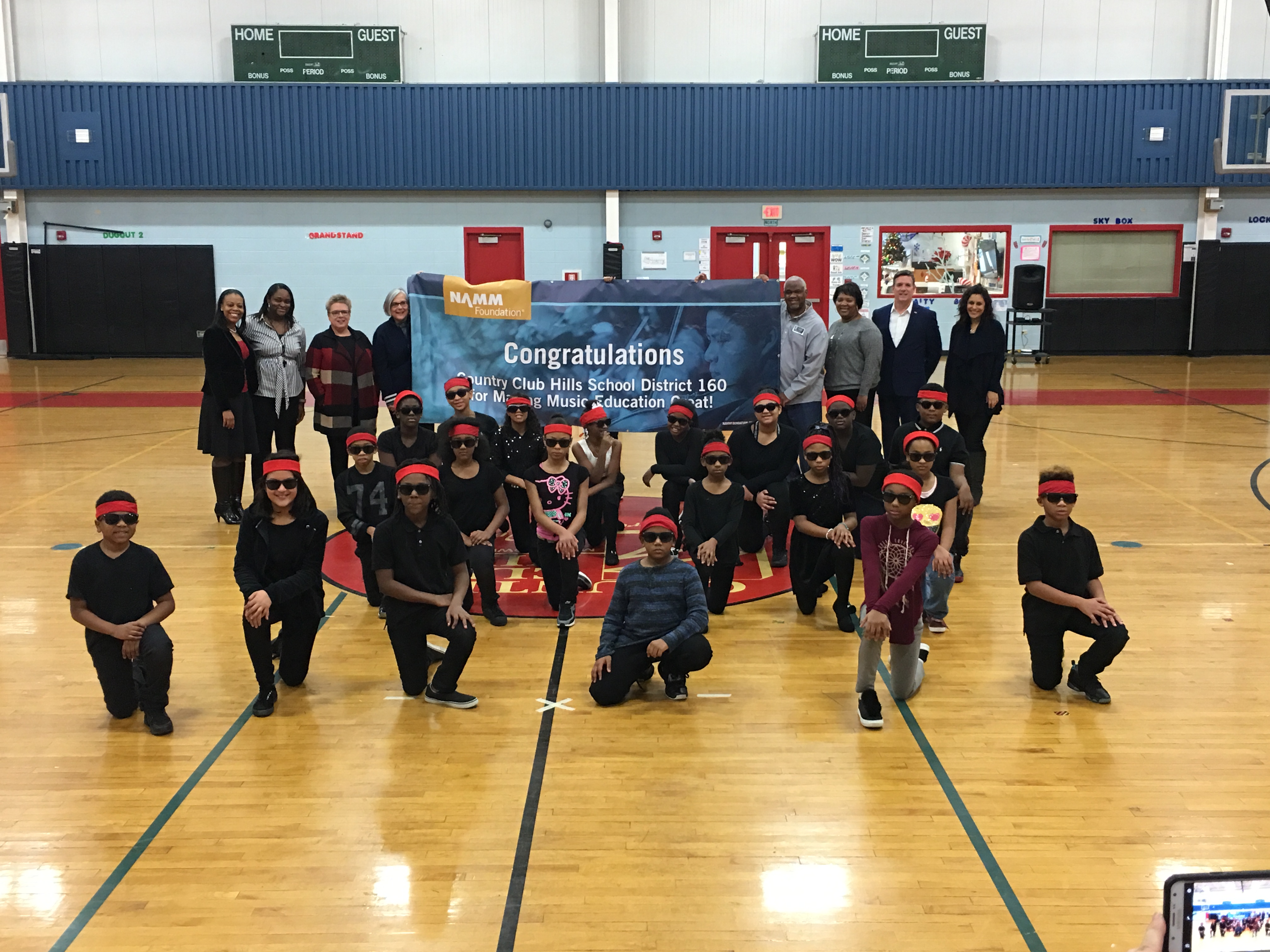 On Thursday, Dec. 21, Robin Walenta, in her new role of NAMM Chair, and NAMM staff, traveled to Meadowview Intermediate School, a part of Country Club Hills School District 160. They spent the morning with 4th & 5th grade students who thanked The NAMM Foundation for contributing instruments to their Drum Line, and then gave an unforgettable performance in their gymnasium.
"We are family," exclaimed one of the students while there.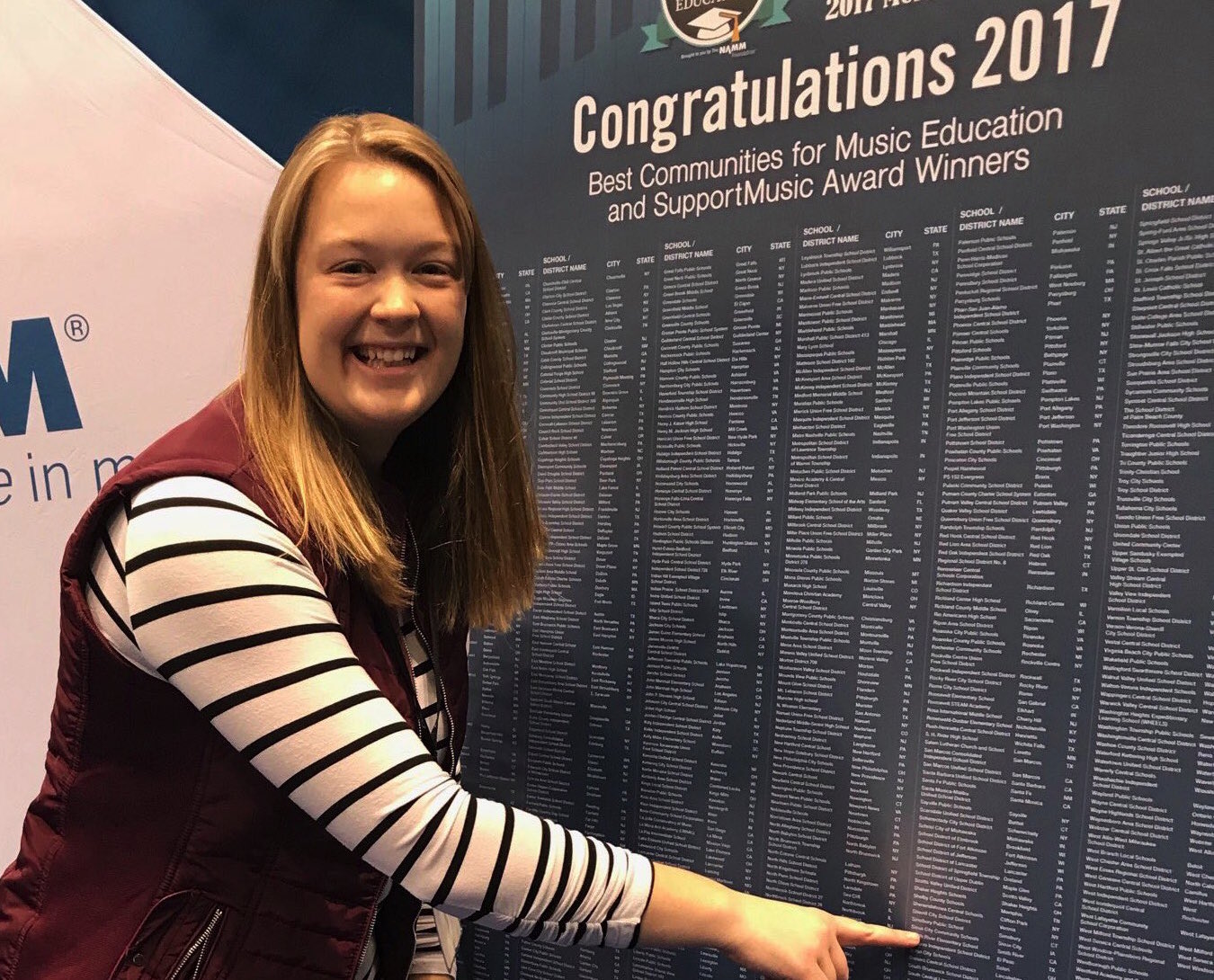 During exhibit hours on Wednesday through Friday, attendees stopped by The NAMM Foundation booth to learn about signature programs such as The SupportMusic Coalition and Best Communities for Music Education (BCME). Visitors happily pointed out their school or school district's name on the 2017 BCME "winners" list.
The SupportMusic Coalition is a program of The NAMM Foundation which unites nonprofit organizations, schools, and businesses working to assure that music education is supported in communities everywhere, and that all children have the opportunity to learn and grow with music.
For over 70 years, musicians, educators and people passionate about music education of all skill levels have gathered in Chicago for the largest music conference of its kind, the Midwest Band Clinic. The conference offers guests interested in music education an array of clinics and exhibits, as well as access to music and teaching icons. The conference will also focus on industry trends and future topics in business and music education. With more than 17,000 attendees from all 50 states and more than 30 countries, The Midwest Clinic offers music educators and musicians alike an unmatched networking opportunity.