Talking Up Music Education is a podcast from The NAMM Foundation that shares news and stories about music education. Episode 49 includes an interview with NAfME's executive director Mike Blakeslee and president Denese Odegaard. The podcast was one of many recorded and broadcast live from The 2018 NAMM Show; other interviews include Hunter Hayes, OK Go, Vanessa Carlton and more.
"When the kids engage through music education, they get better self-efficacy, they learn how to work with others," said Blakeslee.
In this episode, Blakeslee and Odegaard discuss the current landscape of music education—and how to effectively prepare music teachers to ask for support from their administration. Download and listen here.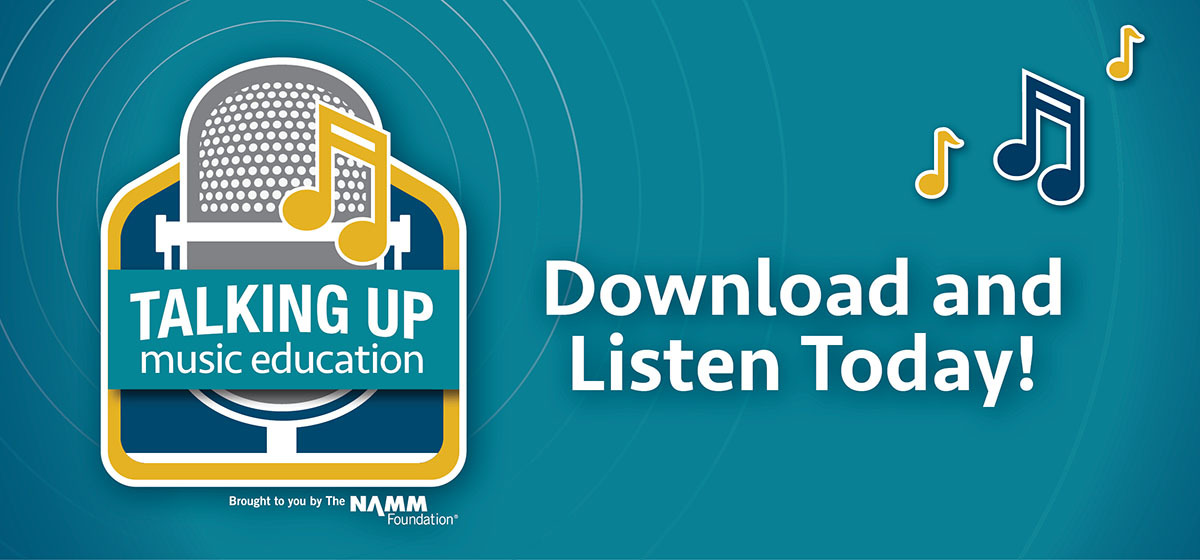 Listen to the Podcast
Sound Bites From the Podcast:
"It's coalitions and working together…[those are] so important because the challenges we face and the good we can do for the world is so significant that we need all hands on deck." - Mike Blakeslee
"[When mentoring] new teachers…we go in and have a meeting with the principals. It's called the triad meeting, where we come to some agreement about who can talk to whom about what. We always talk about what the school goals, and how we accomplish that in music. Tying what music education is into what the school goals is really important to making that class relevant." - Denese Odegaard
"We have districts in the nation that are exemplary in giving the right amount of time, the right amount of support for music, for the teachers, and of course for the kids. However, there are districts where things are very, very weak, and that's what we have to work at because music education is something that is so important for kids. It becomes an equity issue when any child in this nation, in our wealthy nation, doesn't have the wherewithal given to them to have a music education that's so important for their future development. That's a real rights issue." - Mike Blakeslee
Want to learn about music and arts education advocacy? Listen to the following podcasts:
A Conversation with Director of the Arts Education Partnership (AEP) Dr. Jane Best and Executive Director of the National Association for Elementary School Principals:
New York Times columnist, David Brooks, and Kathy Fletcher, Director, Turnaround Arts Initiative discuss the important work that Turnaround Arts does through the strategic use of the arts:
Building a Resounding YES for Music Education. A podcast with Linda Wagner:
Talking Up Music Education is a podcast produced by The NAMM Foundation about music education. Host Mary Luehrsen chats with teachers, parents, students and community leaders who share stories about what they are doing to create music learning opportunities. Please download, share and subscribe to keep up with the stories that make a difference in music education advocacy.
Subscribe to Talking Up Music Education
Where to subscribe: iTunes | Google Play | Stitcher