The Grand Rally for Music Education on Saturday, January 26, at The 2019 NAMM Show had a standing-room only crowd that was treated to an immersive choral experience conducted by Grammy-winning Composer and Conductor Eric Whitacre, with a pre-show performance by trumpet Soloist Jonathan Dely and special guest musician Bernie Williams.
The NAMM Foundation's annual salute to music education welcomed NAMM members, music educators, college music students and faculty gathered to celebrate the benefits of music education by singing along to Whitacre's, "Virtual Choir 4: Fly to Paradise," followed the creation of a LIVE epic choral storm called, "Cloudburst," complete with a finger-snapping rain storm.
Those who signed up to sing in the weeks leading up to the LIVE event were provided with online scoring courtesy of Noteflight, a Hal Leonard Company so they could practice in advance. Audience members were provided with custom song books provided by Hal Leonard and GIA so that everyone could sing along based on their vocal range.
"Having the opportunity to sing with and listen to @EricWhitacre speak…moved me in ways that a tweet can't suffice," said Nadia Al-Said, a GenNext Student, on Twitter.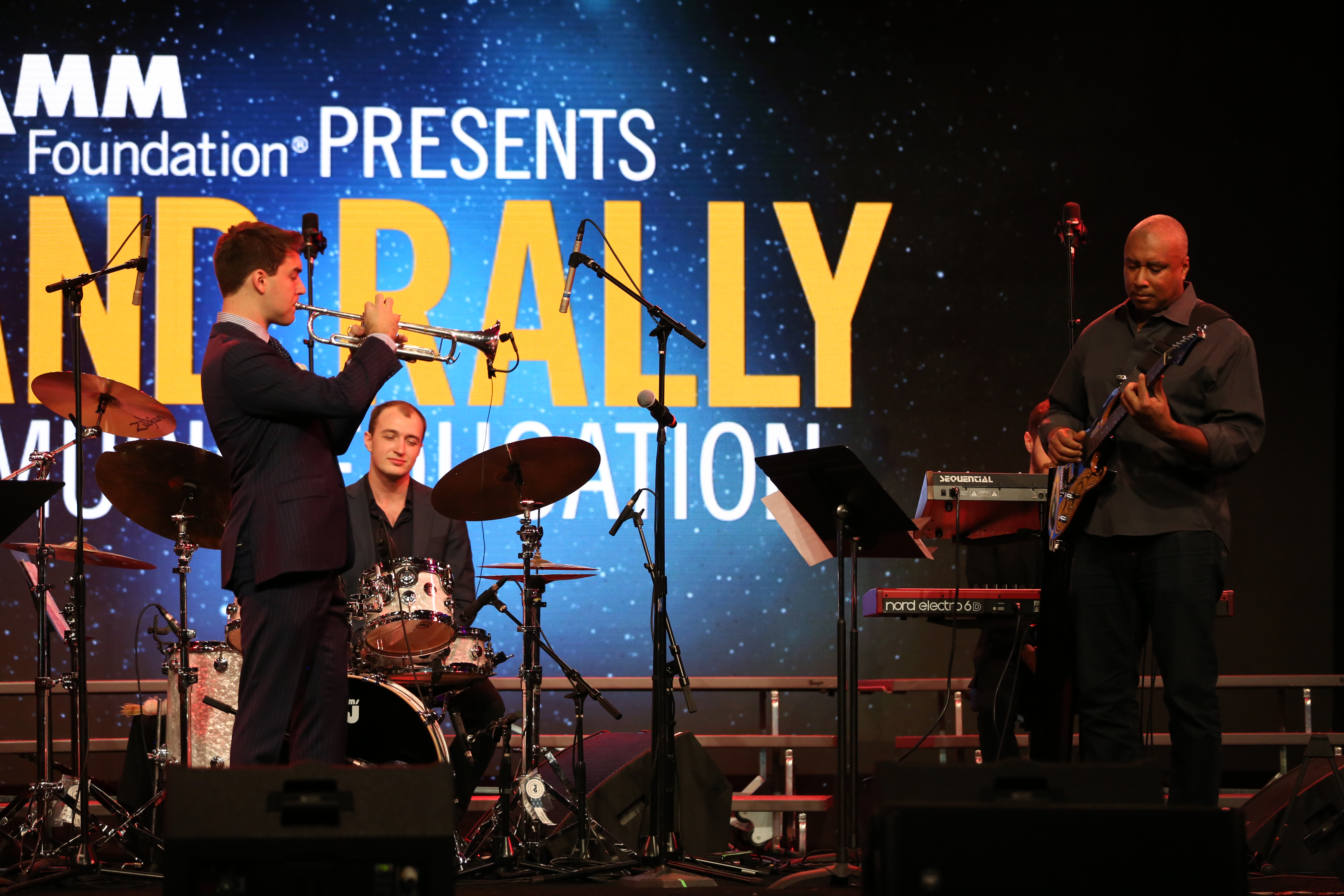 Even the pre-show was packed, with more than 600 attendees filling the room for performances by Dely and Williams.
"[Jonathan Dely gave an] absolutely phenomenal performance," said John Hughes, on Instagram. Another Instagram user shared that Dely made her NAMM Show more enjoyable.
The Grand Rally continued with an interview with Grammy-winning Composer and Conductor, Eric Whitacre.
"Looking back…the experience of hearing Mozart, it was clear that music was a part of me," said Whitacre. "Music was in me, and I left that room absolutely transformed, determined to make music my vocation."
Whitacre was also honored with a SupportMusic Champion award for his ongoing efforts to keep music education strong. The event ended with a special encore viewing of "Deep Field," a new film by Mr. Whitacre inspired by the iconic Hubble Telescope Deep Field images, along with a Q&A with the composer.
The Grand Rally for Music Education was hosted by the Executive Director of The NAMM Foundation, Mary Luehrsen.
Photography by Jon Upson.