Music Making Resources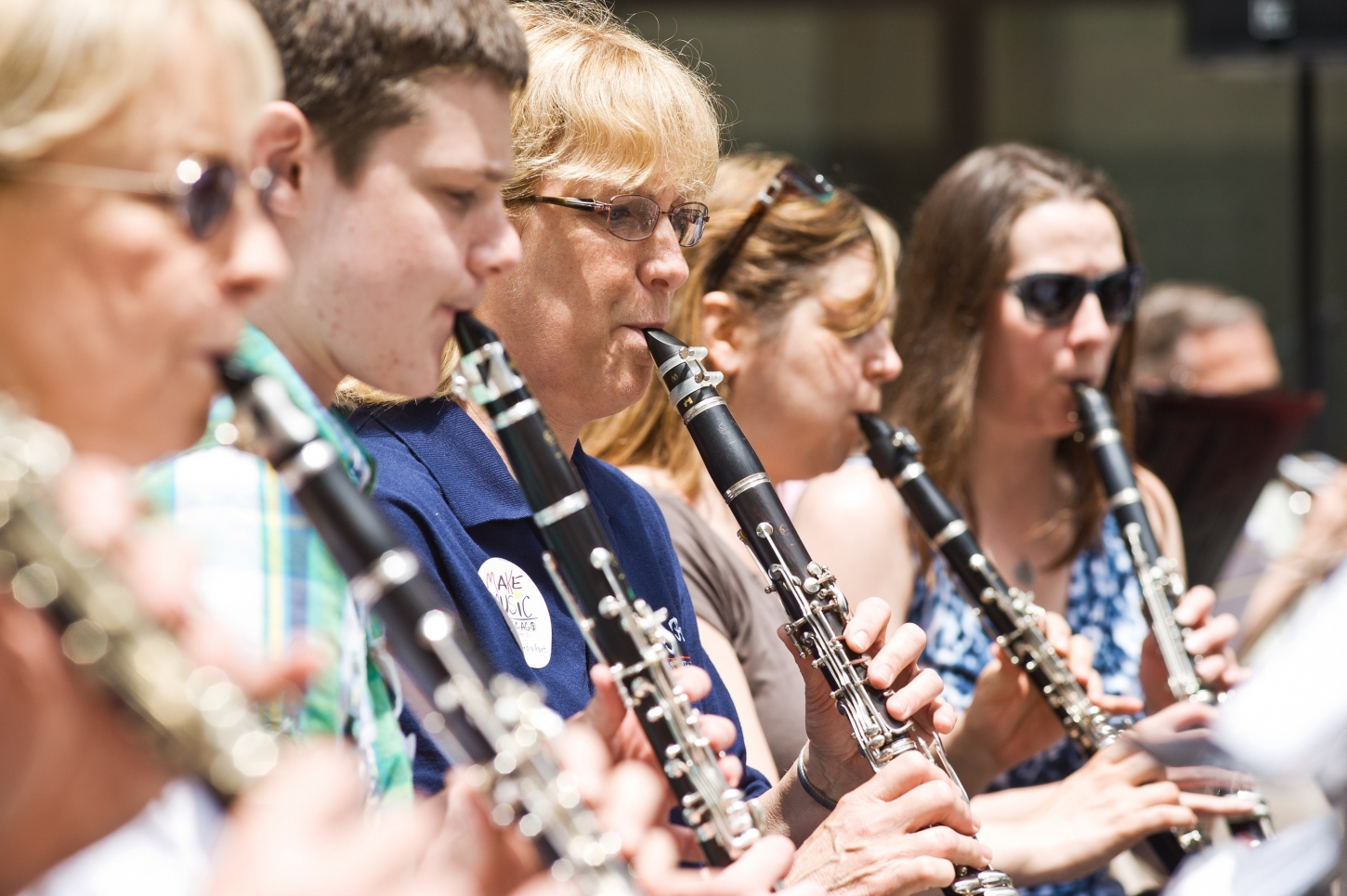 Download Our Guide to Exploring Music-Making at Any Level or Age
Recreational Music Making: Anyone Can "Just Play"
Recreational Music Making (RMM) is a NAMM signature program that is part of our commitment to "promoting the pleasures and benefits of making music." The NAMM Foundation website, therefore, shares music-making activities by NAMM Members and community organizations that spread the joys and benefits of making music. Our goal is to make it easy for you to start, continue, or to re-start your music-making journey by providing informative, research-based handouts, brochures, and easy-to-follow "Getting Started" fliers. Inspirational videos and articles reaffirm all of the ways in which making music enhances health and well-being—but we never want to forget that deciding to "Just Play " is just plain old fun! Our challenge to you is to make today the day you start to make music –whatever your age, ability, or level!
Another way to get involved in Recreational Music Making is to learn how you can participate in Make Music Day every June 21st. Download the Make Music Day Toolkit where you will find tips for how to start, lead, or join an existing Make Music Day event. Do your part to fill the world with music by becoming a music-maker and a Recreational Music Making champion!
Building Community Through Local Music Store Connections
Many local music stores bring musicians together by creating highly successful in-store programs. They give back to their musical communities by interacting with them in new and innovative ways. "It's all about making music and the richness of community and experience," explains Mary L. Luehrsen, executive director of the NAMM Foundation and director of public affairs and government relations of the National Association of Music Merchants (NAMM).
West Music Sponsors Choirs for Adults and Teens with Disabilities
Catherine Swiderski, 17 of Cedar Rapids, not only enjoys the music, but has found new confidence through TeenReach. "Catherine joined the program because she loves to sing," her mother, Mary, says. "While she is a member of the choir at ther high school, since she has Down Syndrome, the speed and complexity of the music is sometimes a problem for her. The smallness of the group, the comfort of being with friends and meeting new ones, and the chance to be a part of decisions regarding music chosen are all beneficial for her."
Maurren McCue and her son, Michael, have participated in the SoundReach program for a decade, and she says the program provides the best therapy. "Singing in the choir helps frame and order our week and distracts and calms Michael when he's in a cranky or oppositional mood." Maureen says. "Laughing and singing are cheaper, more reliable, and more enjoyable than medication for bad moods or behaviors. Over the years, we've gained many friends and a deep appreciation for the many thoughtful, caring and creative members of the community. The program has enriched our lives in many ways; more confidence, self-esteem, friends, and all that such experience implies. Besides that, we've learned a lot of new songs!"
Soundreach, sponsored by West Music, is a performing choir for adults with disabilities. "We want to give them an opportunity to fulfill their passion for music, while participating and socializing with other peers who have similar interests," Kelly Carlson, director of music therapy, says. The program, started in 1994, serves about 200 choir member each semester who belong to four choirs and also hosts a TeenReach choir, started in 2011, which serves teens and "tweens" with developmental disabilities. TeenReach takes place in Marion, while SoundReach is located in Marion, Urbandale, Coralville, and Davenport, Iowa.
To learn more visit West Music
Follett, Antoinette (2014, July/August), NAMM ADVERTORIAL. Making Music magazine.
Use our dealer locator to find a Music Retailer near you.
Not sure what instrument to choose? Click here to learn what instrument suits you. Music Making Magazine provides basic information and a brief history on a variety of instruments and are a great resource for new players!