John Lennon Educational Tour Bus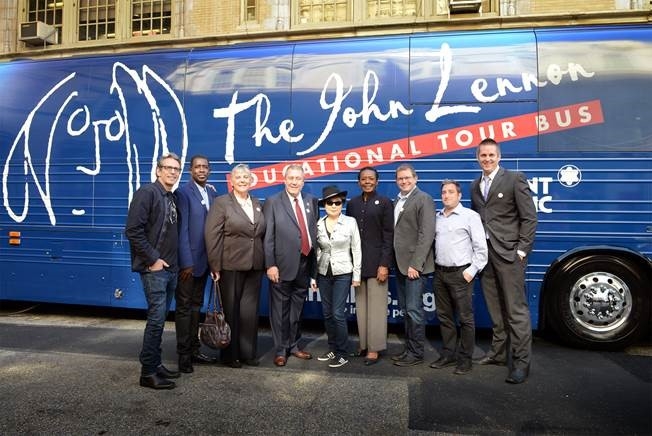 The John Lennon Educational Tour Bus is a non-profit state-of-the-art mobile Pro Audio and HD video recording facility that provides hands-on experiences for students of all ages. In its 18th year of touring, the Lennon Bus features the latest audio and video technology, gear and products. The concept began as an offshoot of the John Lennon Songwriting Contest, dedicated to providing opportunities for both professional and amateur songwriters around the world; proceeds from which help support the Lennon Bus. The Lennon Bus travels across the U.S. and Canada year-round, providing free tours and workshops at schools, retailers, festivals, on tours with headlining artists, and at major industry conferences. Lennon Bus Europe began providing these same opportunities to the young people of Europe when it launched in Liverpool, UK in May 2013.

The John Lennon Educational Tour Bus is made possible by Yoko Ono Lennon and the following sponsors and contributors: Apple, NAMM, Montblanc, Adobe, Other World Computing, Yamaha, Neutrik, Musician's Friend, Gibson Guitars, Epiphone, Avid, Audio-Technica, Digital Media Academy, SESAC, Genelec, SSL, NewTek, True Religion, Thomann, TodoCast, IP Access, ZVEX Effects, Reflecmedia, Baker & McKenzie, JamHub, Sonicbids, Litepanels, Clear-Com, Anton/Bauer, AJA, DJI Innovations, Copperpeace, Applied Acoustics Systems, Mobile Roadie, McDSP, Native Instruments, IK Multimedia, Noise Industries, JDI, iZotope, Mad Mimi, Ableton, Ampeg, Mackie, Guitar Player, Bass Player, Electronic Musician, Keyboard Magazine, Digital Rapids, SKB, Sonnet Technologies and LiveU.

For additional information about the John Lennon Educational Tour Bus and to check on the tour dates and locations, visit www.lennonbus.org. Click here for information about the John Lennon Songwriting Contest.