The 2016 "What Makes Music Education Great in My School District" Recognition Program
"Recording on the Lennon Bus was an incredible experience. I was amazed. I never knew that much time was put into one song."- Abbie Alteri, 12th grade student, Trumpet Player and drum major, McKeesport Area High School, student who recorded on the Lennon Bus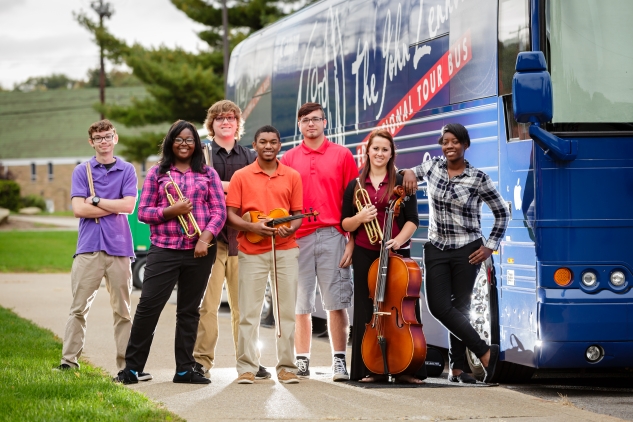 Since 2014, The NAMM Foundation has invited school districts to create and submit a one-minute student-produced and faculty-advised video on the theme, "What makes music education great in my school district" for consideration to be awarded a two-day residency with the John Lennon Educational Tour Bus. Videos are evaluated on originality and how they communicate the vibrancy of school and community support for music learning opportunities in the district. Select districts receive a two-day residency with the John Lennon Educational Tour Bus, a state-of-the-art mobile video and recording studio. The residency offers guided tours of the Bus as well as the opportunity for a group of students to work with Lennon Bus producers and engineers to create a music video for an original song. During the two-day residency, The NAMM Foundation hosts a LIVE town hall event to showcase music programs in the district.
"What Makes Music Education Great in My School District" Recognition Program Award Winners

Scotts Valley Unified, Scotts Valley, CA
Country Club Hills District 160, Country Club Hills, IL
Herricks UFSD, New Hyde Park, NY
**Stay tuned for the 2017 Spring Tour dates.
Over the past few years, The NAMM Foundation has hosted 13 residencies in communities throughout the U.S. View previous award-winning videos, community forums and music videos of songs created as part of each community residency by visiting The NAMM Foundation YouTube channel.
The NAMM Foundation believes that music education is a right for all children and that it is vital for a well-rounded education. This recognition program, along with the Foundation's other initiatives, including the Best Communities for Music Education (BCME) and the SupportMusic Coalition, promote community support for music programs in school districts to assure that all children have the opportunity to learn and grow with music.