College music faculty and music industry leaders convened at 2018 Summer NAMM, in Nashville, TN, for a panel discussion on creating a public-private partnership between the GenNext college music program at The NAMM Show and colleges and universities.
Facilitated by Mark Despotakis, director of market development at Progressive Music, the forum's audience included fellows from The College Music Society, college music faculty and students.
Every year while at The NAMM Show, students and faculty are encouraged to connect with, and learn from, the show's global audience, made up of the world's most influential industry decision-makers. Jeremy McQueary, president of Paige's Music and NAMM Young Professionals (YP) member, reflected on the relationships students can forge at NAMM Shows.
"You're getting four days of complete professional development. So many opportunities to learn," he said. "Get involved early. Start making connections."
The speakers also discussed college-to-career transitions for students entering into the music industry. GenNext students are encouraged to take on internships with NAMM members, or within NAMM itself.
"We're trying to bridge the gap and bring students to network with YP," said Despotakis. "[We want] to help them transition into the industry, become active NAMM members and then mentor new students."
The NAMM YP program connects industry professionals under the age of 40. Members network with like-minded peers and learn from the veterans who've shaped the music industry.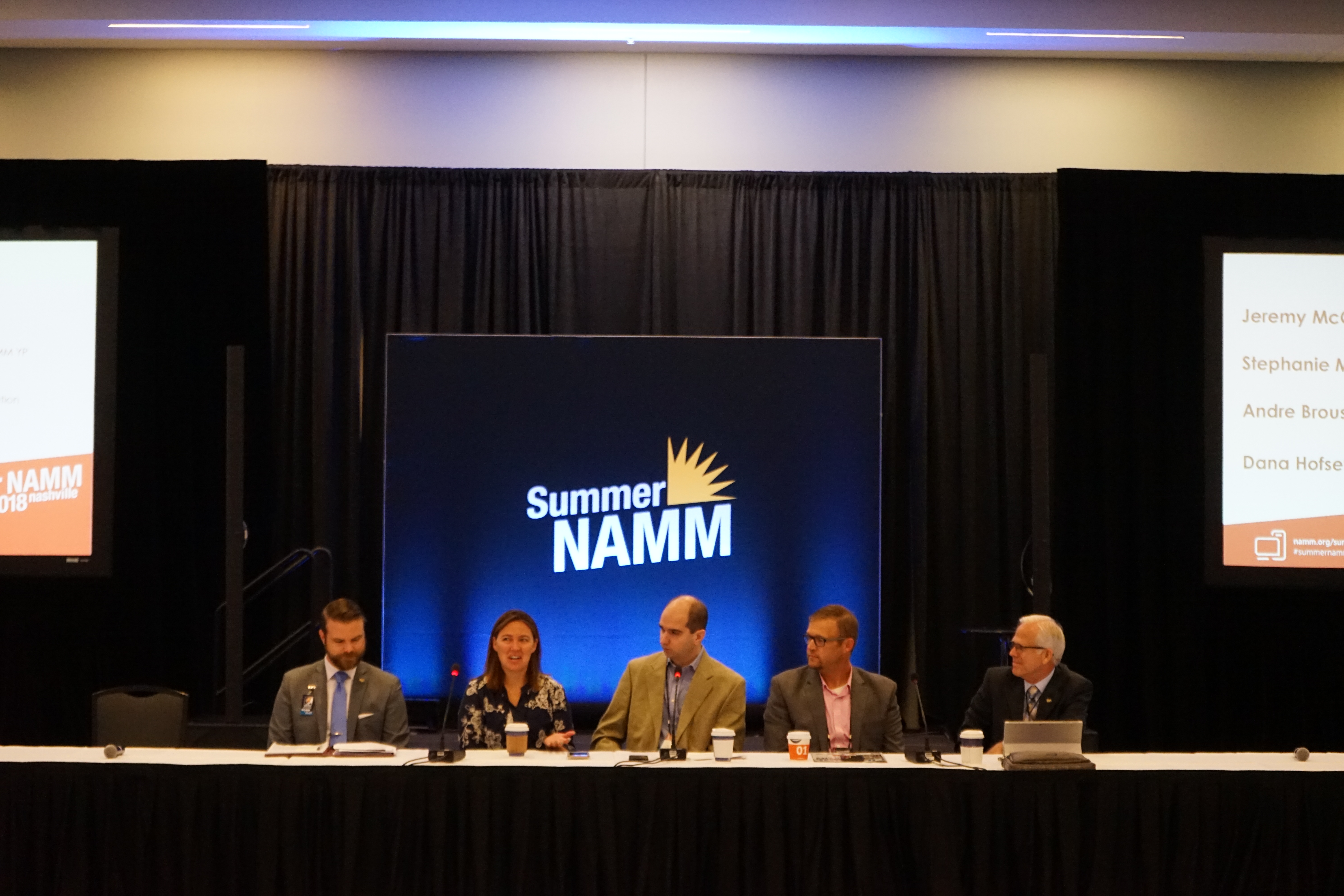 Midway through the forum, Despotakis asked the panel to give advice to students going into music industry internships. Jalissa Gascho, artist relations coordinator for Yamaha, said curiosity is important.
"Get to know people quickly," shared Gascho. "Build the network of trust."
Andre Brousseau, former GenNext alumnus who has worked at The Country Museum Hall of Fame and is now a membership support specialist at NAMM, emphasized patience.
"Show up for everything," he said. "You may regret not going to that event. Take every opportunity you can."
The panelists agreed with each other that taking initiative with future employers is key. Dana Hofseth, director of HR/Internships at NAMM, agreed.
"There's a need for humility as you enter as a new employee," he said. "Ask questions. Follow through."