Music Education Days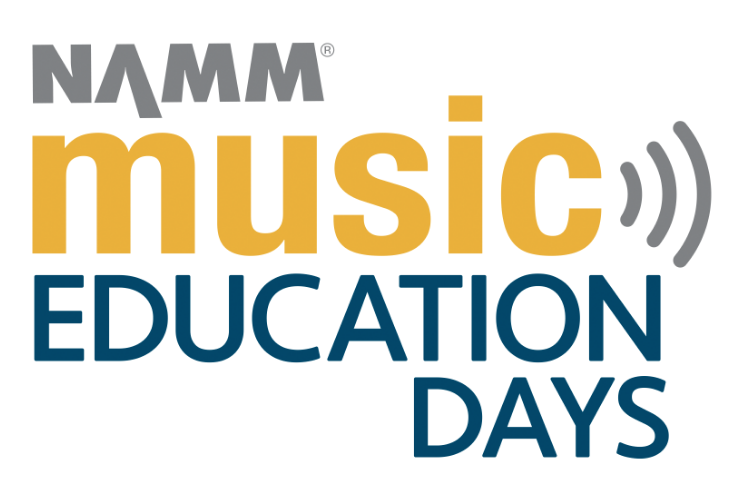 About Music Education Days
Each January, music educators from across the U.S. gather in sunny southern California for Music Education Days (MED) at The NAMM Show. The program offers music teachers and administrators informative sessions, inspiring performances, and the opportunity to preview the latest instruments, products and tools relevant to today's music classrooms.
"Music Education Days continues to celebrate and support music educators in their very important role of inspiring children to learn to play music," said Mary Luehrsen, executive director of the NAMM Foundation. "This event brings together music education professionals to network with the industry and each other, and offers tools and innovation to create even better music programs in their districts."
Who Participates
Music educators (pre-K through post graduate faculty, private teachers/instructors)
School administrators
School board members
Programming
The NAMM Show- more than 2,000 music products exhibits featuring over 7,000 brands
Music Educator Product and Program Showcases
The Grand Rally for Music Education
Music Achievement Council Recruitment and Retention Session
Music Administrative Collaborative
The 2019 NAMM Show
January 24-27, 2019 in Anaheim, California
Don't miss the opportunity to attend the world's largest music products trade show and network with peers and industry leaders at The 2019 NAMM Show. Sign up (top right, on this page) to receive The NAMM Foundation's monthly Music Education Days e-newsletter (Sept-Feb) which includes registration information, NAMM Show events and updates.
The 2018 NAMM Show
January 25-28, 2018 in Anaheim, California
Events
Looking for MED events at The 2018 NAMM Show? View here. You can also view a PDF of The NAMM Show Event Guide to see all NAMM Show events.
Photos and Video Coverage
Photos:
NAMM Foundation Events (highlights)
NAMM Show Events (All)
Video:
Watch: The Grand Rally for Music Education
Watch: The "Crossroads of Music Advocacy" at The NAMM Show
Watch: Students from Loara Elementary School and Country Club Hills School District 160 sing with Bootsy Collins during The Imagine Party
More to be shared this week- stay tuned!
Give us your Feedback!
We hope your experience was informative, productive, inspiring and fun! Please take a moment to complete a one-minute survey.
Why Attend? Past Participants Share
"The NAMM Foundation provides a vital bridge between the trade side of the music industry and those of us working within the broad domain of music education. It was clear from this years show that this intrinsic relationship is being strengthened," said Lee Higgins, president of International Society for Music Education (ISME). "The 2017 NAMM Show provides opportunities to have wider conversations with potential collaborators."
"Being able to create contacts with other music educators to share ideas and inspiration for best practices is so important and can be tough to do. It's great that NAMM creates these times for educators to share and learn from each other. I'm thinking specifically of the Music Educator Showcase." Music educator participant
"Being at NAMM opened up a whole new world for me. I was connected with resources that I didn't even realize existed. Also, being able to interact with industry people gave me insight into their vision and allowed me to give my input as well. As far as my professional goals; the program introduced me to ideas in music education that will enhance my classroom and after school programs." Music educator participant.
"The Music Educator Showcase is a gold mine of valuable information for any music educator attending The NAMM Show. Each company that presents is able to share what tools and resources are immediately available for educators to use in their programs," said Michael Kamphuis, managing director of Educational Services at Conn-Selmer, Inc. "Having the opportunity to present at the showcase has allowed me to meet many great music educators, non-profits and other contacts that share the mission of providing music for every child."
Questions?
For more information about Music Education Days, please contact Eric Ebel.