Make Music Day
"A day with family, food, and music is an easy sell. You can't get any better than that." - Thad Tegtmeyer, Sweetwater Store and Academy of Music and Technology Manager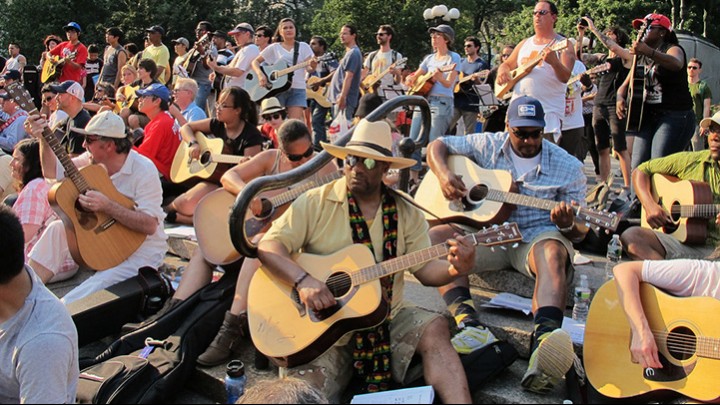 Make Music Day
is a free celebration of music around the world on June 21, the summer solstice. It is the world's largest annual music event. Launched in 1982 in France as the Fête de la Musique, it is now held on the same day in more than 1,000 cities in 120 countries.
Completely different from a typical music festival, Make Music is open to anyone who wants to take part. Every kind of musician — young and old, amateur and professional, of every musical persuasion — pours onto streets, parks, plazas, and porches to share their music with friends, neighbors, and strangers. All of it is free and open to the public.
Learn More
To find out more about Make Music Day or to organize an event, please visit www.makemusicday.org or contact Aaron Friedman.

Make Music Winter Returns on December 21
Make Music Winter, the celebration takes place on December 21st! Like Make Music Day on June 21, Make Music Winter is a free, outdoor, participatory musical event that turns audiences into music makers.
Since 2011, people of all ages, musical abilities, and backgrounds have met up for Make Music Winter to promenade through public spaces and play music for bells, electric guitars, percussion, and more. It's a joyful way to ring in the winter solstice and celebrate the end of a long, wearying year.
All Make Music Winter events are free and open to the public. Learn more at www.makemusicwinter.org. Make Music Winter is presented by The NAMM Foundation and coordinated by the nonprofit Make Music Alliance.
Join the conversation: #MakeMusicWinter