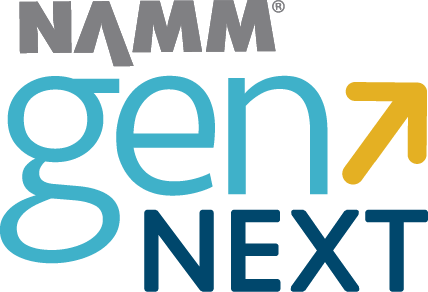 GenNext
"The NAMM GenNext experience was an incredibly motivating, empowering, and inspiring activity as a young professional in the music industry. I made connections that will last for a lifetime that will propel me into a more successful future." - Alex Alberti, Innovation Award-winner
GenNext at The NAMM Show
Each year, college music students and faculty from across the U.S. gather in sunny southern California for GenNext at The NAMM Show. GenNext is a collaboration between The NAMM Foundation and The College Music Society (CMS) that offers students and faculty access to The NAMM Show.
Who Participates
Current college music students studying music, music business, music technology or music education.
College-level music faculty members.
Benefits of Attending
Discover the many opportunities to equip yourself with the latest industry trends, products and tools relevant to today's music classrooms.
Experience the reunion of the century
Access thousands of brands
Explore educational sessions
Connect with your community at networking events, awards shows and more
Experience hundreds of concerts & performances
Be part of a historic gathering to get our industry moving forward together again
Help enable a future filled with more music
Enjoy all the attractions around Southern California
2021 Believe in Music Week
Week of January 18, 2021
Online
Believe in Music Week, a virtual event and global gathering, unified and supported people who bring music to the world.
2021 Fall Webinars
NAMM Foundation programming for Believe in Music includes fall webinars (Sept.-Dec.) for college faculty and students, music educators, music service organizations, music makers and more.
Listen to Podcasts?
Talking Up Music Education is a podcast of The NAMM Foundation. The episodes below feature college music students and faculty.
Meet The Grand Prize Winners of A Cappella at NAMM: UCLA's ScatterTones
GenNext'er Stephanie Landino Shares the Importance of Going To The NAMM Show
Discussing University Music with Members of the HBCU Band Directors' Consortium
Additional Links