NAMM Foundation Day of Service
"Seeing students that live in poverty and do not have regular access to music and arts experience music making for the first time is impactful. Kids that have never touched an instrument before were actively engaged in making music and loving it. I am grateful for the opportunity to have participated in such a momentous day." - Kimberly Deverell, San Diego Music Studio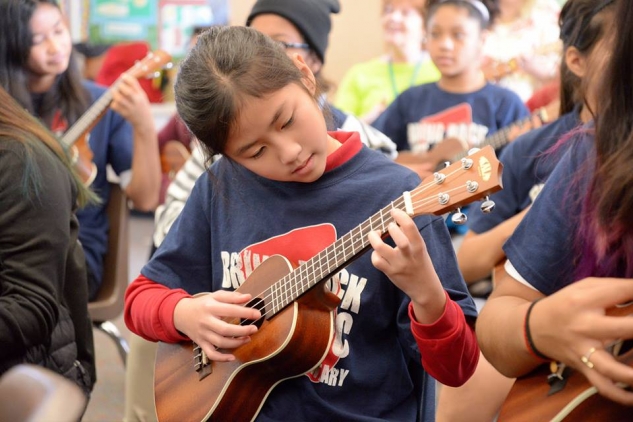 Each year The NAMM Foundation invites NAMM members to participate in an annual Day of Service in Washington D.C. that supports the initiative to provide every child in the district with the opportunity for a well-rounded education that includes music.
"The ability to have music when you're a kid, it's a confidence booster. It's inspiring for kids to learn in a school environment." - Arielle Howell, Day of Service volunteer
The 2018 Day of Service in Washington D.C.
The NAMM Foundation Day of Service will kick off the NAMM Music Education Advocacy D.C. Fly-In on Monday, May 21, 2018.
Volunteers will be assisting 14 ensembles—from arrival through performance—at The Kennedy Center during the first day of the D.C. Public Schools Music Festival. Available positions are described below, and though we will try to accommodate your first preference, volunteers will be assigned as needed.
Registration
To attend the Day of Service in Washington D.C., NAMM member must first register for the NAMM Music Education Advocacy D.C. Fly-In; as of March 20, we are no longer taking volunteers as we are at max capacity. Please email ClaireK@NAMM.org for future opportunities.
Date & Location
Monday, May 21, 2018
Location: The John F. Kennedy Center for the Performing Arts, 2700 F Street, NW Washington, DC 20566
Time: 7:30 am
Transportation: Round trip shuttle transportation provided to/from the school from the Hilton Anaheim
**Coffee, bagels, and fruit are provided for volunteers.
Event Timeline
7:30 am: Depart the Hyatt
8 am – 8:30 am: Volunteer orientation at The Kennedy Center *coffee & bagels provided for volunteers
8:35-9:25 am: Ensembles arrive
9:10-11:35 am:Performances
12 pm: Depart Kennedy Center
12:30 pm: Lunch at the Hyatt
Transportation
Roundtrip shuttle transportation provided to/from the event
Attire
All volunteers will be required to wear The NAMM Foundation Volunteer t-shirt, which is blue with white lettering. Nice jeans or slacks and comfortable shoes for walking are suggested. If you think you might get cold, please plan to wear a long sleeve shirt under the t-shirt so that you are easily identified as a NAMM Foundation Volunteer. Feel free to email Claire Kreger-Boaz if you would like to update your size selection.
Duties
Group Escorts will meet their assigned ensemble at the front door and travel with them from bus loading area in front of the building to: audience area, green room, holding areas, stages, etc. Group Escorts will: gather school adjudicator forms to be given to the Adjudicator Liaison; be in contact with teachers; relay necessary information to the Group Escort Manager.
Adjudicator Liaisons work at the Millennium Stage. Duties include: manage adjudicator forms; take care of any of the adjudicators' needs; monitor time for each school group performance.
Instrument Repair Technicians work near the central information desk and will help schools with any repairs necessary for a successful performance. Group Escorts will come to you with any specific needs.
Double Your Donation!
We hope you will join us in person and that you also consider making a donation to The NAMM Foundation so that we may continue to support music education advocacy efforts by NAMM Members.
Questions?
For more information on The NAMM Foundation's annual Day of Service, please contact Claire Kreger-Boaz at clairek@namm.org.