NAMM Foundation Day of Service
"And while our members come from around the globe, making a difference right here in Anaheim has special meaning to us. We're proud to support the passionate music teachers, parents, students and administrators in the Anaheim City School District who are working so hard to ensure every child has an opportunity for a well-rounded education that includes music!"-Joe Lamond, president and CEO, NAMM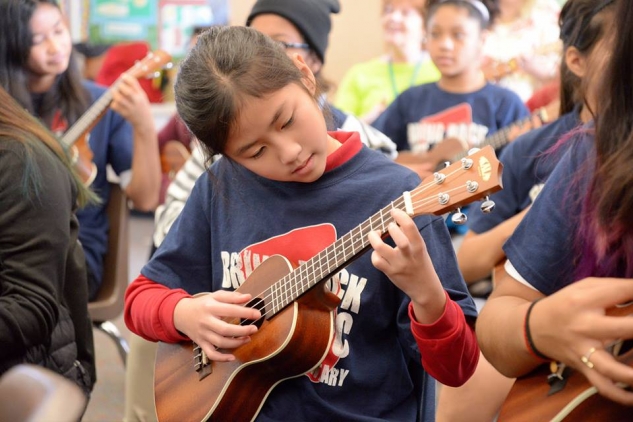 Each year The NAMM Foundation invites NAMM members to kick off The NAMM Show with an annual Day of Service that supports the Anaheim City School District's initiative to provide every child in the district with the opportunity for a well-rounded education that includes music. By 2018, the school district hopes to have full-time general music teachers at all 24 of its campuses for TK-4th grade and instrumental teachers for grades 5 and 6. The NAMM Foundation wants them reach their goal, but we need your help.
In the months leading up to The NAMM Show, The NAMM Foundation puts out the call for motivated volunteers to give back and inspire kids early in their music-making journey. Traditionally held on the Tuesday before The NAMM Show, NAMM member volunteers can expect to roll up their sleeves and unpack and tune instruments; interact and assist children during facilitator-led sessions in classroom settings; and then pack up all of the instruments when the sessions are complete.
"We are gearing up to return music to its rightful place in our public schools, and we thank The NAMM Foundation for its support." Dr. Linda Wagner, ACSD's superintendent

"Music does such great things on so many different levels. It gives a sense of accomplishment, a sense of belonging, it creates a social infrastructure." Anaheim Mayor Tom Tait.
The 2017 Day of Service
Thank you to all volunteers who supported Anaheim Elementary School District's effort to bolster music education at Patrick Henry Elementary School. It was great to have so many passionate individuals from The NAMM Show community come together in support of music education.
"The ability to have music when you're a kid, it's a confidence booster. It's inspiring for kids to learn in a school environment." - Arielle Howell, Day of Service volunteer
Questions?
For more information on The NAMM Foundation's annual Day of Service, please contact Claire Kreger-Boaz at clairek@namm.org.