NAMM Foundation Day of Service
"And while our members come from around the globe, making a difference right here in Anaheim has special meaning to us. We're proud to support the passionate music teachers, parents, students and administrators in the Anaheim City School District who are working so hard to ensure every child has an opportunity for a well-rounded education that includes music!"-Joe Lamond, president and CEO, NAMM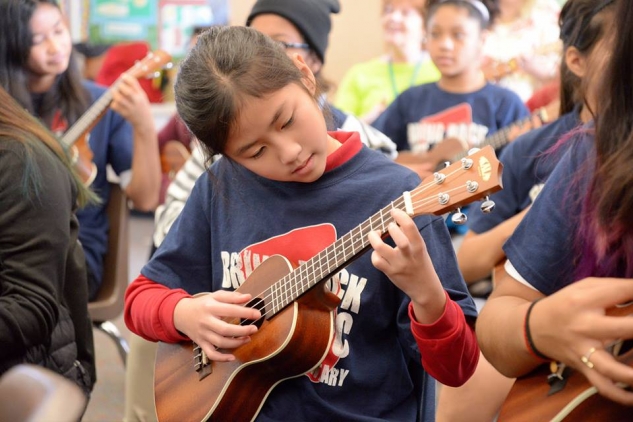 Each year The NAMM Foundation invites NAMM members to kick off The NAMM Show with an annual Day of Service that supports the Anaheim City School District's initiative to provide every child in the district with the opportunity for a well-rounded education that includes music. By 2018, the school district hopes to have full-time general music teachers at all 24 of its campuses for TK-4th grade and instrumental teachers for grades 5 and 6. The NAMM Foundation wants them reach their goal, but we need your help.
In the months leading up to The NAMM Show, The NAMM Foundation puts out the call for motivated volunteers to give back and inspire kids early in their music-making journey. Traditionally held on the Tuesday before The NAMM Show, NAMM member volunteers can expect to roll up their sleeves and unpack and tune instruments; interact and assist children during facilitator-led sessions in classroom settings; and then pack up all of the instruments when the sessions are complete.
"We are gearing up to return music to its rightful place in our public schools, and we thank The NAMM Foundation for its support." Dr. Linda Wagner, ACSD's superintendent

"Music does such great things on so many different levels. It gives a sense of accomplishment, a sense of belonging, it creates a social infrastructure." Anaheim Mayor Tom Tait.
The 2017 Day of Service
About
The 2017 Day of Service begins with a meet-and-greet over continental breakfast at the school, followed by a brief program designed to inspire students, teachers, and NAMM members alike. Volunteers are treated to opening and closing performances by students; and at the end of the day, The NAMM Foundation presents the school with a generous donation to help the school sustain its music program. Register using the form below.
The 2017 Day of Service
Tuesday, January 17
7:30 am to 11 am
Transportation
We are providing shuttles between the Anaheim Hilton on The NAMM Show campus and the school. Otherwise, transportation is on your own. Please note there will be limited street parking at the school. Save your seat by reserving your spot today on our free shuttle.
Students
All students are sixth graders; there will be four rotations, so you will each see four groups of up to 30 sixth graders.
Schedule
7:15 am: Shuttle from Anaheim Hilton to the School
7:30 am: NAMM member volunteers arrive | assist with tuning guitars & ukes
7:45 am: Rooms set & instruments ready to go
7:55 am: Student performance
8 am: Welcome remarks from NAMM and check presentation to Anaheim Elementary School District officials
8:10 am: First rotation
8:50 am: Second rotation
9:30 am: Third rotation
10:10 am: Fourth rotation
10:50 am: Closing remarks
11:00 am: Pack up instruments
11:15 am: Shuttle back to Anaheim Hilton
Donate
If you are unable to give the gift of your time, you can still help Anaheim City School District kids learn and grow with music by donating to The NAMM Foundation. Just be sure to check the box "I would like to make this gift in honor or in memoriam" and put "NAMM Foundation Anaheim Day of Service." The NAMM Foundation will match every dollar donated up to $10,000! And if you plan to volunteer, you can also provide a donation that will be matched by The NAMM Foundation; the children in NAMM's Music City will doubly benefit by your participation as a volunteer and by your generous donation!
Questions?
For more information on The NAMM Foundation's annual Day of Service, please contact Claire Kreger-Boaz at clairek@namm.org.