The NAMM Foundation funds grants, research and advocacy in support of music education.
Donate
Creating a World of Music Making
Since 2007, through the support of NAMM members the NAMM Foundation has contributed nearly $15 million to fund programs impacting people across a broad range of musical segments, genres and age demographics. While we have made great strides in helping people make more music, more often, we want to do more and with our new Believe in Music Donor Program and your support, we can.
We envision a world in which the joy of music making is a precious element of daily living for everyone; a world in which every child has a deep desire to learn music and a recognized right to be taught; and in which every adult is a passionate champion and defender of that right.
Help us bring the gift of music making into someone's life by making a donation today.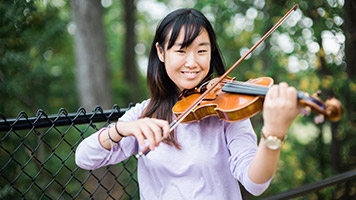 The SWIM Fund (Smart Women In Music Fund) supports women in the music products industry in the development of their leadership proficiencies and aspirations. Learn more here.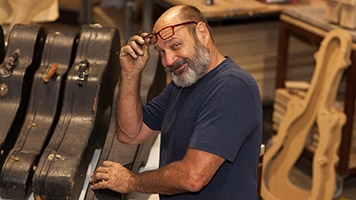 The Bill Collings Memorial Fund is established in loving memory of Bill who died July 14, 2017; he was the creative force behind Collings Guitars for over 40 years. Learn more here.
Together, We Can Do More
Funds are carefully administered by an expert staff to programs making a profound difference. Here are examples of the lives we've touched through NAMM Foundation supported organizations.
Orchestrating a Brighter Future
San Diego Youth Symphony's Community Opus Project funded by The NAMM Foundation
Meet thirteen-year-old Bruno Bello. Just a few years ago, Bruno suffered from low self-esteem, became disruptive in class and refused to do his homework.
"Everything I tried was either too easy or I wasn't good at it, like sports," he admits. Then Bruno discovered music, and soon his world seemed full of possibilities.
He now plays in several youth orchestras, plans to attend a "good college" and hopes to perform in Carnegie Hall one day. Thanks to your gift, kids like Bruno can have access to music making programs that foster confidence, self-discipline and joy.
Spotlighting the Best Communities for Music Education
Irvine Unified School District
The Best Communities for Music Education (BCME) is a NAMM Foundation program that shines the national spotlight on schools and districts for their support of and commitment to music in our schools.
The Irvine Unified School District in Southern California is a shining example of such a program, as it provides all of its students––from kindergarten through grade 12––with the opportunity to learn and grow through music.
Your Support Will Change Lives
Through its support of music making organizations that advance music education, research and advocacy, and preserve the rich heritage of music making, The NAMM Foundation is making lasting impacts - your financial gift will allow more people to make music and celebrate music education in communities across the US.
The NAMM Foundation is supported by passionate people just like you...who believe in the transformative powers of making music and the vital importance of music education for all children.
"When someone learns how to play an instrument, their life is enriched forever."
Kevin Cranley - President, Willis Music Co. & Former NAMM Board Chairman