Believe in Music Fund
Help Create a World of Music Makers
Since 2007, and through the support of NAMM members, The NAMM Foundation has contributed nearly $15 million to fund programs across a broad range of musical genres and for people of all ages and abilities. Your support with our Believe in Music Fund, assures that we can do more to make a more musical world.
Message from Joel Menchey, Chair of The NAMM Foundation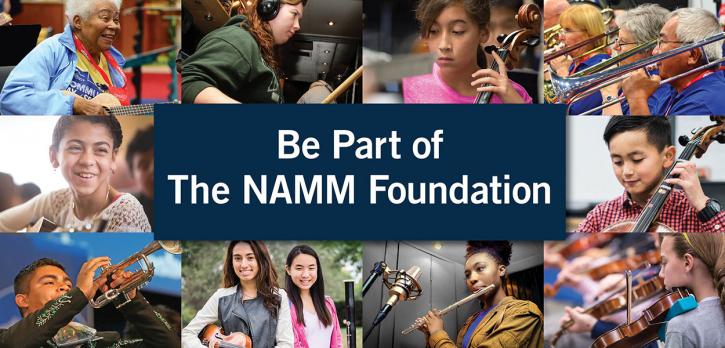 Dear Colleagues and Friends,
I am delighted to be serving as the chair of The NAMM Foundation and help advance its good works that support music-making opportunities for people of all ages. The programs of The NAMM Foundation reach around the world through music learning projects and programs that make a huge difference in the lives of so many people. Among them are the Best Communities for Music Education that recognizes schools and communities for their ongoing support of music education. With this community-wide support, music education can thrive to be part of a well-rounded education available to all children.
NAMM Foundation programs at The NAMM show also help to strengthen nonprofit music service organizations through its Nonprofit Management Institute and support of college music students in their career goals through the GenNext program. I invite you to explore all the music-making promotion programs that define the outreach and mission of The NAMM Foundation.
This year, we are embarking on a new initiative that will help to develop music education in a community near the US/Mexico border near El Paso, TX. Our project, "Music Education at the Border" will bring new educational resources to high-need students and their families. As school administrators have shared with us, for many students, this opportunity to learn music will be a lifeline.
Please join with me and The NAMM Foundation Board of Directors in supporting the Believe in Music Fund that will make "Music Education at the Border" and other projects come to life. Many thanks for being part of The NAMM Foundation.
Thank you,
Joel Menchey