Flipping The Script: NAMM Member and Music Education Advocate John Mlynczak Interviews Mary Luehrsen
Hosted by Mary Luehrsen, executive director of The NAMM Foundation.
This podcast is a 52-minute listen.
Subscribe to Talking Up Music Education
Where to subscribe: iTunes | Google Play | Stitcher | Spotify
Talking Up Music Education is a podcast from The NAMM Foundation that shares news and stories about music education. This week we're highlighting episode 91, featuring music educator John Mlynczak.
A special "Flipping the Script" episode recorded LIVE at The 2020 NAMM Show features Mlynczak interviewing Mary Luehrsen, Executive Director of The NAMM Foundation. The usual host of host of Talking Up Music Education, Luehrsen shares strategies of taking passion-to-action, the mosaic of music ed, and counting your blessings.
"The fabric of the way we live day today is being strengthened with music," said Luehrsen. "That, for me, [has] been the blessing to be a part of NAMM."
Soundbites
"Be grateful. Say something out loud that you're grateful for. The other thing is hug somebody today. Let somebody know that you're there [and that] you care. All part of counting your blessings." – Mary Luehrsen
"Step one is appreciation for where you are, if you are somewhere…Thank a school-board member. Thank a school administrator. Thank a music teacher." – Mary Luehrsen
"It's balance. We come from a place of abundance [and] opportunity. [With music] we're going to put our stake in the ground and start there and then move it forward." – Mary Luehrsen
Tell us what you think about this episode! Email us at info@nammfoundation.com and follow/tweet at Mary Luehrsen on Twitter: @MaryLNAMM.
About
Talking Up Music Education is a podcast produced by The NAMM Foundation about music education. Host Mary Luehrsen chats with teachers, parents, students and community leaders who share stories about what they are doing to create music learning opportunities. Please download, share and subscribe to keep up with the stories that make a difference in music education advocacy.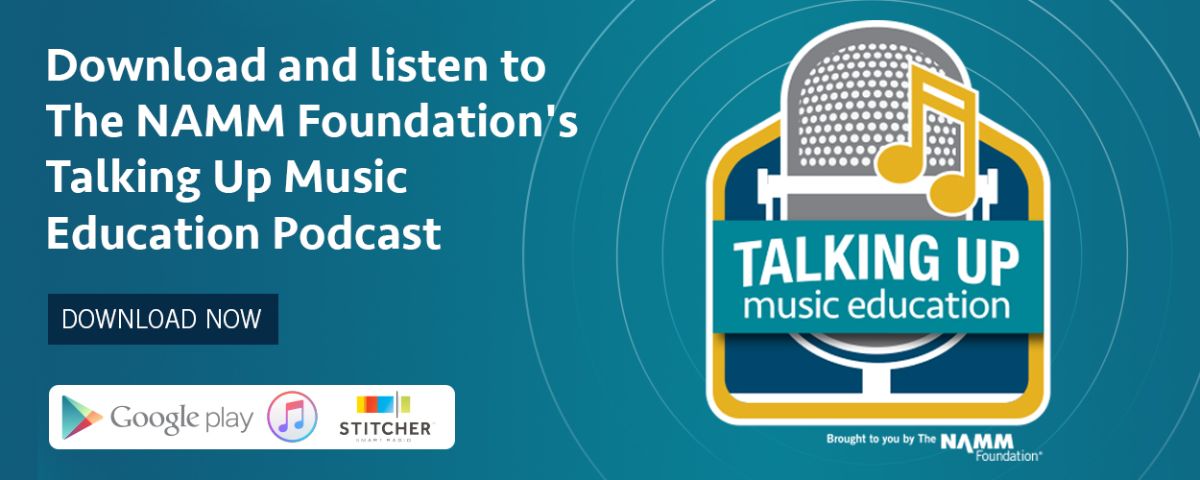 Follow John Mlynczak
Twitter
Related Podcasts
Music Education Advocate and NAMM Member Mark Despotakis on Bringing Everyone to The Table