Frequently Asked Questions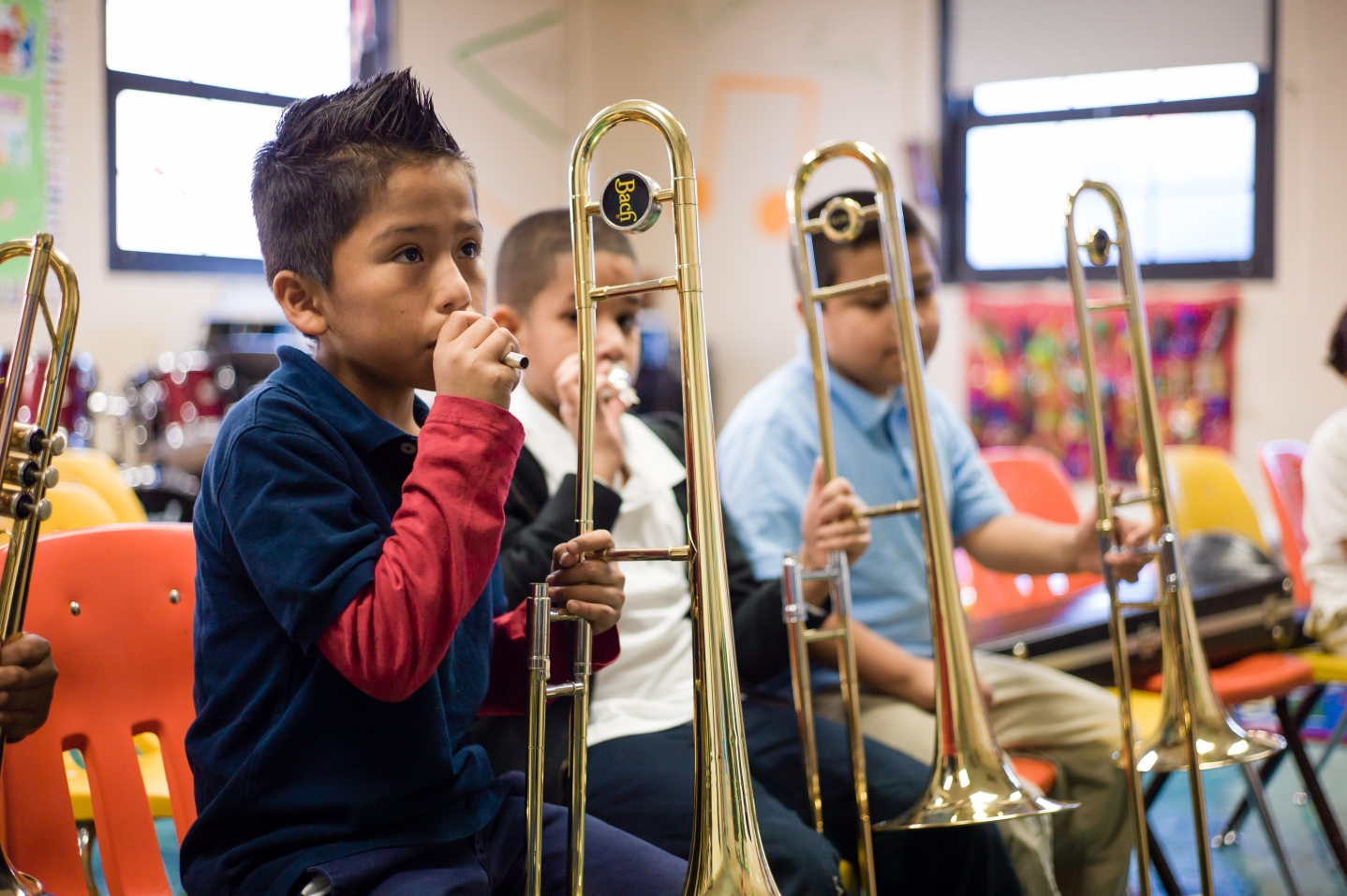 Frequently Asked Question about The NAMM Foundation
If you are interested in donating to The NAMM Foundation to share goals for advancing access to music learning for people of all ages? Donate here. We welcome your inquiry about making a tax-deductible donation or consider the NAMM Foundation in your philanthropy planning; email info@nammfoundation.org
What does the NAMM Foundation fund? Applications are considered by invitation only
The NAMM Foundation reviews and awards applications by invitation only; the application process is not open for general application for funding.
The Foundation supports music-learning service projects from organizations with an established nonprofit designation that expand access to music-making music education and supports programs for people of all ages and abilities that utilize music-making materials, are replicable as regional, national or international models, and include outcomes and impact measures.
Additionally, The NAMM Foundation has the following programs that advance participation in music learning and/or advance awareness of the importance of music education.
Can my organization partner or receive sponsorship from NAMM and/or The NAMM Foundation?
NAMM does not provide marketing partnerships or sponsorships through NAMM or through The NAMM Foundation but awards grants via its Music Making grant program. All music education and music-making education or promotional organizations are encouraged to affiliate with the SupportMusic Coalition and be part of this NAMM Foundation program that advances grassroots advocacy education and support for music education.
Does the NAMM Foundation give grants to public schools for the purpose of restoring the music education program that has been reduced or cut at the district level?
No. Nonprofit-based organizations seeking funds to supplement established music education programs in schools may apply for Music Making grants. Programs that replace K-12 core curricular music education programs are not eligible for funding. The Foundation does not provide direct support to schools and school districts for core academic music education programs. To keep music education strong in your community, join the SupportMusic Coalition today!
How to apply for a Music Making Grant, formally known as a Program Grant?
For the past several years, The NAMM Foundation has received hundreds of requests for grants and is grateful for nonprofit organizations around the world who seek support to provide opportunities for people of all ages to learn and make music. The hundreds of requests received every year far surpass the Foundation's budgetary resources for grants.
The NAMM Foundation reviews and awards Music Making Grant applications by invitation only; the application process is not open for general application for funding from the Foundation. Guidelines are provided for general information.
There has to be another way I can get the Foundation's attention so I can submit an application for my organization.
The Foundation has a back-log of organizations that it may consider for funding; however, for this next year, it will only fund programs that have either received grants every year – organizations that are considered "legacy grants" – or first-year grants awarded last year that will likely receive an "exit" grant this coming year. Grants are only awarded, however, to organizations that meet stated project goals and demonstrate outcomes, regardless of their legacy or renewable status per submission of required interim and final reports. We discourage you from contacting Foundation staff to lobby to be considered for an invitation to apply. As stated, the hundreds of applications from previous years together with a network of NAMM members who work closely with national and community organizations help identify potential candidates for support.
What does the NAMM Foundation currently fund?
The NAMM Foundation is a 501©(3) non-profit organization and supports scientific research, philanthropic and public service programs of the international music products industry.
Is the NAMM Foundation likely to fully fund a project or just partially fund a project? In other words, in the grant proposal would NAMM Foundation look more favorably upon a grant request that has us bearing part of, or the majority of the cost ourselves for a specific project?
A program that is receiving support from another entity is a positive indicator that it has already earned endorsement and support from other funders. The opportunity to contribute to a partial support of a quality project allows NAMM Foundation to spread its grant-making funds to more organizations; an opportunity to partially fund a program or project is encouraged.
Is there a financial limit that NAMM Foundation would provide to support a program?
There is not a set limit; projects are evaluated relative to the organization's ability to meet an outlined need. During the past 3-4 years, the average program grant range has been $5,000 - $40,000. Grant award amounts also depend on the overall number of quality proposals received by the NAMM Foundation, and the availability of grant funds available per year, as determined by the NAMM Foundation Board of Directors. If invited to apply, we encourage you to request NAMM Foundation support for a reasonably low percentage of total project costs; total project costs should be shared with other funders and potentially earned income.
What is the number of NAMM Foundation grant awards given each year?
The number of grants awarded is relative to the number of quality proposals received and the availability of grant funds.
Are NAMM Foundation grants renewable? Does NAMM Foundation fund multi-year grants?
The NAMM Foundation does not offer renewable nor multi-year grants; all current grantees must reapply annually for continuing support. Currently funded programs will be considered only if all requirements of the grant have been met. Funding will be awarded for one-year projects; narrative and financial reports will be due from funded programs on December 31 and July 31. If a new grant is awarded, the first grant payment is made only upon completion of required reports.
Does the NAMM Foundation ever give grants for the purpose of buying instruments?
Yes, this can be considered as a part of a program grant proposal; however, this should represent a relatively small percentage of the program budget, as should other equipment requests.
What is the scale or scope (local, regional, national) of a program that you think might receive a grant?
This is determined by program capacity and the need that the program and project seek to address. The grant review process will assess the program's ability to meet stated goals as outlined in the proposal.
How many years of support and how many dollars are associated with a successful proposal submission?
A quality non-profit service agency and/or program generally develop successfully with carefully managed and strategically planned to support and earned income. It is important to provide information about the success of the submitting organization and its ability to meet service needs and to attract other support and, if applicable, earned income/fees for services. Evidence of careful management and planning for sustainability can be achieved over just a few years or decades, depending on the history of the organization. The financial size of the organization matters less than its ability to plan and manage for quality service and sustainability.
Does the NAMM Foundation support capital or building/renovation projects?
NAMM Foundation does not contribute to capital projects that include building or renovation, but rather offers program support, as outlined in the grant guidelines.
What are the funding dates if we are selected?
Award notification is made in the month of August in the year following the application for programs that run on an annual cycle.
Do you have reporting requirements other than occasional audits?
NAMM Foundation Program Grants: An interim narrative and budget report are due December 31; a final narrative and budget report is due July 31 of the following year. Report templates are distributed to grant recipient organizations at least 30 days before they are submitted via the online application system.
What do you look for in the plan for sustainability of a program grant?
Statements or submission of a strategic plan that outlines realistic growth for the organization based on sound current organization management (including control of annual financial management); organizations with cumulated deficits will not be funded. Submission of audited financial statements strongly encouraged.
We have heard it said that there seems to be an abundance of guitar and drum-based recreational music programs but a shortage of keyboard-based recreational programs. In NAMM Foundation's experience, is this an accurate assessment of the music programming landscape? Does NAMM Foundation have any special interest in recreational keyboard programming?
NAMM Foundation seeks to support recreational music-making activities for all instrument categories.
How does NAMM Foundation view earned income as a means of long-term sustainability for nonprofit organizations? Favorably? Unfavorably? Neutrally?
Historically, long-term nonprofit sustainability is achieved with a realistic balance of earned and supporting income relative to the service potential of the organization to meet stated needs. The ratio of earned to supporting income is also considered relative to the earned income opportunity within the service target. Good business and financial planning are the key to sustainability that includes consideration for both earned and supporting income.
Does the NAMM Foundation offer technical support to organizations that have not been awarded?
The Foundation does not offer private consultation during the application process nor after grants have been awarded. Support for grant seekers is available through Candid.