SupportMusic Instrument Tags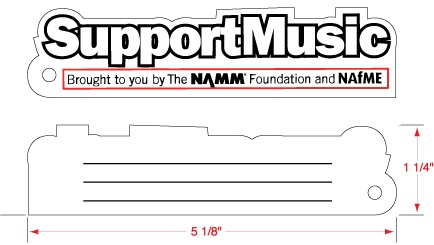 Thank you for your interest in the SupportMusic Instrument Tag. Unfortunately, we have had an unprecedented surge in demand and our inventory has been depleted. We are working with our manufacturer and expect to have more by the beginning of September. Please place your order at the NAMM Foundation store to be placed on the wait list.
These virtually indestructible vinyl 5" X 1" die-cut tags feature the SupportMusic logo on one side and are available either standard (blank) or custom printed with your company information. The NAMM Foundation provides the tag, you cover the printing cost. For prices and information about customizing instrument case tags, visit the NAMM Foundation Store. If you have any questions about our SupportMusic luggage tags, please contact supportmusic@namm.org.
"Magic Music has used the custom SupportMusic.com tags to give away in goody bags at fundraisers & summer music camps, as a promotional item at our booths at local events, and as an advertising tool at different stores and venues. We believe the tags make excellent gifts for these occasions and are great ways to market and advertise our music lessons while stressing the importance of supporting music education"
Alan W.
President, MagicMusic.com
"The tags are A HUGE HIT! My kids love having their own "special" tag! It's amazing how much of a "hit" they are! The kids love them - and it also is great advertising - for parents to come to your site."
Karen Seward
Music Teacher, Timber Grove Elementary
Owings Mills, MD
Please go here to order luggage tags.