SupportMusic Instrument Tags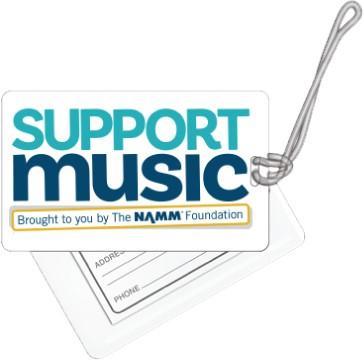 The Instrument Tags are now available for purchase.
A Note from The NAMM Foundation
Instrument tags can be purchased for 25cents each, which includes free shipping. Visit the NAMM Foundation Store to order your tags. If you are a NAMM member please contact bethanyg@namm.org to place your order.
These virtually indestructible vinyl 3" x 5" 5" instrument tags feature the Support Music logo on one side and a back slot for a name card (included) or your own business card. If you have any questions about our SupportMusic luggage tags, please contact supportmusic@namm.org.
Thank you for all you do every day to support music education and please accept our best wishes for a great school year ahead. Together, we keep music education strong.
"The tags are A HUGE HIT! My kids love having their own "special" tag! It's amazing how much of a "hit" they are! The kids love them - and it also is great advertising - for parents to come to your site."
Karen Seward
Music Teacher, Timber Grove Elementary
Owings Mills, MD