Talking Up Music Education is a podcast from The NAMM Foundation that shares news and stories about music education. This week we are sharing podcasts that examine the role of arts education.
Highlighted episodes include interviews with: David Brooks, The New York Times columnist, and Kathy Fletcher, director of Turnaround Arts (episode 33); Jane Best, director of Arts Education Partnership (episode 25); Jeff Poulin, arts education program manager at Americans for the Arts (episode 24); and David Dik, national executive director of Young Audiences Arts for Learning (episode 21).
"When Plato taught about education, it was the latter of the beauties, and he knew that the arts were very much intermixed with the intellectual and the spiritual," said Brooks. "Plato said, 'just find beautiful things and climb that ladder.'"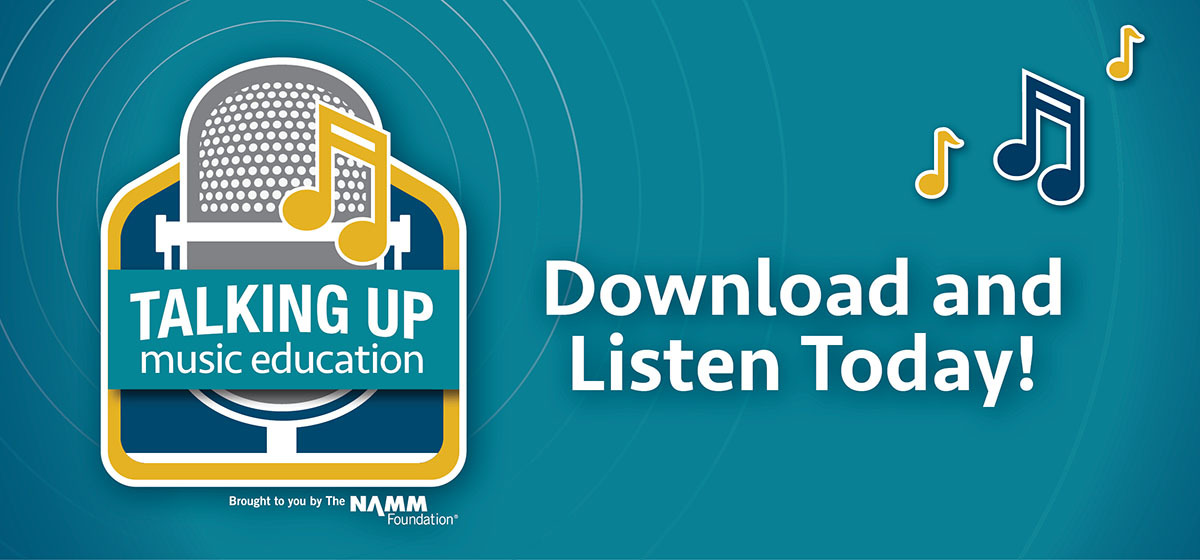 Listen to the Podcasts
David Dik, Young Audiences
David Brooks and Kathy Fletcher
Jeff Poulin
Jane Best
Sound Bites From the Episodes
"Bernie Williams [spoke] about a child at his school who came here from another country, and he wouldn't speak. Then he got one of the leads in Willy Wonka, the school musical, and now you cannot shut the child up. He's got the most beautiful voice, and he's made friends and he's popular. We hear that over and over again. [Music is] another way for people to come out of their shells." – Kathy Fletcher
"If we have equitable policies that favor students who are systematically disadvantaged, we really achieve the ultimate goal of making sure that all students are learning in ways that reach them in their own circumstance, regardless of zip code or race or gender or financial situation, to be able to learn through the arts." -Jeff Poulin
"And without a doubt, the percussionist that can influence somebody else to be a percussionist, that's a great story. Those students will be members of a community…[and] they become the voice to say how important the arts are." - David Dik
"State plans are happening, districts are operationalizing their ideas, and if you're not getting into the conversation and having conversations with people… then things are going to move forward without you." - Jane Best
"The emotional enticement you get from music or from any performing art is what keeps you vivid and makes your mind open for memorization. Plato was third-century B.C. guy. He said the first thing you should do is introduce [students] to a beautiful face, and then say, 'Oh, that's beautiful,' and then say, 'Well, there's a better kind of beauty, which could be musical beauty or just a beautiful song or a beautiful piece of art,' and then you could say, 'Oh, but there's an even better kind of beauty, which is a beautiful idea.' Then you can teach them about the beauty of an idea; and then there's an even better kind of beauty, which is justice, social justice; and then there's an even better kind of beauty, which is the perfect beauty of the world." - David Brooks
Talking Up Music Education is a podcast produced by The NAMM Foundation about music education. Host Mary Luehrsen chats with teachers, parents, students and community leaders who share stories about what they are doing to create music learning opportunities. Please download, share and subscribe to keep up with the stories that make a difference in music education advocacy.
Subscribe to Talking Up Music Education
Where to subscribe: iTunes | Google Play | Stitcher