On January 18-22, NAMM presented Believe in Music Week - a free, online gathering to unify and support the people who bring music to the world.
This music celebration included artist performances, product demonstrations with top music brands, over 150 education sessions including programming for music educators, college music students and faculty and nonprofit music organizations, and special networking opportunities and giveaways.
Select sessions can now be viewed on YouTube.
NAMM Foundation Event Highlights
Special Events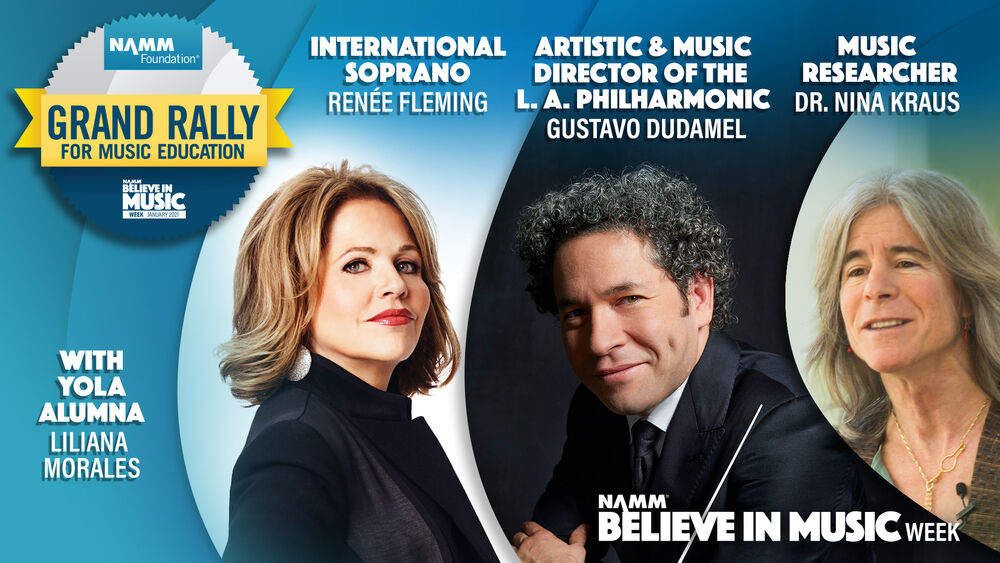 The Grand Rally for Music Education
Watch
The 2021 Grand Rally for Music Education celebrates the enduring joys and benefits of music education now and in all times and a shared commitment to advocate for music education.
Grand Rally 2021 presents international opera star Renèe Fleming in conversation with music researcher Dr. Nina Kraus of Northwestern University AND Gustavo Dudamel, artistic and music director of the Los Angeles Philharmonic with Liliana Morales, Microbiology and Sociology student at the University of California San Diego and alumna of YOLA (Youth Orchestra Los Angeles), Maestro Dudamel's El Sistema-inspired education program. Gather to share their personal and professional journeys and their lifelong commitment to music as essential to learning, our lives and communities.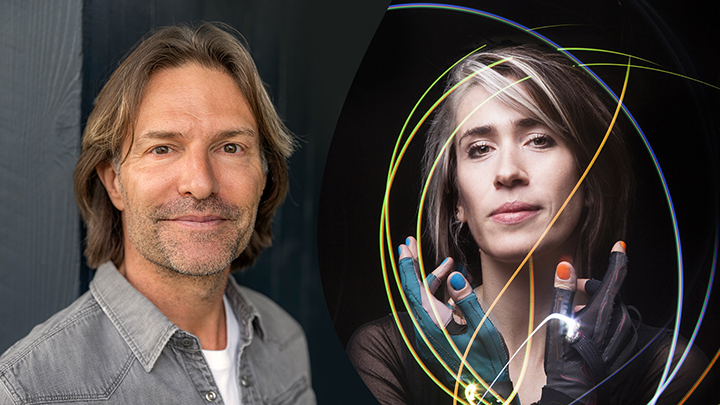 The Golden Brick with Eric Whitacre and Imogen Heap
Watch
Grammy winners Eric Whitacre (composer, conductor, lyricist and creator of the Virtual Choir) and ground-breaking singer-songwriter, Imogen Heap (MI.MU gloves, Creative Passport) in conversation about creativity, innovation and writing music. Eric challenges Imogen to take on his 4-note composition challenge in real-time.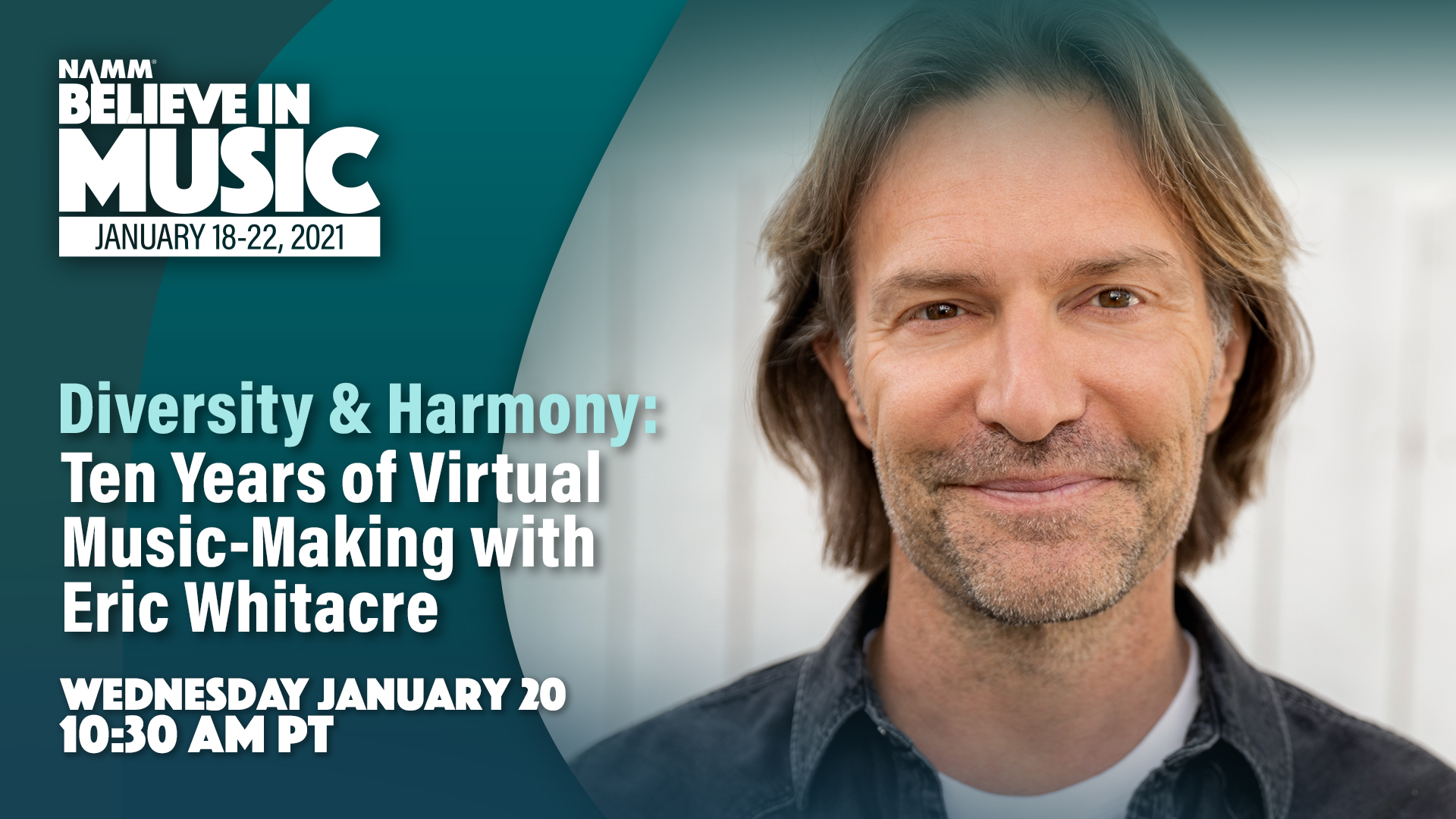 Diversity & Harmony: Ten Years of Virtual Music-Making with Eric Whitacre
Join Grammy Award-winning composer and pioneer of the Virtual Choir, Eric Whitacre, and NAMM Foundation Executive Director, Mary Luehrsen, for a conversation about virtual music-making, its role during Covid-19 and in the years ahead.
In 2010, Eric Whitacre published his first Virtual Choir. In 2020, as the world struggled with a global pandemic and humankind reviewed its respect and responsibility for one another and our planet, an extraordinarily diverse group of people – more than 17,500 singers from 129 countries - came together to sing as one in Eric Whitacre's Virtual Choir 6. Whitacre wrote the lyrics and music, "Sing Gently", under lockdown; singers recorded their performances as videos, submitting them to be joined into a global, earth choir. This session will explore the rarely seen depth of these projects, both human and technologically, the proliferation of new productions in 2020 and consider their role in the future.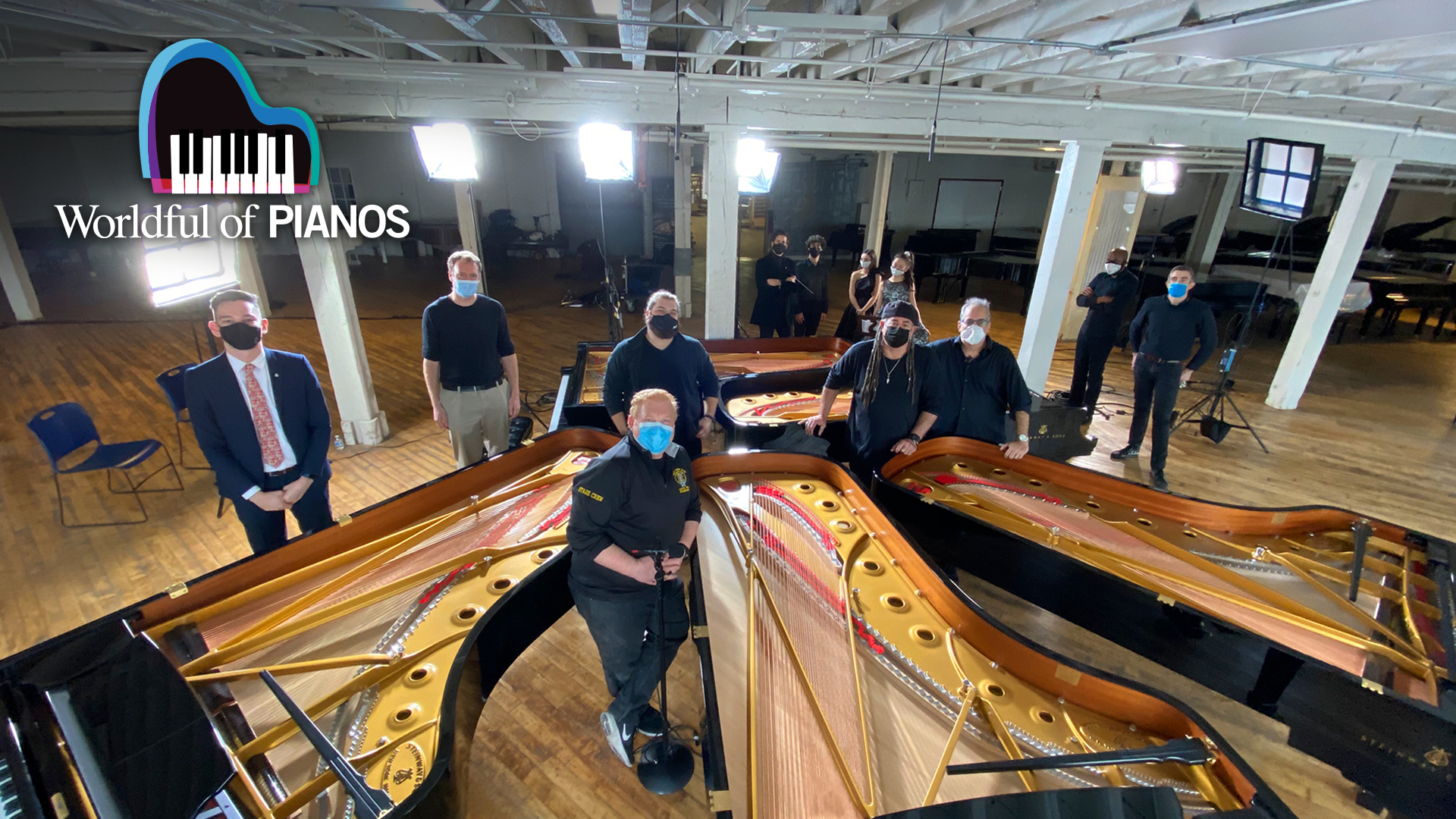 Worldful of Pianos
Watch
Over the past three years, Roomful of Pianos has become a highly anticipated event at The NAMM Show, bringing unforgettable performances for 10 pianos, 20 pianos, even 40 pianos to the show's international audience of 110,000 music industry attendees. In this pandemic year, with live music outside the home in short supply, the piano is taking on its most important role in decades.
NAMM's Believe In Music Week (January 18-22, 2021) will celebrate the instrument's central place with a special, streaming Worldful of Pianos event, produced in partnership with the Lang Lang International Music Foundation. Worldful of Pianos will focus on one of the most famous piano works ever written: Mozart's Rondo alla turca. Five players selected in collaboration with the Lang Lang Foundation will perform two kaleidoscopic, five-piano arrangements of the piece (by Greg Anderson). They will then lead the public in a play-along performance, over Zoom, of Mozart's original composition. Produced by The NAMM Foundation in partnership with Steinway & Sons and the Lang Lang International Music Foundation.
Coalition on Coalitions Forum and National "Arts Are Education" Town Hall
The Coalition on Coalitions is a working group made up of NAMM members and their networks working on state-level music and arts education advocacy efforts. Join your colleagues for a session covering the national state of play for public arts ed, what we should be watching for and what we should do this year, and the launch of a national arts advocacy campaign - "The Arts Are Education."
GenNext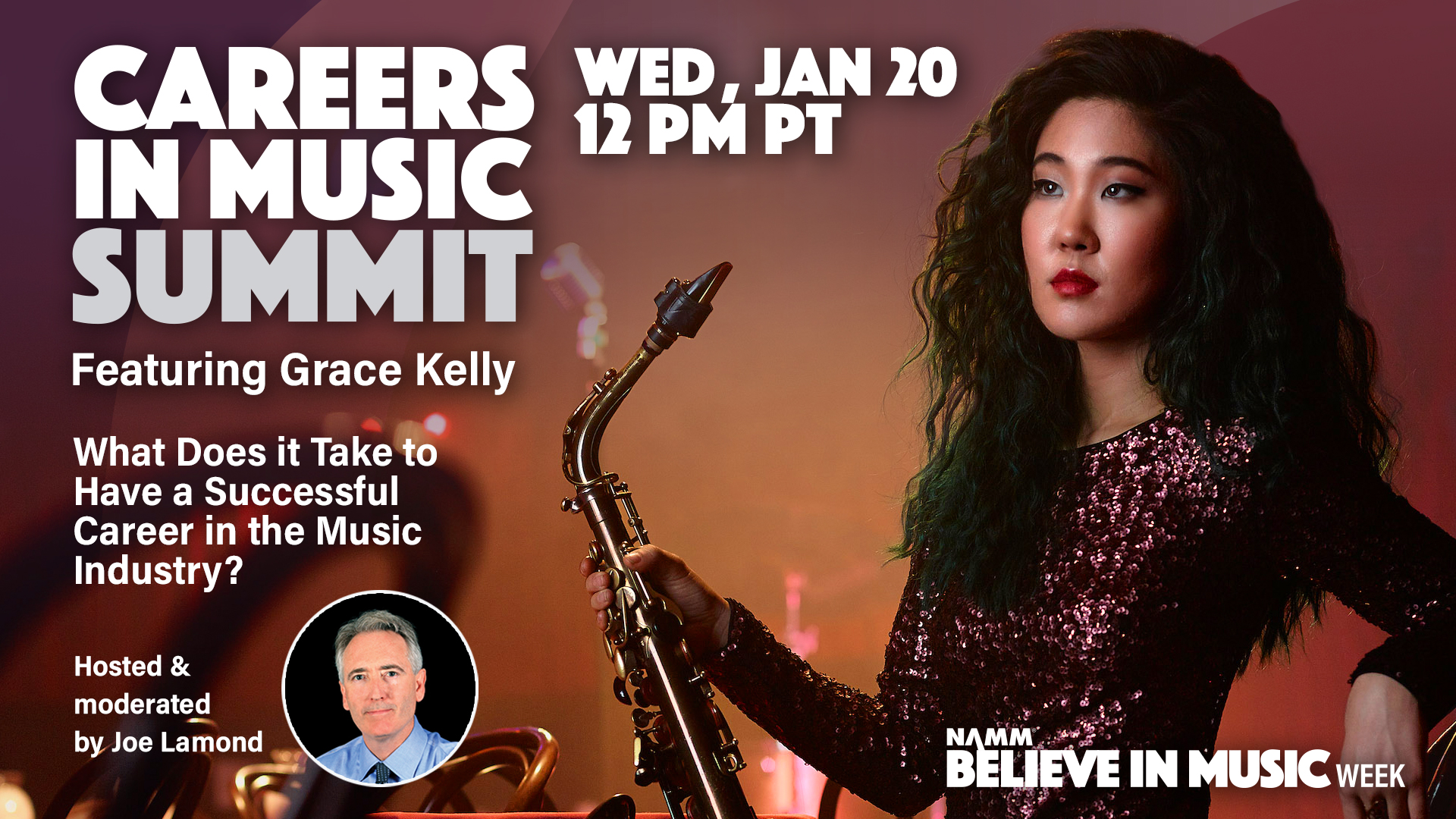 Careers in Music Summit Featuring Grace Kelly
Watch
What does it take to have a successful career in the music industry? Find out firsthand at this special session, hosted by NAMM President and CEO Joe Lamond. In a series of up-close interviews, Lamond will speak with a diverse lineup of music industry professionals, including singer-saxophonist-songwriter-composer and band leader Grace Kelly; Laura Penrose, Owner, Nick Rail Music; Marcus Blackwell, Jr. CEO & Founder, Make Music Count and Kit Culpepper, Director of Channel Strategy & Programs, Martin Guitar & Strings.
They will discuss their career trajectories and share practical insights for long-term success. Walk away with new ideas and inspiration to take your career to new heights. This event is dedicated to SUNY Potsdam alumnus and longtime music industry icon Sandy Feldstein.
Music Education Days
What the TECH are you talking about?!
Struggling to keep up with how to use all the technology in your music program? Wondering about MIDI devices, Bluetooth, recording, apps, DAWs, etc?! Then this session is for you! Come learn the need-to-knows of using tech in music programs and see many examples of solutions at all levels. Presented by The NAMM Foundation in collaboration with TI:ME.
Advocating for Music Education Utilizing Social-Emotional Learning
SEL is a construct implemented across the globe providing students with skills to confront challenges by being self-aware, socially-aware, and to make responsible decisions. SEL is a widely-accepted construct that policy makers at all levels value and will be paramount for our administrators. SEL can provide a solution to help our students cope, heal, and move forward. Join us as we discuss strategies to advocate for music education utilizing SEL. Presented by The NAMM Foundation in collaboration with NAfME.
Preparing for a Post Pandemic Era in Music Education
Join music supervisors from across the country to learn the best techniques and tips for engaging students as you teach in-person and online simultaneously. The supervisors will also speak to their expectations of what Fall 2021 will be like for music education. Presented by The NAMM Foundation in collaboration with NAfME.
SBO Best Tools for Schools
Each year at the Winter NAMM show, School Band and Orchestra magazine sends out a panel of leading music educators to find the best products for music educators, and always features a dazzling array of just about every music-related product that you can imagine, and even some you can't. They're not looking for the most glamorous products, and some of the best products are found in obscure locations. That means they have to scour every nook and cranny of the exhibit halls. At the end of the search, they meet to discuss what they've found with each educator presenting the case for their choices, deliberate, then select the year's winners. This year, SBO will continue this tradition of having leading educators look at products from NAMM's Believe in Music Week and present the honors on Wednesday morning, providing educator attendees two full days: Thursday 1/21 and Friday 1/22, to explore the products featured on Wednesday.
Nonprofit Management Institute
Board Chair/Executive Leader Partnership
Watch
The balance between operational and strategic leadership is crucial to the success of the 21st century nonprofit. The lines between the two are not always clearly identified but one person cannot do both.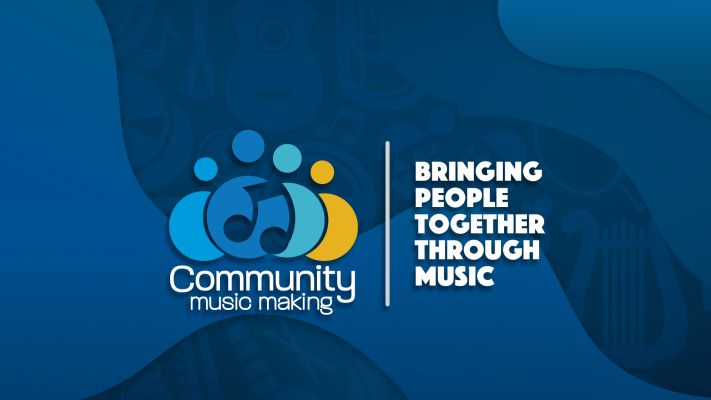 Community Music Making
Ukulele Break: The Basics
Add the uke to your musical repertoire! Learn the basics of the instrument known as the "jumping flea." We'll learn the 4 essential chords and get jamming in no time! No experience required. Facilitated by Ukulenny. Presented by The NAMM Foundation in collaboration with Kala Brand Music.
Learn "Chucking" on the Ukulele
Join YouTube sensation, Ukulenny for a free intermediate ukulele lesson. We'll cover the percussive technique of "chucking," to spice up your strum life and have a ton of fun. No experience required. Presented by The NAMM Foundation in collaboration with KALA Brand Music.
Intermediate Blues Progression on the Ukulele
Unleash your island spirit during this intermediate ukulele lesson facilitated by Ukulenny! We'll cover the blues progression and soloing on the uke. No experience required. Presented by The NAMM Foundation in collaboration with Kala Brand Music.
Music & Wellness
Believe in Rhythm
How has COVID 19 effected your personal groove? Have you found it hard to stay motivated due to the Pandemic? Based on evidence-based studies, group drumming has become a leading wellness tool, boosting the immune system on a cellular level, improving mood states, reducing burn out, and improving teamwork in corporations. Discover how rhythm can help your health and wellness; body, mind, and spirit, even ONLINE. In this interactive live ONLINE session, Christine Stevens will guide you through rhythmic breathing, guided imagery drumming, entrainment building with healing rhythms, and offer a BONUS track you can use to drum along or lead drum circles online.
Hand Drumming and Meditation
Author and music therapist, Christine Stevens guides you in a breathing and rhythmical practice using the frame drum to invoke the five elements of earth, fire, air, water, and space, as tools for your personal wellness. Discover why drumming has been a growing tool for the yoga and wellness markets.
Yoga for Musicians
During this session, the Yoga for All Musicians team will guide attendees through practices to keep our bodies and mind healthy. We will explore yoga techniques, such as physical movement, meditation, and breathwork, to address performance anxiety, repetitive motion injuries, and consistently showing up as our best selves. These will be applicable to performers, educators, and anybody in the music industry seeking more body awareness and stress management.
Music and Social Justice
Music and the Public Good: Bridging our Distances at the University of South
Watch
The University of South Carolina School of Music community responds to today's public health and social justice challenges with an initiative to reinvigorate our purpose as artist-citizens within and beyond the concert hall called Bridging our Distances. Members of the UofSC SoM community will share their intentions, strategies, actions and outcomes for creating musical experiences for the public good through uniting our communities, amplifying voices, celebrating heroes and spurring our future.