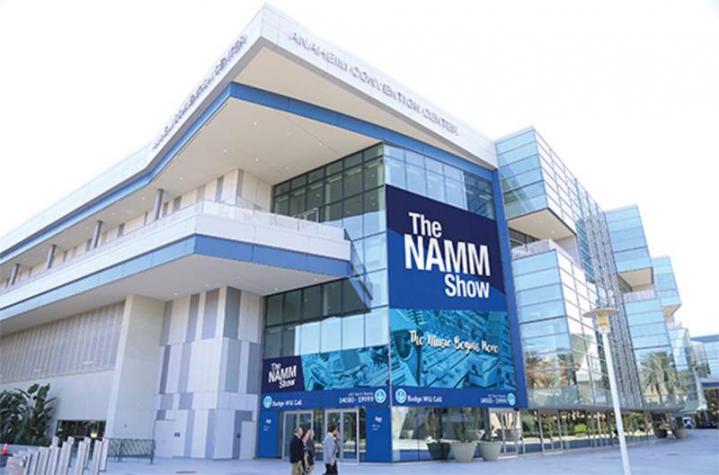 On Jan. 22, 2019, NAMM members participated in a Day of Service, as part of The 2019 NAMM Show. Volunteers supported Anaheim Elementary School District's (AESD) effort to bolster music education at Loara Elementary School.
The morning began with a choral performance of "City Life," by fourth-grade students, followed by a check presentation of $10,000 to the school district from The NAMM Foundation.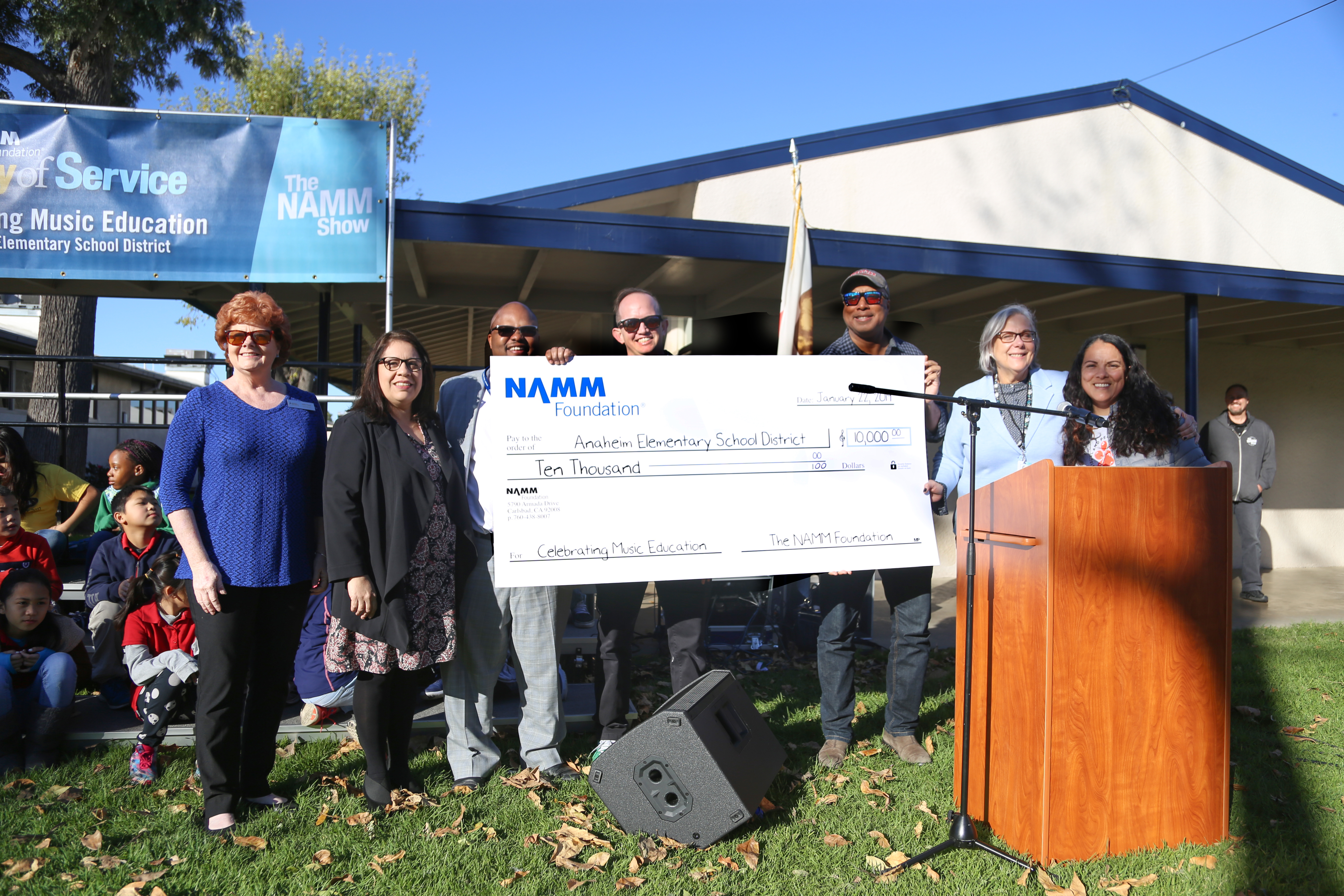 "The support that we have received from NAMM is phenomenal, not just for the check they present us each year but for literally launching us in this program for our district," said Jackie Filbeck, AESD Board of Education member, to GuitarGirlMag.com. "After 20 years of not having music, NAMM came, took us by the hand, and started us on this journey that has evolved in ways that are just phenomenal. We couldn't be more grateful and thankful for the support of NAMM."
Both Principal Beatriz Garcia and Superintendent Christopher Downing were present to give opening remarks.
"When you start to talk about things like fractions, half notes, quarter notes, those are real life connections that make learning easier for our students," said Chris Downing, Superintendent, to NBC.
Throughout the morning, 70 students participated in drum, ukulele, guitar and choral and movement sessions taught by master facilitators. Facilitators included: John Fitzgerald, Remo; Glen McCarthy, Guitar & Accessories Manufacturers Association; Ukulenny, Kala Brand Music; and John Jacobson, also known as "Double Dream Hands."
The day of music making began with a drum circle session for everyone, including Anaheim teachers and NAMM member volunteers. Facilitator John Fitzgerald of Remo encouraged students to express themselves through percussion.
Scott Mandeville of Tim's Music said the event is all about championing students to make music.
"It's really a fabulous opportunity because music education positively impacts markers of academic success," shared Mandeville with GuitarGirlMag.com.
The ukulele facilitator, Ukulenny, had an incredible experience teaching students. Allison Reyes, a student, shared with NBC how the ukulele evokes emotions like joy.
"The sound gets you feeling sad or upset," said Reyes. "[Or feeling] happiness."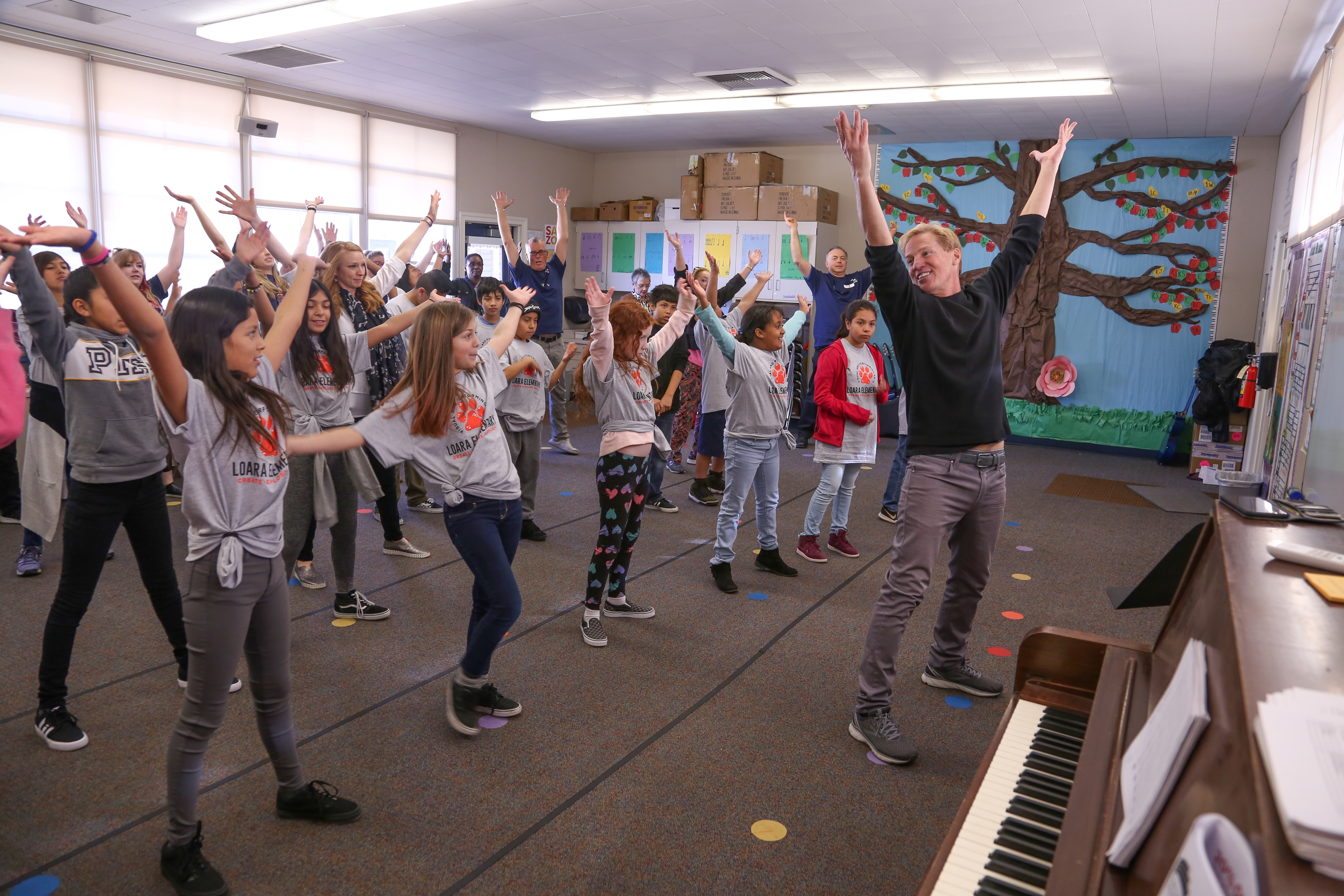 John Jacobson, known by his stage name, "Double Dream Hands," returned once again courtesy of Hal Leonard, to NAMM's Annual Day of Service to teach Choral and Movement.
Jacobson is an author and composer of choral works and musicals that have been performed by millions of children and have helped educators excel in engaging students in the classroom.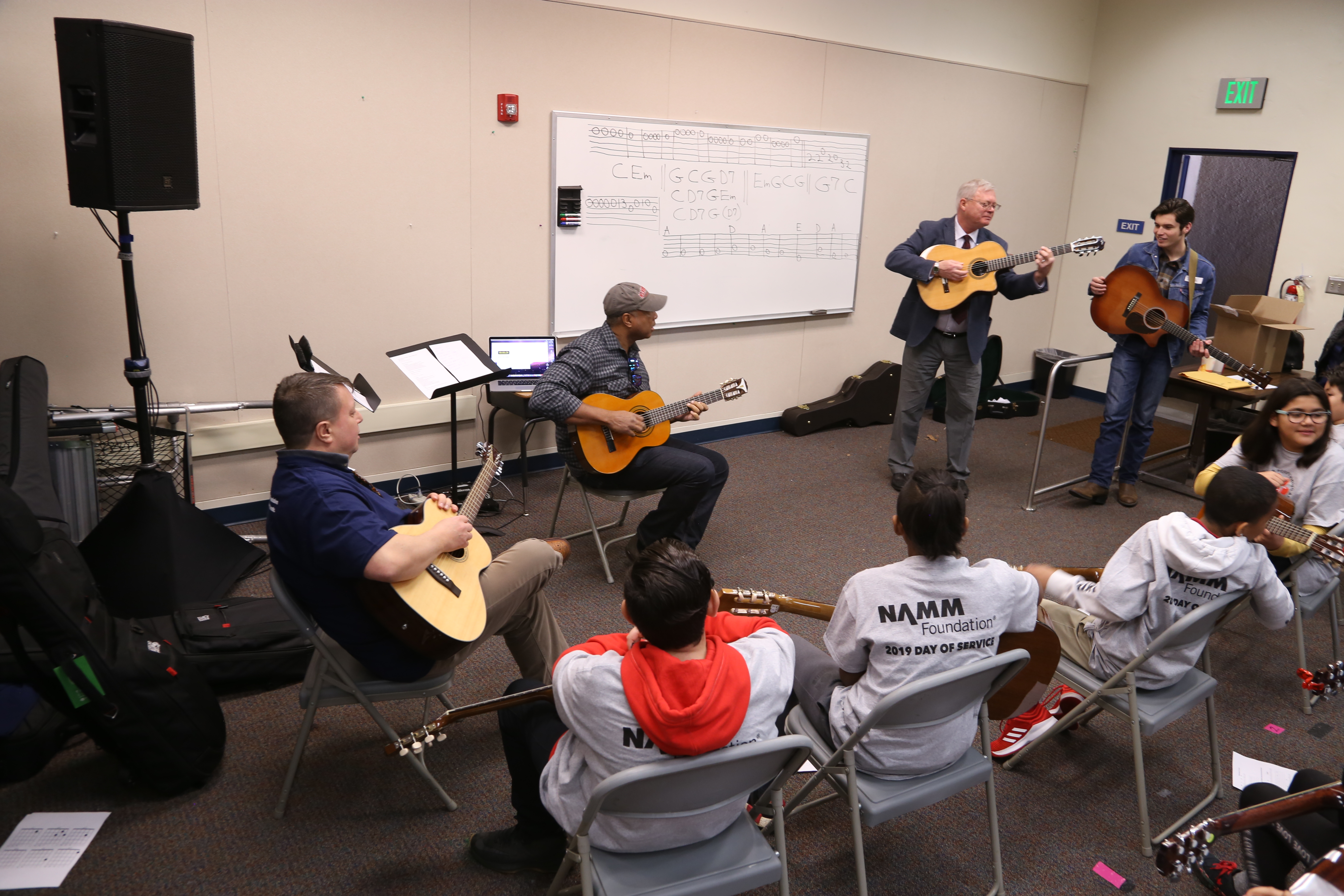 Students participating in the guitar session, facilitated by Glen McCarthy, were surprised to see Sean Oliu and Bernie Williams in the room. Oliu is a musician and former student from the Anaheim Elementary School District, while Williams, a former professional baseball player for the NY Yankees, is a professional musician and NAMM Foundation board member.
The Day of Service came to an end with a "Twist and Shout" and "LaBamba" mashup performance by students. Students and volunteers left the event feeling empowered and inspired, and ready to keep music education strong in the new year.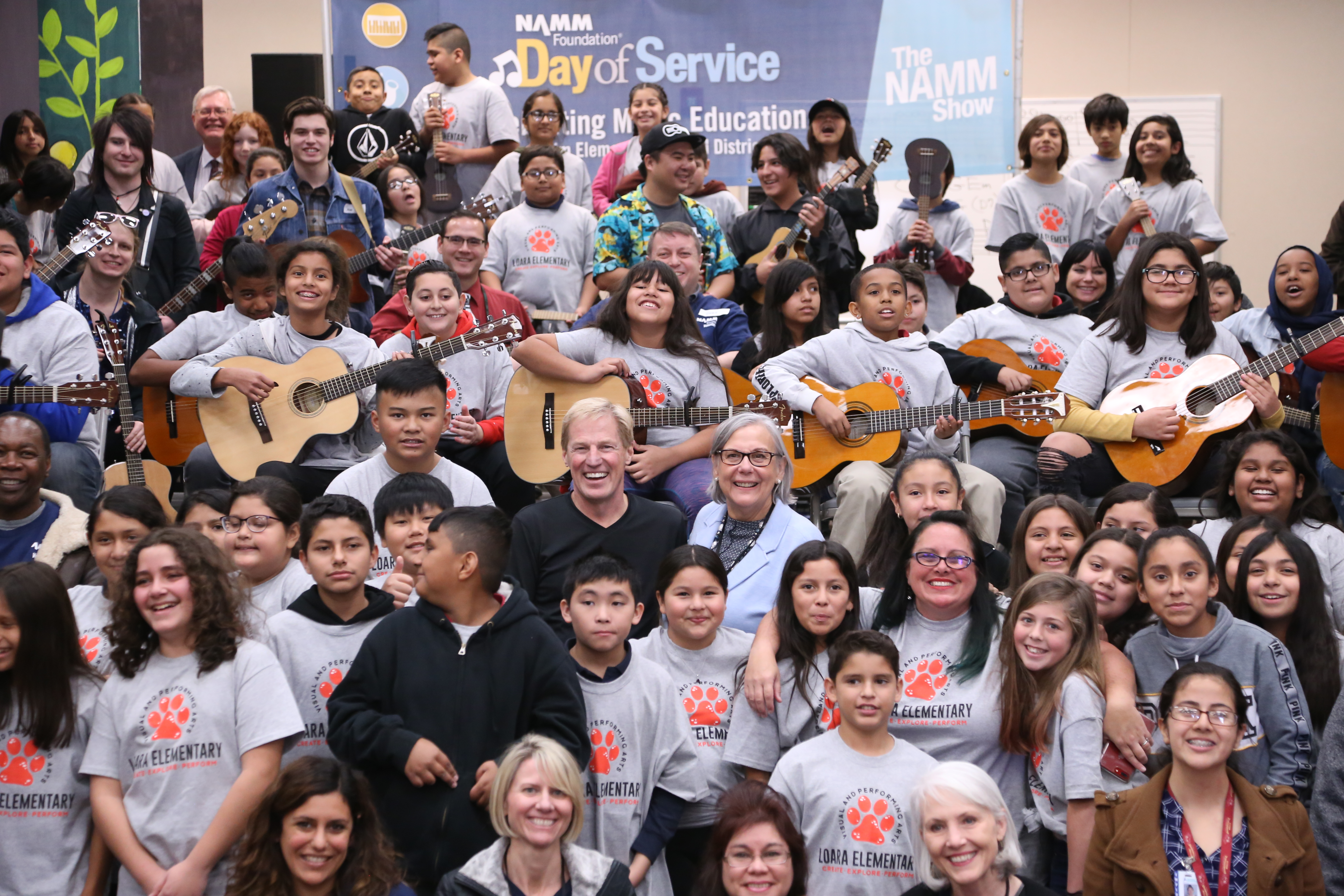 The NAMM Foundation thanks the following organizations who helped make the Day of Service possible: KALA Brand Music, REMO Inc, Guitar and Accessory Marketing Association, Fender Play, Hal Leonard and Freeman Co.
Interested in attending NAMM's 2020 The Day of Service? Email Claire Kreger-Boaz.