Talking Up Music Education is a podcast from The NAMM Foundation about music education. Recorded live from The 2019 NAMM Show, episode 76 includes an interview with Peter Luongo and 16 members of the Peter Luongo Ukulele Ensemble.
Interviewed by The NAMM Foundation's Mary Luehrsen, Luongo chatted about iteracy - learning a language, a code, and a methodology.
"If what you want is to play and sing, then that's great. Join a uke circle and just do that," said Luongo. "You can be part of something that pushes the music literacy aspect so that you have a chance, no matter what your age, to become a musician."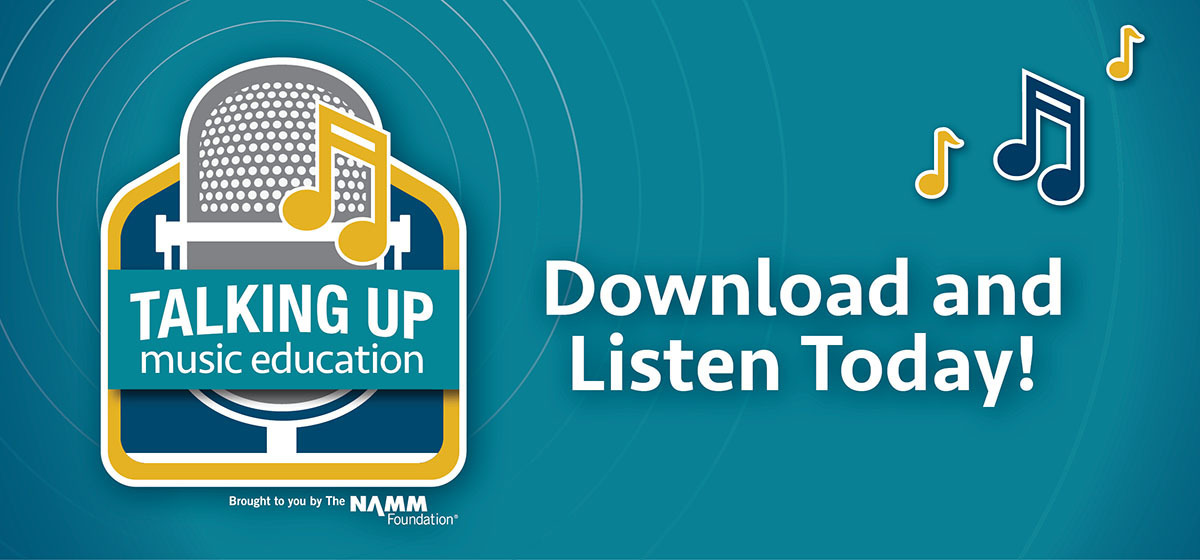 Listen to the Podcast
Sound Bites From the Podcast
"[For] some, this is their only entry into music. And I'd say probably a good four of them, five of them, out of 16—that's a third of them—didn't have any other music until they discovered the ukulele, and now they're getting a total music education at their age, after 50." - Peter Luongo
"Learning is limitless, in terms of when we start. Music is a natural threshold experience. The ukulele is a very reasonable happy place to feel. It feels happy to start, right?" – Mary Luehrsen
"In the Langley School District, every kid, with the exception of a few schools, were handed ukuleles as their precursor to being able to play in the band, school band or choir. I can't tell you how many students have come back and said, 'Mr. Luongo, I got my own band now.'" - Peter Luongo
"I don't think there's a community anywhere in the world, maybe in some third-world countries, that won't have a ukulele circle in it. There's a ukulele circle in literally every community." - Peter Luongo
Subscribe to Talking Up Music Education
Where to subscribe: iTunes | Google Play | Stitcher | Spotify
Talking Up Music Education is a podcast produced by The NAMM Foundation about music education. Host Mary Luehrsen chats with teachers, parents, students and community leaders who share stories about what they are doing to create music learning opportunities. Please download, share and subscribe to keep up with the stories that make a difference in music education advocacy.