Talking Up Music Education is a podcast from The NAMM Foundation about music education. Recorded live from The 2019 NAMM Show, episode 74 includes an interview with Rich Redmond, a professional percussionist, music educator, and a motivational speaker.
Interviewed by The NAMM Foundation's Mary Luehrsen, the discussion with Redmond centered around his musical career, acting, and the new evolution of country music.
"I've been playing drums for 42 years," said Redmond. "[In] 1976, I grew up in Milford, Connecticut, and I was hitting everything in sight, and my accountant dad and my nurse mother said, 'You are a Type A restless kid, and we're going to get you to do something.' So, they got me a blue sparkle snare drum, and I started taking lessons."
As a traveling musician, Redmond has a versatility and wide range of accomplishments, including acting. He was in the drumline, and ended up getting his bachelor's degree in music education with percussion emphasis at Texas Tech. He's now in Nashville, which he says is always about storytelling.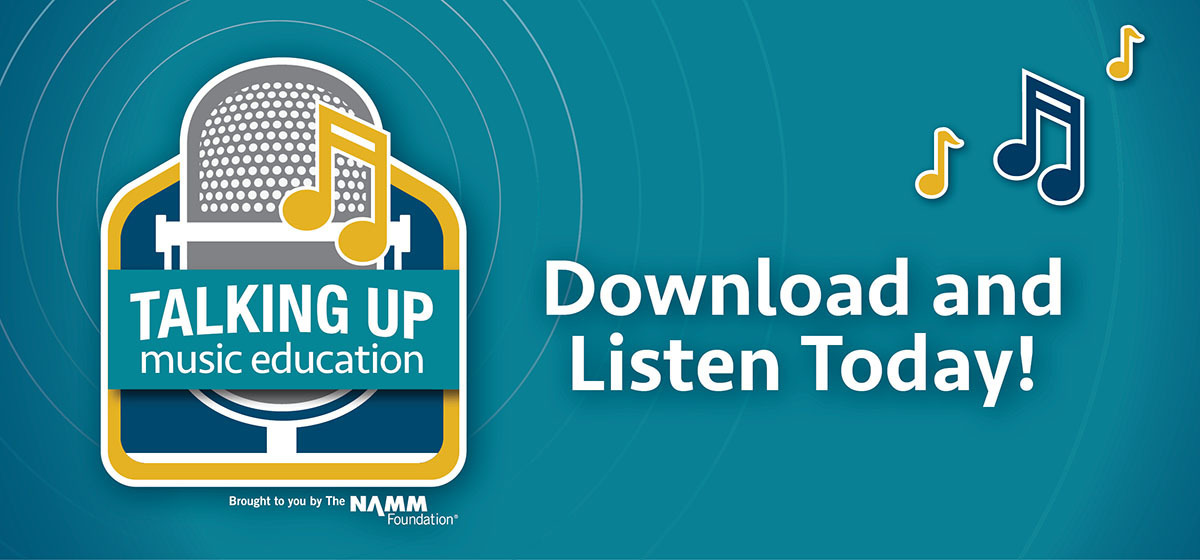 Listen to the Podcast
Sound Bites From the Podcast
"My first teacher was a guy named Jack Burgi, and he showed me how to hold the sticks and how to play a marching cadence. Then, we started working into rock beats and stuff. Then, my dad got transferred to El Paso, Texas, in 1981, and that was a blessing because Texas has an amazing music-education culture." - Rich Redmond
"Nashville is great to me because it taught me how to play a song… And that was an awesome skillset to learn."- Rich Redmond
"'90s country was a lot of kick drum and snare drum, vocal right here, and then there would be trading between the piano and the steel guitar. And now, years later, the drums have gotten louder, the vocal's even closer to you right here, and then, there's less steel guitar, there's no piano. A lot of virtual instruments, a lot of drum loops, and it's just the new music of the people." - Rich Redmond
Subscribe to Talking Up Music Education
Where to subscribe: iTunes | Google Play | Stitcher | Spotify
Talking Up Music Education is a podcast produced by The NAMM Foundation about music education. Host Mary Luehrsen chats with teachers, parents, students and community leaders who share stories about what they are doing to create music learning opportunities. Please download, share and subscribe to keep up with the stories that make a difference in music education advocacy.