Talking Up Music Education is a podcast from The NAMM Foundation that shares news and stories about music education. This week we are sharing a podcast episode broadcast live from NASMD, featuring current president of the National Association of School Dealers, Mike Meyer.
"Whether you're in a large [or small] school district, or a high income or a low income [community], there's one thing that has remained the same, and that is that parents find value in music education," said Meyer. "[Parents] will make the sacrifices that they need to make to give their kids a better position than they had themselves."
During the podcast, Meyer discusses his motivation for making sure music education programs are present in communities across the country and how to help music educators get more kids playing music.
Listen to the Podcast
Sound Bites From the Podcasts
"When [I was] invited to the [NAMM] Fly-In years ago in D.C. to go up on the Hill and try to talk to our elected officials, I thought, 'Why me? What is special about me that they're even going to listen to me?' And then I realized, well, if not me, who? And why not me? So, if you're listening, you should be and can be that advocate [for music education]." – Mike Meyer
"NAMM has done a great job of teaching us how to be proactive on the education side, especially at the state level and national level." – Mike Meyer
"The first time the superintendent should meet [you as an educator] is [not] when they are getting ready to cut your budget. They want to know that you're supporting them, and if you're supporting them, then when it comes time, they will probably support you." – Mike Meyer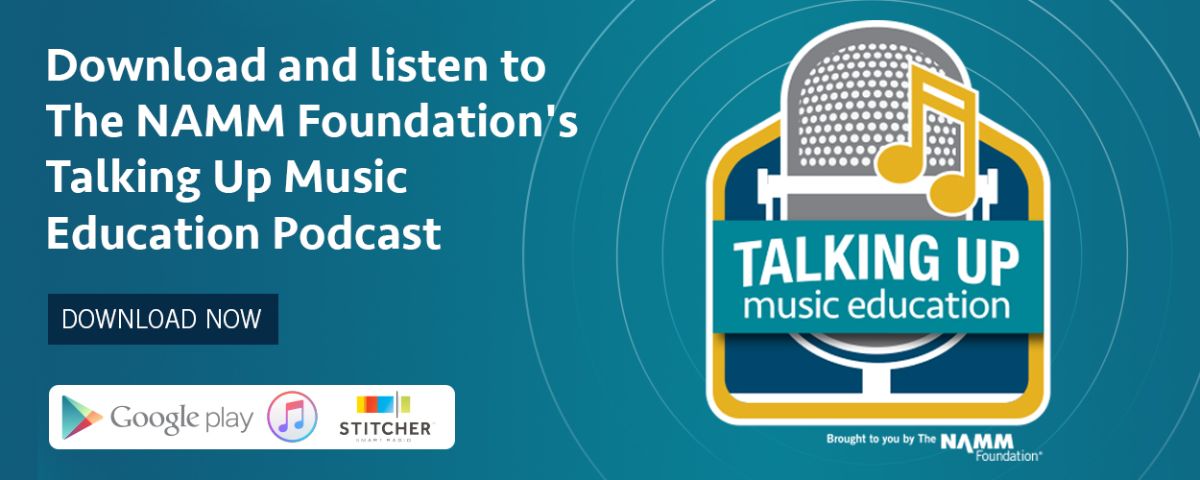 Subscribe to Talking Up Music Education
Where to subscribe: iTunes | Google Play | Stitcher | Spotify
Talking Up Music Education is a podcast produced by The NAMM Foundation about music education. Host Mary Luehrsen chats with teachers, parents, students and community leaders who share stories about what they are doing to create music learning opportunities. Please download, share and subscribe to keep up with the stories that make a difference in music education advocacy.