Talking Up Music Education is a podcast from The NAMM Foundation that shares news and stories about music education. This week we are sharing a podcast episode broadcast live from NASMD, featuring Fred Schiff of All County Music.
Schiff chats about how music is bringing layers of healing to the Parkland, Florida community after the shooting at Marjory Stoneman Douglas High School in 2018.
"Two of the students who were killed were in the band program," said Schiff. "The musical life is what healed those students who were involved in band. It's allowed them to go back into that school with a purpose. They've responded in a way where you could crumble, and nobody would say that's a bad thing, but they did not. They really continued to hone their abilities and play at unbelievable levels of musicianship and competencies, and it's been their safe haven."
During the podcast, Schiff chats about how music has helped the community of Parkland move forward and rise up. His company gave away 50 trombones in 50 different schools to recognize Alex Schachter, a freshman band student who was killed during the shooting.
Listen to the Podcast
Sound Bites From the Podcast
"I had some very fine teachers—Dr. Bentley Shellahamer, who became the marching band director at Florida State University. That's where I got my education of music and learned how to be disciplined about it and learned how to practice." – Fred Schiff
"A few years before [the Marjory Stoneman Douglas High School shooting], the band director, who was there for over two decades, had passed away. I went in that year [as an interim director] and took over as one of the jazz band directors, because it needed to be done. The students knew me there because our son went to school there. There was a deep connection." – Fred Schiff
"As you listen to the parents who lost children, healing is in its infancy. I don't know how they cope. I know one father- I don't know how he gets out of bed every day, but he does- [but] he is an advocate for safe schools. He is pushing his agenda to make it safer for all children. Everyone is dealing with this in their own way, none of it easy." – Fred Schiff
"We are going to be giving away 50 trombones to 50 different students in 50 different schools throughout southern Florida in the coming months to recognize Alex and have other students realize and recognize that they have the ability to play music and they're doing it for Alex in a physical sense because his presence is going to be with them." – Fred Schiff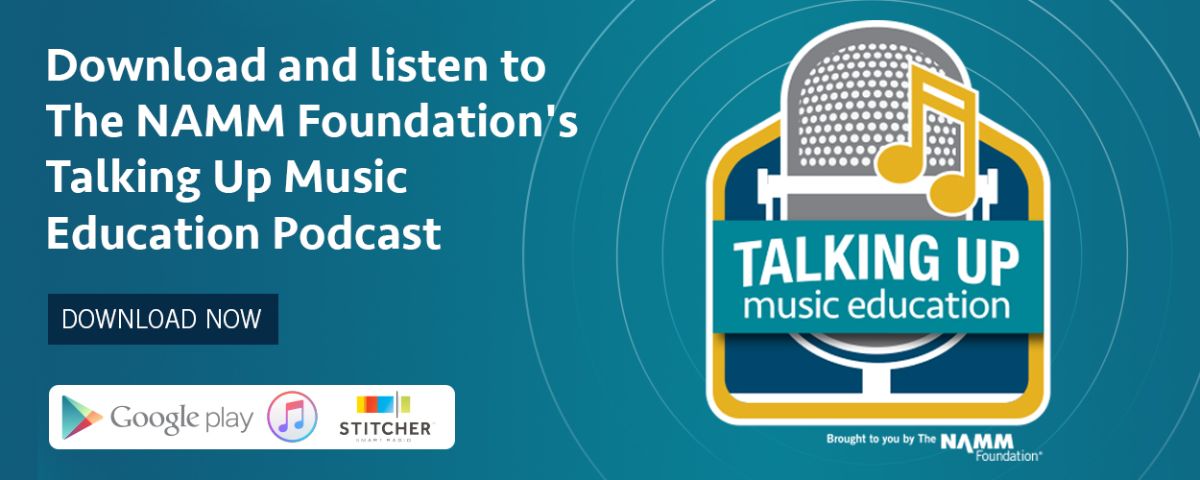 Subscribe to Talking Up Music Education
Where to subscribe: iTunes | Google Play | Stitcher | Spotify
Talking Up Music Education is a podcast produced by The NAMM Foundation about music education. Host Mary Luehrsen chats with teachers, parents, students and community leaders who share stories about what they are doing to create music learning opportunities. Please download, share and subscribe to keep up with the stories that make a difference in music education advocacy.