Talking Up Music Education is a podcast from The NAMM Foundation that shares news and stories about music education. This week we are looking back to a podcast episode recorded live from Music For All's Grand Nationals, featuring guest host Claire Kreger-Boaz, Senior Project Manager at The NAMM Foundation, and guest Joshua Simonds, Executive Director of the Percussive Arts Society.
"Percussive Arts Society is essentially the international organization of drummers and percussionists," said Simonds. "We're an international organization, and we do whatever we can to inspire future percussionists, to make sure that non-percussionists have the correct percussion education."
Simonds chats about his first love, the piano, and when he was presented with the opportunity to play the xylophone by Mrs. Clauss. He also discusses what an international service organization's role should be in local advocacy efforts.
Listen to the Podcast
Sound Bites From the Podcasts
"Everyone should actually play the drums because you become better at rhythm." - Joshua Simonds
"Rhythm! Discovery Center is our museum. It's fully interactive: hand drums and drum sets and everything you can think of." - Joshua Simonds
"Whether we're bringing in a drum circle to a school to show something and creating a different curriculum or showing how you can do it in your own community, [that's ideal]. To actually show how we're doing it here, and then give [students and educators] the tools to be able to take it to their own community." - Joshua Simonds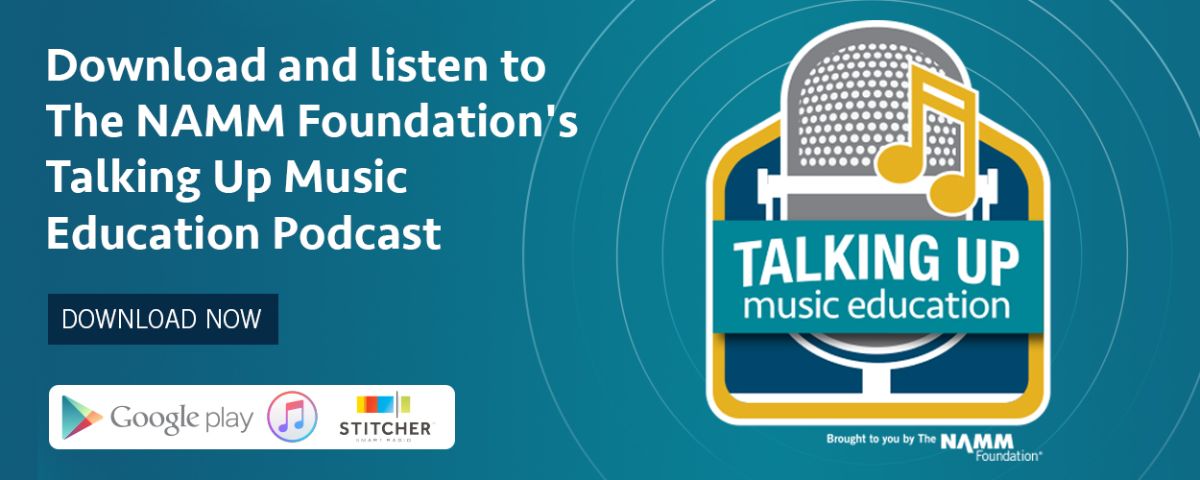 Subscribe to Talking Up Music Education
Where to subscribe: iTunes | Google Play | Stitcher | Spotify
Talking Up Music Education is a podcast produced by The NAMM Foundation about music education. Host Mary Luehrsen chats with teachers, parents, students and community leaders who share stories about what they are doing to create music learning opportunities. Please download, share and subscribe to keep up with the stories that make a difference in music education advocacy.