Talking Up Music Education is a podcast from The NAMM Foundation that shares news and stories about music education. This week we are looking back to a podcast episode recorded live from Music for All's Grand Nationals, featuring guest host James Stephens, director of advocacy and educational resources at Music for All, as well as band directors and drum majors at Grand Nationals.
"There needs to be a level of commitment from students. You need to have a teacher or a team of teachers. You need to have great community support. You need to have supportive administration. You need to have amazing parents," said Nathan, a band student. "When you can find a place where all of those ingredients are there- you're certainly ripe for success in music education."
Stephens talked with band directors and drum majors from American Fork High School in Utah, Camdenton High School in Missouri and O'Fallon High School in Illinois about some of the "ingredients" required to create a successful band program.
Listen to the Podcast
Sound Bites From the Podcasts
"Knowing that [my band directors] had a vision for me that I didn't necessarily have for myself yet was pretty powerful, and it made me want to keep going. It's something that I don't know if I would have found somewhere else but being in music programs really helped me. I felt accepted." - Student
"I followed [my brother's] footsteps. In fifth grade I joined [band] because my brother [was] playing trombone. And I really loved it. I almost didn't do marching band because I also used to do Taekwondo and I was really committed to that at the time. I quit Taekwondo and I become very committed to marching band, and I'm very glad with where I am now." – Student
"What's great about Music for All is you get to meet people and have amazing experiences. You can bring your students. It's [about] students [finding] their path[s to] achievement." - Band Director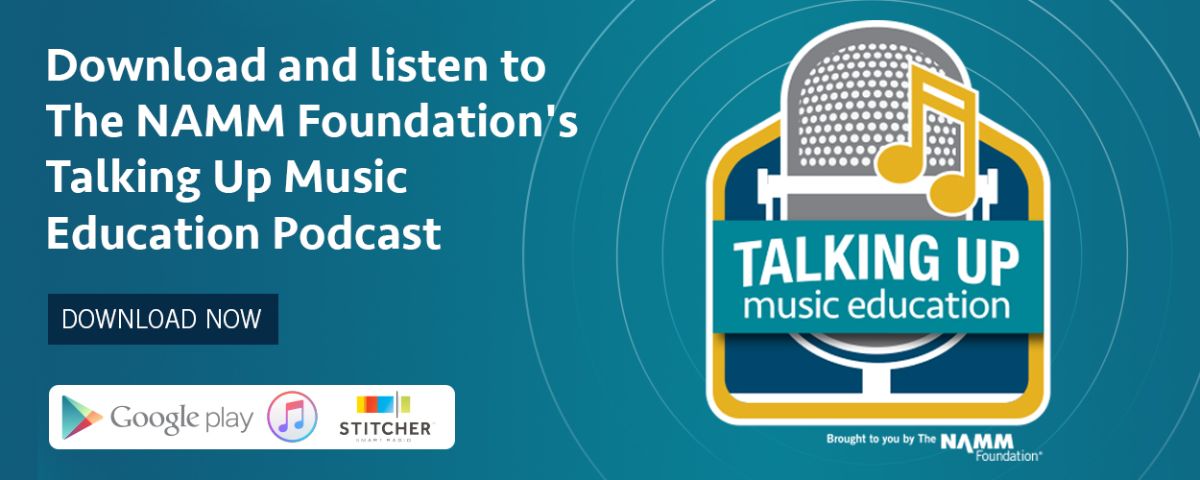 Subscribe to Talking Up Music Education
Where to subscribe: iTunes | Google Play | Stitcher | Spotify
Talking Up Music Education is a podcast produced by The NAMM Foundation about music education. Host Mary Luehrsen chats with teachers, parents, students and community leaders who share stories about what they are doing to create music learning opportunities. Please download, share and subscribe to keep up with the stories that make a difference in music education advocacy.