Talking Up Music Education is a podcast from The NAMM Foundation that shares news and stories about music education. Download and listen to episode 81 featuring guest Bob Morrison, founder of Quadrant Arts Education Research, the nation's leading arts education research and intelligence organization.
"The DCI experience is kind of the ultimate experience for students that are involved in the marching arts," said Morrison. "It really is a breeding ground for the next generation of instrumental-music instructors, and it also is a showcase for what these very, very talented students are able to do."
In this podcast episode, Morrison discusses the Drum Corps experience and what he did to change marching ensembles for years to come.
Listen to the Podcast
Sound Bites From the Podcast
"I was honored to be inducted into the Drum Corps International Hall of Fame for my historic involvement with the activity from the late 1970s through 1992. I was the person that first came forward with the idea of putting a full percussion ensemble in front of the brass ensemble in drum corps, and as a result, we created this thing called the front ensemble, which now, 35 years later, is prevalent in organizations and marching ensembles all over the world. It was a major innovation at the time of the activity." - Bob Morrison
"We've been at this for a very long time, fighting the good fight. [The Drum Corps International Hall of Fame] recognized the impact of the work I've done and certainly the work that, historically, NAMM does to help support those programs." - Bob Morrison
"The Arts Education Data Project is simply finding a way to take existing data that's in state departments of education and making it visible and usable to the general public and to policymakers. [The project] helps people understand where programs exist and where programs may not exist, so that we understand who has access to arts programs and who does not. It also looks at the diversity of opportunities those students have access to." - Bob Morrison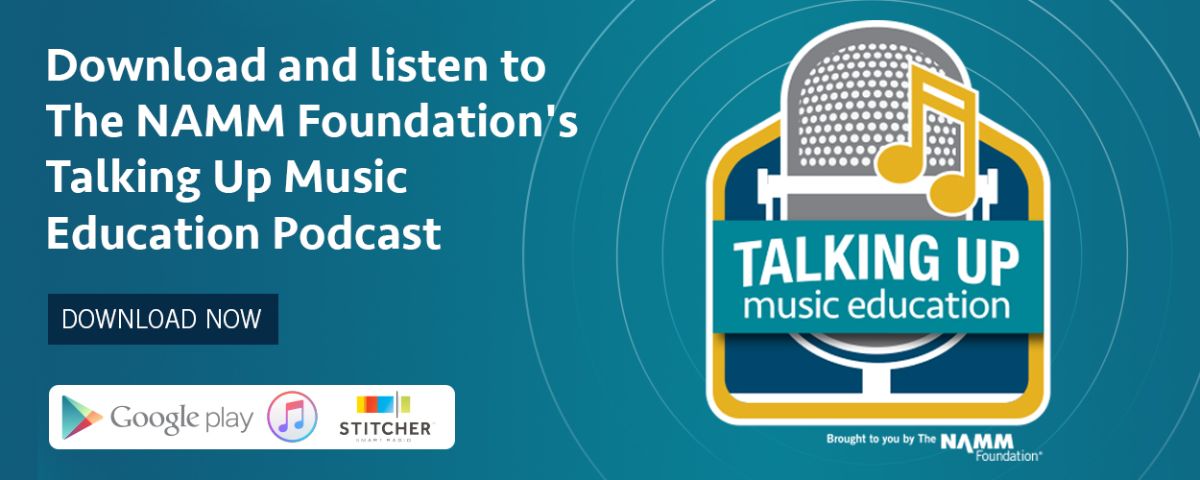 Subscribe to Talking Up Music Education
Where to subscribe: iTunes | Google Play | Stitcher | Spotify
Talking Up Music Education is a podcast produced by The NAMM Foundation about music education. Host Mary Luehrsen chats with teachers, parents, students and community leaders who share stories about what they are doing to create music learning opportunities. Please download, share and subscribe to keep up with the stories that make a difference in music education advocacy.