Music Education Advocate and NAMM Member Mark Despotakis on Bringing Everyone to The Table
Hosted by Mary Luehrsen, executive director of The NAMM Foundation.
This podcast is a 22-minute listen.
Subscribe to Talking Up Music Education
Where to subscribe: iTunes | Google Play | Stitcher | Spotify
About This Episode
Talking Up Music Education is a podcast from The NAMM Foundation that shares news and stories about music education. This week we're looking back to episode 87 featuring NAMM member Mark Despotakis, director of market development at Progressive Music.
In this episode Despotakis discusses the importance of bringing everyone to the table to advance music education advocacy efforts and being part of the SupportMusic Coalition.
"Get involved. [Find a] booster organization and say, 'What do you need? How can I support you?'" said Despotakis. "Maybe that's a financial donation, maybe that's volunteering at an event and helping out."
Soundbites
"Community buy in, of course, [has] great value. You're a resident of a community and you know that your music program is really important and valuable. Is it so much as going to a school board meeting, literally getting up during the public-comment section and talking about that? That's super, super important." – Mark Despotakis
"I have the great privilege to go out and present a lot of [Best Communities for Music Education] designations to districts in our area. And when I'm speaking to the audience, I always say, 'Look at how amazing this concert was. Look at how amazing these kids were.' Go home and do some homework. The homework is to go and thank your administrators for the support that they are giving to these programs. That's important for an administrator to hear." – Mark Despotakis
"The motto of our SupportMusic advocacy work is 'relentlessly positive.' Let's just go out and show that we care." – Mary Luehrsen
Tell us what you think about this episode! Email us at info@nammfoundation.com and follow/tweet at Mary Luehrsen on Twitter: @MaryLNAMM.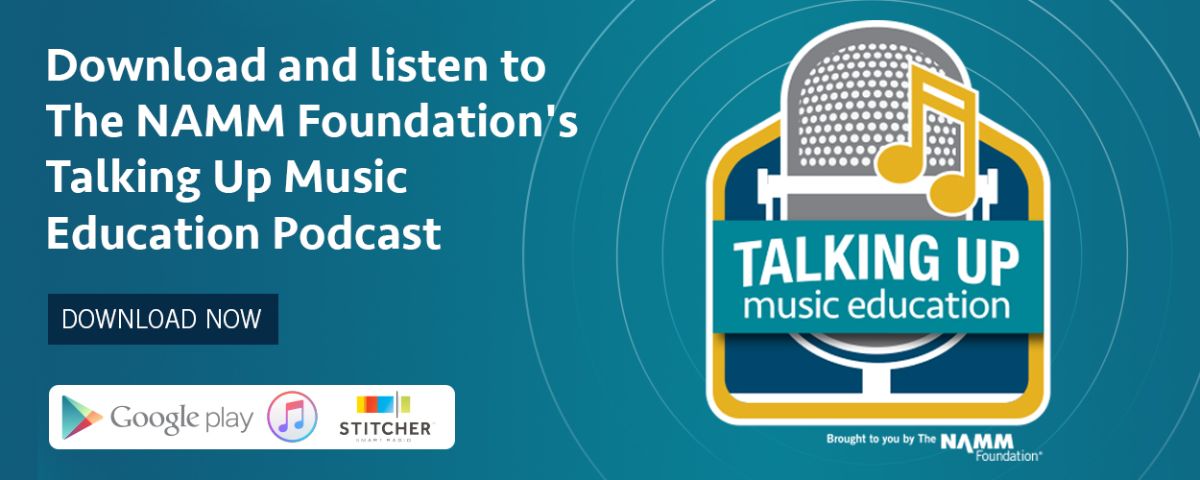 Talking Up Music Education is a podcast produced by The NAMM Foundation about music education. Host Mary Luehrsen chats with teachers, parents, students and community leaders who share stories about what they are doing to create music learning opportunities. Please download, share and subscribe to keep up with the stories that make a difference in music education advocacy.
Follow Mark Despotakis
Resources
SupportMusic Coalition
Coalition on Coalitions: a state-level music and arts education network
Related Podcasts
Wooten Woods: A Unique Blend of Nature and Music Education
NAMM Member and Music Education Advocate John Mlynczak Interviews Mary Luehrsen