The NAMM President's Innovation Award honors college music students who demonstrate excellence in the field of music and who are interested in pursuing a career in the music industry.
2018-2019 recipients received a one-time cash award of $600 to go toward travel expenses to attend GenNext at The 2019 NAMM Show, the annual global music products trade show in Anaheim, CA. Award winners attended professional development sessions and visited more than 7,000 music products, pro audio, and live event technology exhibits.
Get to know a select group of the recipients below!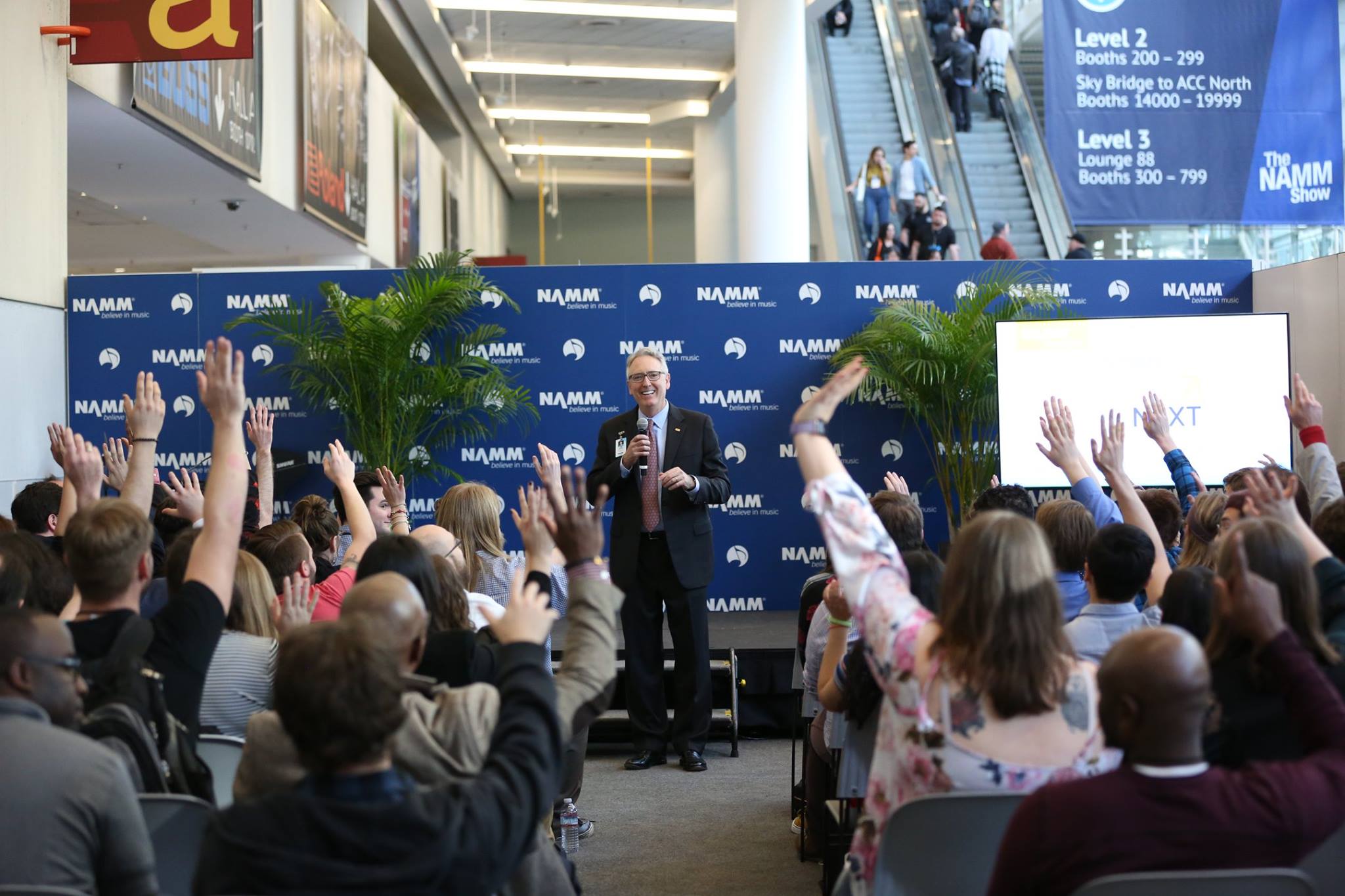 The Future of Music Business
Alexa Mani
SUNY Potsdam | Music Business | Senior
"Through my research I've been fascinated by how products that musicians have available greatly influence the music they can create. I'm particularly interested in the growing international hip hop markets, and also the increasingly digitalized world."
Elizabeth Collins
SUNY Potsdam | Music Business | Junior
"I would love to work as a lawyer [in the] publishing industry. From a glance sheet music is just paper and ink, but what it contains is so much more. Anyone who has ever played a musical instrument can name at least one work that deeply affected them. Protecting that is what I want to do."
Olivia Crowley
Hofstra University | Music Business | Sophomore
"Being a PR major with a Music Business minor has really helped me understand the stressful tactics of working to gain new interest for groups. I love working under pressure to create ideas to present to the public."
Reanne Melhorn
Eastern Kentucky University | Music | Senior
"I am pursuing a career in entertainment law, which is a path of law that not enough people take part in. It is helpful to the music products industry by giving law advise and knowledge to those who are within the music industry."
The Future of Music Innovation & Technology
Cole Mitchell
Radford University | Music | Junior
"I want to see innovation in the music industry and [be] a force that helps grow and develop those innovations. I also believe that innovations and advancements in one part of the music industry help bring up and advance the rest of the industry as a whole."
Jacob A Julian
University of Illinois | Music Technology | Sophomore
"My interest in the music product industry is DSP technology. I believe digital signal processing and its application to music has the capacity to yield results that can, and likely will create the next iconic sounds for my generation. I'm hoping that I can be one of the people designing the infrastructure for those sounds to exist."
Ryan Conrad Courtney
Eastern Kentucky University | Music | Junior
"My dream is to open a window front store in which I repair instruments, teach lessons, and host bands. I want to make a difference in the quality of culture and service in the community I choose to reside in."
The Future of Retail
Daniel Marro
SUNY Potsdam | Music Business | Junior
"[At The NAMM Show I dived] into the world of music products through an intensive internship working for KHS-America, gaining invaluable experience working the floor and selling music products to consumers [and] working in a fast-paced and professional atmosphere."
The Future of Music Education and Music Therapy
Juliana Johnson
Valparaiso University | Music | Junior
"As a future music educator, the music products industry will be vital to my classrooms. As music technology grows and exciting products are released, the need for these products and technology in the classroom increases. I want to give my students the best music experience possible, and keeping up with the music products industry would assist me in this."
Yifei Yu
Georgia Institute of Technology | Music Technology |Graduate
"I am very interested in how music influences [people], [through] emotions, intelligence and creativity. I hope I can identify the most encouraging features in music and use this to do music therapy in the future."