Finding One's Zone of Genius: Inside Laura Escudé's Journey from Classical Musician to Live Show Designer and Producer
Hosted by Mary Luehrsen, executive director of The NAMM Foundation.
This podcast is a 22-minute listen.
Subscribe to Talking Up Music Education
Where to subscribe: iTunes | Google Play | Stitcher | Spotify
Talking Up Music Education is a podcast from The NAMM Foundation that shares news and stories about music education. This week we're highlighting episode 90 featuring violinist and music producer Laura Escudé.
In this episode recorded at The 2020 NAMM Show, Escudé chats about her early beginnings as a music student playing in orchestras and her career creating and designing live shows for herself as well as other artists like Kayne West, The Weeknd, Demi Lovato and many more.
"Doing all the music production—it's like live-music production for the show," said Escudé. "[It's] making sure that all the sounds are exactly right for every show, editing music, doing things like drum and keyboard sounds. And basically, anything that the artist or the musical director has in their mind that they want the show to sound like, it's our job to make that happen."
Soundbites
"I play violin, and I'm also a music producer. I call myself a controllerist. So I use MIDI controllers to control my violin. It's all electric: amplified, mixing, and effects and original music and live looping—so looping my violin in real time—and vocals. And it's just very fun." - Laura Escudé
"When I started middle school, they had a music-education program. So that was my first time playing with other instrumentalists and playing in an orchestra, and that was just fascinating to me. I was very fortunate to have been introduced to that at a young age and to be able to collaborate and perform with other musicians." - Laura Escudé
"A friend's boyfriend was a DJ. He was DJing electronic music. And I thought, well, I'll go to one of these parties and see what it's all about. And at first, it was just very overwhelming, and how this is a whole sound I've never even heard before. And then I decided that I really liked it. And I got into the music, and I started playing violin with the DJs and trying to improvise, but not knowing how, and just really stepping outside of my comfort zone because I realized I love this music so much, I wanted to learn how to perform over it." - Laura Escudé
Tell us what you think about this episode! Email us at info@nammfoundation.com and follow/tweet at Mary Luehrsen on Twitter: @MaryLNAMM.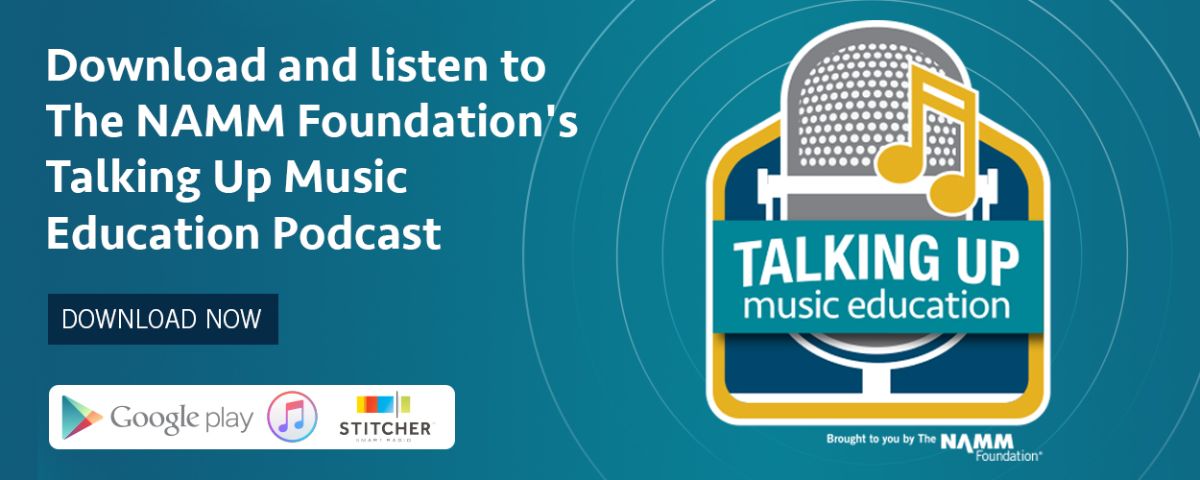 Talking Up Music Education is a podcast produced by The NAMM Foundation about music education. Host Mary Luehrsen chats with teachers, parents, students and community leaders who share stories about what they are doing to create music learning opportunities. Please download, share and subscribe to keep up with the stories that make a difference in music education advocacy.
Follow Laura Escudé
Twitter
Facebook
Insta
Related Podcasts
Touring Musician Scott Page Talks Supertramp, Being Kind to Everyone You Meet and Giving Back