Rapper/Producer J.Dash in Conversation with Grace Kelly, followed by a live virtual performance

October 22, 2021
2-2:45 pm ET
Use promo code SPNAMMN to receive 50% off of registration

Bandleader Jon Batiste said of Grace Kelly, "[she] has an electric charisma onstage that instantly ignites the room." And he would know: Ms. Kelly worked with him as part of the house band for The Late Show with Stephen Colbert. She also performed at President Barack Obama's 2009 inauguration as a soloist and composed and arranged for the Boston Pops—all before she was in her mid-20s.
Featured in Vanity Fair as a "millennial shaking up the jazz world," Kelly's jazz-punk persona, which includes green, blue, or pink hair and vibrant clothing choices has invigorated young jazz musicians who are not interested in following traditional musical careers. Max, a 15-year-old alto saxophone player, says that Kelly has inspired him to be "technically proficient on the alto sax, but also to be free to express himself as an original musician."
A graduate of Berklee School of Music at just 19-years-old, Grace Kelly can be found touring the U.S. to sold-out performances and collaborating with musicians like Marshmello, Too Many Zooz, Jon Batiste, Questlove, Lin Manuel-Miranda and others. Kelly's 2019 album, GO TiME: Live in LA was released along with a digital concert pass, part of Kelly's immersive experience strategy, which sold out almost immediately.
The magnetic saxophonist, songwriter, and composer Grace Kelly will perform live at the virtual Upswell Summit on October 22, 2021.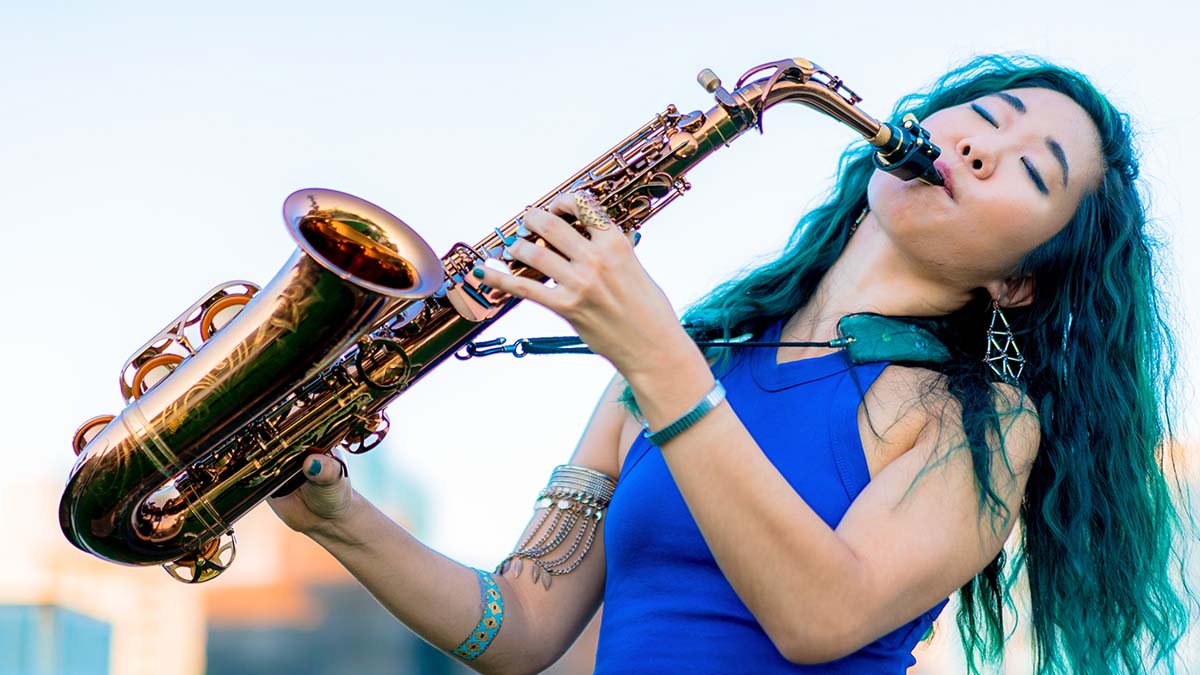 Upswell Summit Aims for a Racially Just and Healthy Society
In May 2020, Upswell decided to focus on two issues that were critical to society's well-being: health and racial justice. With covid-19 raging across the globe and an unstoppable reckoning with racism as Black Lives Matter protests took to the streets Upswell, the meeting ground for nonprofit members of Independent Sector, decided it was time to help society get physically, emotionally, and racially healthy by convening a diverse community of changemakers who would get to work on these issues in their communities.
Bernie Williams and J.Dash Performed at Upswell 2020
The NAMM Foundation pulled a seat up to the table set by Upswell and brought music and social justice into the conversation. In 2020, NAMM Foundation Board Member, former NY Yankee, and Grammy®-nominated Latin jazz artist Bernie Williams brought a soulful performance to Upswell's first virtual summit and American rapper, producer, and entrepreneur J.Dash engaged in an honest, and at times, painful discussion about racism and performed his original song, "100 Man," that features such haunting lyrics as, "Here we go again; It's hard to be a brotha man; It's even harder when you gotta be another man; I got the drama of a hunted man."
J.Dash returns to Upswell on October 22, 2021, for a thoughtful conversation with Grace Kelly about music, racism, and the role music plays in bringing people together and in creating a racially just and healthy society.