Striking A Chord: The Public's Hopes and Beliefs for K-12 Education in the United States: 2015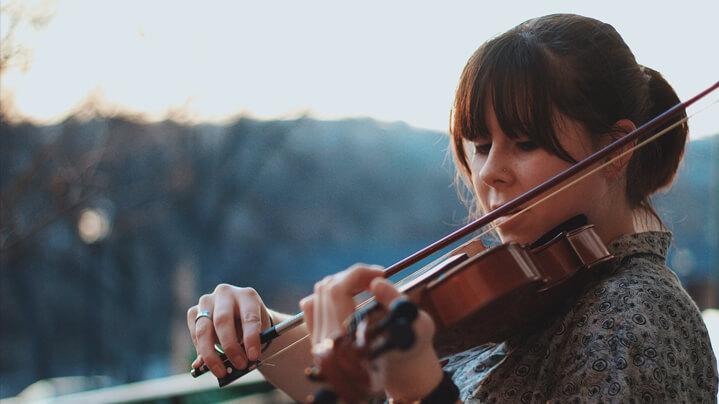 New NAMM Foundation Study Shows Parents and Teachers in Harmony About Students Learning Music: A large majority believes that children should have opportunities to learn to play musical instruments as early as elementary school and that music and arts education are "extremely" or "very important."
Contrary to state and local pressures to de-emphasize and de-fund music and arts education, a new NAMM Foundation-funded, nationwide study of 1,000 teachers and 800 parents finds strong support for music education at all grade levels. "Striking a Chord: The Public's Hopes and Beliefs for K-12 Music Education in the United States 2015," was unveiled May 19 at the National Press Club during NAMM's annual D.C. Fly-In for Music Education. The study finds that strong majorities of teachers and parents say music education is very important and should continue to be funded, even at the expense of other programs and classes.
"The data couldn't be more clear," said Peter Grunwald, President of Grunwald Associates LLC, the research firm that conducted the survey. "Teachers and parents told us repeatedly that music is an essential part of learning, not merely an 'extracurricular activity' that can be cut when times get tough."
According to the survey conducted in January-February 2015:
Seventy-seven percent of teachers and 64 percent of parents agree that music and arts education are "extremely important" or "very important."
Eighty-seven percent of teachers and 81 percent of parents believe children should have a chance to learn to play musical instruments as early as elementary school.
Sixty-three percent of teachers and 57 percent of parents believe music education should be a required subject in middle school.

"Teachers speak from first-hand experience on what matters to keeping kids engaged in school and learning," said Mary Luehrsen, executive director of the NAMM Foundation. "And nobody is more personally invested in kids' long-term success than parents. What we see here is that parents and teachers overwhelmingly agree on the importance of providing every child with access to music education in school."
The "No Child Left Behind Act," passed in 2001, specifically included arts education as a core academic subject. But the legislation also elevated math, reading and other subjects tied to high-stakes tests above other elements of a well-rounded, academic experience, and many school districts responded by cutting back on arts and music programs. The unintended consequences resonated nationwide by 2010, when, according to the U.S. Department of Education, 40 percent of high schools didn't require coursework in the arts for graduation.
Additional findings from the online survey:
Music education is not seen as a luxury and cuts to music programs are viewed as detrimental to student success: Eighty three percent of teachers and 73 percent of parents say cutting music education is detrimental for students.
Parents and teachers would rather cut other programs before cutting music: When asked to perform a drag and drop exercise to identify possible cuts in school funding in 15 different areas, teachers and parents found 12 areas they would rather cut than music. School and district administration, standardized testing, athletics programs and even advanced placement classes were all identified as better areas for budget cuts than music education.
Minority parents are strongly committed to music education: African-American (76 percent) and Hispanic parents (75 percent) are more likely than Caucasian parents (67 percent) to enroll their children in school music classes where opportunities exist.

The NAMM Foundation has outlined 10 steps for parents, educators and policymakers to consider:
Adequately fund music and arts education for all children.
Require student participation in music education in middle and high school.
Increase awareness that federal law already designates the arts as a core academic subject.
Ensure that every student who wants to play music has access to an instrument of choice and can take it home to practice.
Close the opportunity gap by reducing disparities in music education so that all schools, geographic regions and demographic groups have equal access to quality music education.
Provide professional development opportunities to all music educators—and consider integrating music into professional development for all educators.
Increase the scope of all elementary school music programs to include instrument instruction, music theory and composition.
Increase awareness among administrators, teachers and parents that Title I monies can be used for music education—increasing the number of programs that use these funds for music education.
Join the SupportMusic Coalition and align with other teacher and parent groups to ensure all children have access to quality music education.
Conduct additional research to understand perceptions of music education.

"We have countless examples including the recently released Turnaround Arts' research, where we see overall school improvement following an infusion of the arts," said Luehrsen. "It is our duty to prepare students for the future by equipping them to make contributions to our society and adapt to future economic realities. This study shows that parents and teachers get it – a complete education includes music and the arts. It's up to us, all of us, to assure every child has access to quality music education in schools."

Photo credit: Rob Davidson Photography