This past week in Nashville, Tennessee, NAMM leaders joined together at Summer NAMM to delve deeper into state-level music education advocacy.
The SupportMusic Coalition on Coalitions meeting explored arts education advocacy ecosystems and strategies to realize the new opportunities available through ESSA, the new federal education law.
Moderated by Mary Luehrsen, executive director of The NAMM Foundation, the event started with an inspiring interview with Phillip Riggs, the 2016 Grammy Foundation Music Educator award winner. Riggs encouraged advocates to approach decision makers with the many solutions music education provides. He said, "Walking in with solutions and not just identifying the problems makes all the difference". In terms of expanding music education, Riggs said "As music teachers, we may be only seeing 20% of the student population. We've got to get outside of our comfort zone and figure out a way to make music a part of the lives of that other 80%."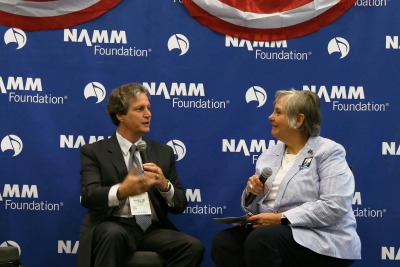 Leveraging the Music Education Message
Attendees learned how to communicate the message that music and arts learning are essential to a well-rounded curriculum for all children.
Speaker Jeff Poulin, Arts Education Program Manager for Americans for the Arts, said talking about music education is all about framing, the packaging of an issue to encourage certain interpretations and to discourage others, inspiring advocates to be "relentlessly positive," always, and to use compelling data and storytelling to advocate for policy change.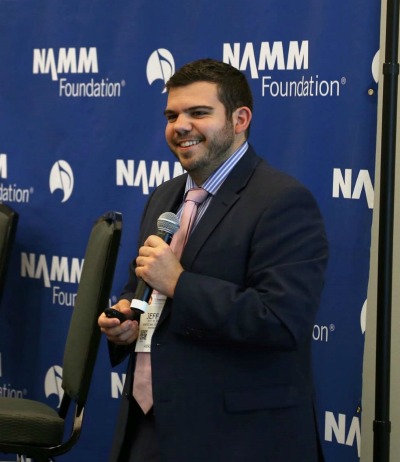 "You can use effective storytelling and data to communicate your ask," said Poulin. "Turn negative statements into positives." For example, instead of saying that "Music education helps troubled students," frame the conversation in a positive way with a statement such as, "Students thrive when given access to quality music education."
Poulin emphasized that data is great, but relationships affect change. "As a business leader you have wide influence," he said.
State Tactics
The meeting concluded with five-minute progress reports from key stake-holder NAMM Member-represented state working groups that are proactive in music education advocacy. States that provided updates included Iowa, California, Wisconsin, Pennsylvania, Indiana, New Mexico, Alabama and South Carolina.
Luehrsen, Poulin and speaker Laurie Schell from Music Makes Us at Metro Nashville Public Schools, served as an expert advocacy panel, offering encouragement and practical suggestions to state advocates.