Welcome to our sand box.
For months now, the NPR Ed Team has been playing with what we like to call "long listen" ideas — worthy stories that we can't tell in three or four minutes.
Some ideas don't hold up. The ones that do make it here, including this little adventure to a one-room schoolhouse in the Colombian Andes and this strange tale of two men, separated by an ocean and united by a stolen laptop.
For this week's long listen, I sat down with my Ed Team co-conspirator, Anya Kamenetz, to talk about one of my favorite subjects: brains. Specifically, how children learn to read and what can be done to help struggling readers.
It turns out, two of my all-time favorite literacy stories (at least from the past two years) began with the work of one researcher: Northwestern University neurobiologist Nina Kraus.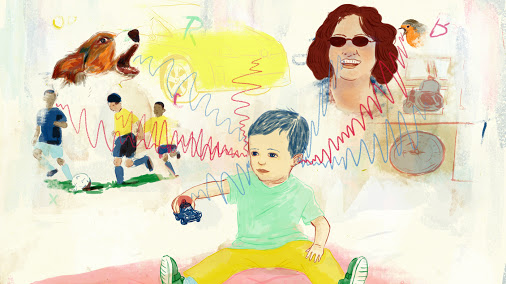 First, Kraus found that kids who took music lessons for two years didn't just get better at playing the trombone or violin; playing music also helped their brains process language. Consonants and vowels became clearer, allowing the brain to make sense of them more quickly. This heat map speaks volumes:
The study's set-up was as remarkable as its findings. While Kraus and her Northwestern lab are based in Evanston, Ill., she studied the brains of kids affiliated with the Los Angeles-based Harmony Project, a nonprofit after-school program that teaches music to children in low-income communities. So she and her team traveled to L.A. regularly, luggage full of scalp electrodes, and sat down with her subjects right there in the group's Hollywood offices.
To be clear, simply playing Mozart for your kids will not have the same effect. It's still a fine idea. A little Mozart never hurt anyone, but Kraus found that the benefit comes from playing the harpsichord, not listening to it.
The Harmony Project study pairs nicely with this story that popped up last summer. This time, Kraus and her team developed an auditory test that can be given to children before they're old enough to read but that can predict, with remarkable accuracy, future literacy trouble. The test is a feast for the ears which my crack producer, Sami Yenigun, recreated for the radio when the story first aired on Morning Edition.
As you'll hear, the basic idea of the test is to measure how faithfully children can hear and catalog speech sounds. Kraus says that a child who has trouble processing language at 3 years old will likely struggle to read later on and that a simple, early-warning test could be a powerful tool to help children before they fall behind in school.
Now that you're done reading, let the listening begin!
Related reading:
The Trouble With Talking Toys (Cory Turner, NPR Ed)

The Surgeon Who Became An Activist For Baby Talk (Cory Turner, NPR Ed)
The Idea That Mozart Makes Your Baby Smarter Is One Of Parenting's Most Persistent Myths (Jenny Anderson, Quartz)
The Teenage Brain: Spock Vs. Captain Kirk (Cory Turner, NPR Ed)
'Helping Children Succeed' Starts At Birth; A Case For The Power Of Nurture (Anya Kamenetz, NPR Ed)
Republished from NPR
Written by Cory Turner