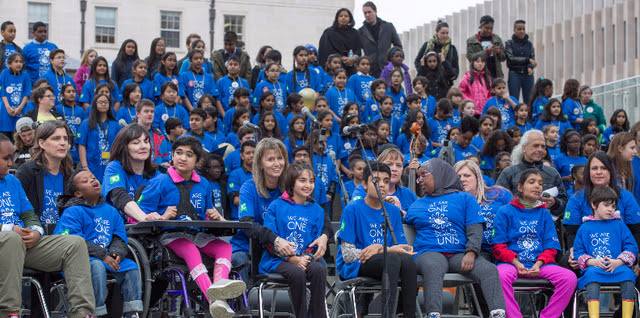 The Coalition for Music Education in Canada, a 16-year NAMM Foundation Music Making Grantee, was founded in 1992 to improve the state of music education in Canada. The Coalition's mission is to raise the awareness and understanding of the role that music education plays in Canadian culture, and to promote the benefits that music education brings to young people.
The NAMM Foundation funding supports the expansion of the Coalition's Music Monday program, a nationwide celebration of the power of music in lives and especially in schools. A public awareness initiative, Music Monday connects thousands of music makers and educators across the country, and has attracted national media, politicians and artists in promoting the importance of music education for all children in Canada. The Coalition will also continue to advance its Youth4Music program, led by youth, for youth, through music. Through the creation of regional, provincial and national teams, youth leaders are empowered to collaborate in the development of projects that raise the awareness of the benefits of music in our lives.
"The NAMM Foundation's generous support assists hundreds of thousands of children and youth across the country to raise their voices for the importance of music and music education in Canada," shared Patricia Valenteyn, Managing Director for the Coalition. "We have developed a nation-wide network through Music Monday and Youth4Music events, leadership symposiums, and teams to create actions for change, and to advocate for the importance of music education in schools and communities."
This year's Music Monday was a resounding success, with over 6 million participants across Canada celebrating the power of music. To learn more about Music Monday, please visit https://www.musicmonday.ca/.