Talking Up Music Education is a podcast from The NAMM Foundation that shares news and stories about music education. This week we are sharing a podcast episode broadcast live from Summer NAMM, featuring the Smart Women in Music (SWIM) Fund founders. The founders include Robin Walenta, NAMM chair and president and CEO of West Music, and DeDe Heid, executive vice president and co-owner of Heid Music. Co-founder Crystal Morris, president of Gator Cases was interviewed as well, and this episode is available here.
"[The mission of the WoN Fund is] to create positive change and leadership opportunities for women in our industry," shared Walenta.
Women of NAMM (WoN) (Formerly Smart Women In Music) promotes leadership training and mentoring opportunities for women in the music products industry. To donate to the WoN Fund please visit nammfoundation.org.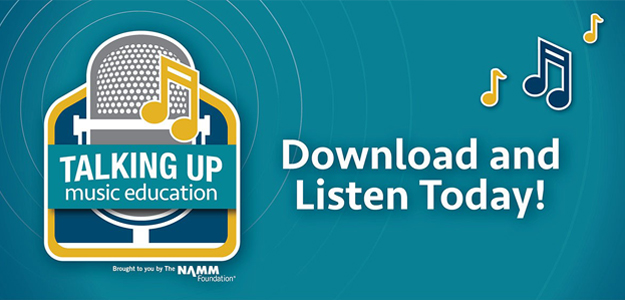 Listen to the Podcast
Sound Bites from the Podcasts
"SWIM [is] an acronym for Smart Women in Music. Years ago, there were a bunch of us smart women in the music industry, sitting around the pool in Arizona at the National Association of School Music Dealers meeting, and we were talking about, 'how do we go about finding more people like us? How can we create more opportunities for women in this industry that we all are so passionate about?' And, of course, we're sitting around the pool, and we all love acronyms, and so we came up with Smart Women In Music." – Robin Walenta
"Whether it's a succession within a family business or you're doing a start-up of your own business [or] you can contribute to a well-established business, there are so many opportunities for women within the industry, and that's what the SWIM Team's all about" – Robin Walenta
"There was a comment that was made to one of [my daughters]… they hoped that they would marry well. Those things strike me that as a mother and as a SWIM member, a smart woman in business, and somebody who tries very hard to work for the things that I do in my community and through my professional and personal development. I didn't want my daughters to ever think that they would be defined by who they married. So to me, it's making sure that there are the seats at the table, that they feel their voice matters." – DeDe Heid
"It's very important how women have conversations with other women. How do we make sure we are building each other up…and taking care of one another? Something that probably has changed more in the last decade is how women come together to make sure there's seats at the table…versus feeling competitive against one another." – Robin Walenta
"Research shows that your customers are better served by having a diverse workforce, because people want to see and know of other people that would have experiences of like-mindedness." – DeDe Heid
Subscribe to Talking Up Music Education
Where to subscribe: iTunes | Google Play | Stitcher
Talking Up Music Education is a podcast produced by The NAMM Foundation about music education. Host Mary Luehrsen chats with teachers, parents, students and community leaders who share stories about what they are doing to create music learning opportunities. Please download, share and subscribe to keep up with the stories that make a difference in music education advocacy.