Talking Up Music Education is a podcast from The NAMM Foundation that shares news and stories about music education. This week we are sharing a podcast episode broadcast live from Summer NAMM, featuring Cheryl Bentyne, Alan Paul, and Janis Siegel of The Manhattan Transfer.
"My father was a Dixieland-jazz clarinet player. At a very early age, music was in the house," said Cheryl Bentyne. "They were rehearsing all the time, and it [was] just kind of osmosis. [The music] just went into my bones."
During the podcast, the band shares their musical origin stories, including the evolution of the iconic jazz vocal group. They explore the importance of vocal training as part of caring for your instrument, and the hard work that goes into maintaining a lifelong musical career.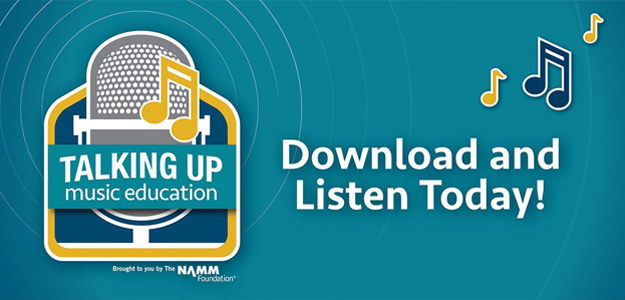 Listen to the Podcast
Sound Bites from the Podcasts
"We were based on what came before us. We were historians, really, scholars of vocal groups, and we studied what groups existed and their voicings and their material, and then we built on that." – Janis Siegel
"I had a piano teacher when I was in first grade. Mrs. King. And I don't ever mention her, but of course that's a big part of who I am." - Cheryl Bentyne
"My grandfather was a cantor, and my mother was also a singer. There was always music in my house. I started singing when I was about six. When I was nine, I started taking lessons in New York with a man named Charlie Lowe, who had a school for kids." – Alan Paul
"There's so much music in hospitals. They're just like roving balladeers going from room to room. I did that a few times, and it lights you up. It does activate a different part of the brain, and it heals." - Cheryl Bentyne
"I don't think people realize how much singing is an athletic event, and the athleticism comes in with the stamina. You need to travel. So you have to work on that stamina." – Janis Siegel
Subscribe to Talking Up Music Education
Where to subscribe: iTunes | Google Play | Stitcher | Spotify
Talking Up Music Education is a podcast produced by The NAMM Foundation about music education. Host Mary Luehrsen chats with teachers, parents, students and community leaders who share stories about what they are doing to create music learning opportunities. Please download, share and subscribe to keep up with the stories that make a difference in music education advocacy.