Talking Up Music Education is a podcast from The NAMM Foundation about music education. Recorded live from 2018 Bands of America Grand Nationals, episode 62 features guest host Marcia Neel, Senior Director of Education at Yamaha.
Neel talks with Dr. Reginald McDonald, Director of Bands at Tennessee State University (TSU), Keyana Cole, TSU senior and clarinet section leader, John Hague, Director of Bands at Crispus Attucks High School in Indianapolis and Daiquon Dupree, student leader of the drumline at Crispus Attucks.
"[The band] experience- it's like a family away from home," said Keyana Cole." The people, you'll always have [a] connection with them forever."
During the podcast, students and leaders chat about how marching band becomes family, opens doors and is the one thing no one ever regrets doing.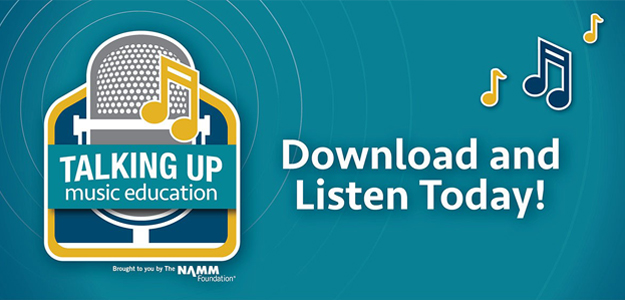 Listen to the Podcast
Sound Bites From the Podcast
"[Being in band] teaches you teamwork and also individual work, because as a music maker, you not only have to do the things you need to do to have your part correct, but also fit in the ensemble." - Keyana Cole
"The interesting thing about the HBCU marching style is -what I call traditional marching style- is basically a byproduct of the schools in the Big 10: Ohio State, Michigan, University of Iowa, Illinois, and places like that." - Reginald McDonald
"Music is something that you can use at any age to continue and make new friends, make new connections, no matter where you are." – John Hague
Where to Subscribe
iTunes | Google Play | Stitcher | Spotify
Talking Up Music Education is a podcast produced by The NAMM Foundation about music education. Host Mary Luehrsen chats with teachers, parents, students and community leaders who share stories about what they are doing to create music learning opportunities. Please download, share and subscribe to keep up with the stories that make a difference in music education advocacy.