Talking Up Music Education is a podcast from The NAMM Foundation about music education. Recorded live from The 2019 NAMM Show, episode 72 includes an interview with trumpeter Jonathan Dely.
Interviewed by The NAMM Foundation's Mary Luehrsen, the discussion with Dely centered around his journey from Wall Street to 'The Main Stage.'
"Music education was part of my life but not necessarily on the radar going forward," said Dely. "I really thought I was going to be a banker. Probably the vestiges of that are left over with what I'm wearing."
Dely not only joined The NAMM Foundation for a podcast at The NAMM Show, but he also graced the stage during the Grand Rally for Music Education. As a jazz trumpeter, he fronts a very diverse and eclectic group of musicians.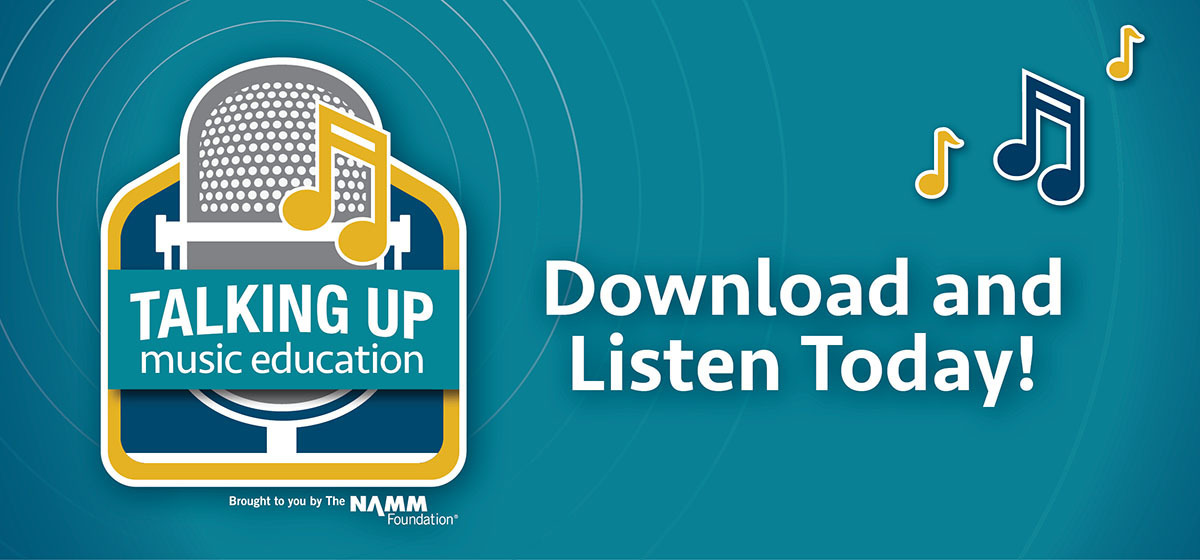 Listen to the Podcast
Sound Bites From the Podcast
"The importance of education, not just in private communities but in public communities, is essential." -Jonathan Dely
"Technology has allowed us to obtain so many different sounds through keyboards, whether it's roads or strings. I love the notion of in my head pretending that we're on stage with six of us and there's a full orchestra behind us." - Jonathan Dely
"I was in public elementary school, and third grade they said, 'Okay, it's time to rank your instruments from favorite to least favorite.' I went drums, saxophone, trumpet. They filled all the drum spots, they filled all the saxophone spots, and I got left with this beast, which was and still is very difficult to play, any trumpet player can attest. I linked up with this fantastic teacher who happened to be the director of the band, Phil Gray, and he just happened to play trumpet. And he was really just a mentor for me." - Jonathan Dely
Subscribe to Talking Up Music Education
Where to subscribe: iTunes | Google Play | Stitcher | Spotify
Talking Up Music Education is a podcast produced by The NAMM Foundation about music education. Host Mary Luehrsen chats with teachers, parents, students and community leaders who share stories about what they are doing to create music learning opportunities. Please download, share and subscribe to keep up with the stories that make a difference in music education advocacy.