Talking Up Music Education is a podcast from The NAMM Foundation about music education. Recorded live from The 2019 NAMM Show, episode 67 includes an interview with Black Violin's Kev Marcus and Wil Baptiste.
Interviewed by The NAMM Foundation's Mary Luehrsen, Marcus and Baptiste shared their musical and professional growth over the past 22 years of friendship and performing together that includes shifting their perspective on the term "crossover."
"For us it wasn't even the fact that we blend hip hop and classical," said Marcus. "That's just sort of something that we naturally did. The thing that I'm most proud of is that we recognized the response from people when we did it, and then we kept doing it and kept trying to hone it and mold it."
The violin duo stopped by to catch up with Mary Luehrsen before opening The 2019 NAMM Show with their "90 minutes of fury" performance for an audience of thousands.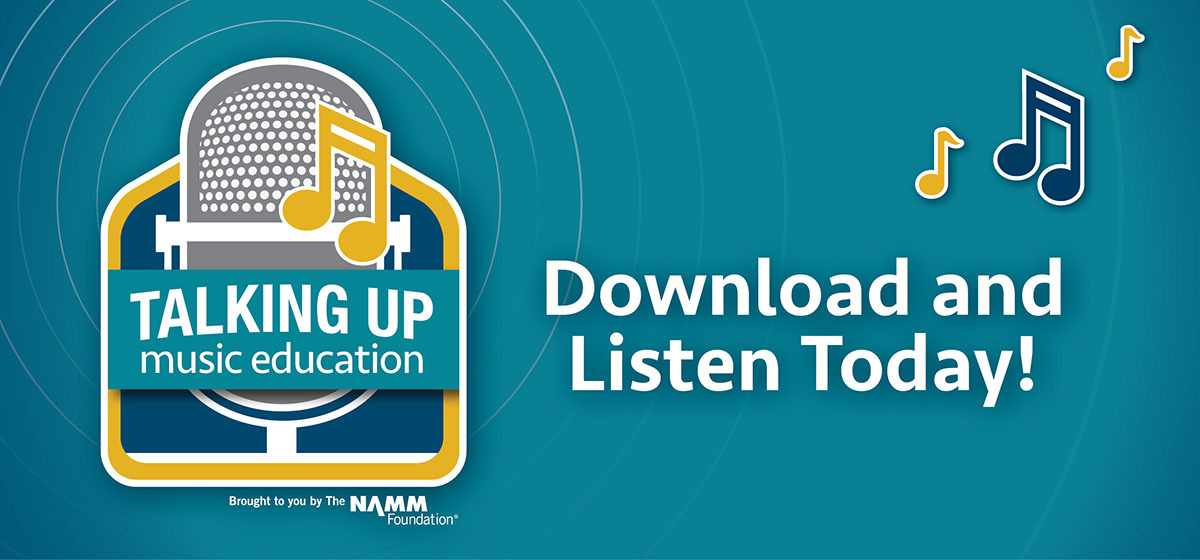 Listen to the Podcast
Sound Bites From the Podcast
"We're just lucky and blessed that we're able to do this and that it's still working. I can't believe that I'm still playing this instrument that I learned in middle school." - Kev Marcus
"I think the community and parents have to understand the importance of the arts. Parents can be instrumental in organizing and letting the school system understand and let them know, 'You need to add this to the curriculum.'" – Wil Baptiste
"We're Turnaround Arts ambassadors for [Bethune-Cookman College]. There is a really good string program there; there always has been one." - Kev Marcus
"I'd rather do something that I love and at the same time being able to uplift and inspire people at the same time, it's just the icing on the cake. You know what I mean?" – Wil Baptiste
Subscribe to Talking Up Music Education
Where to subscribe: iTunes | Google Play | Stitcher | Spotify
Talking Up Music Education is a podcast produced by The NAMM Foundation about music education. Host Mary Luehrsen chats with teachers, parents, students and community leaders who share stories about what they are doing to create music learning opportunities. Please download, share and subscribe to keep up with the stories that make a difference in music education advocacy.