Talking Up Music Education is a podcast from The NAMM Foundation about music education. Recorded live from The 2019 NAMM Show, episode 68 includes an interview with Conductor and Composer Eric Whitacre.
Interviewed by The NAMM Foundation's Mary Luehrsen, Whitacre shared his love of music and astrophysics and talked about how they intersect for him.
"I have been a space nerd, really, since I can remember. I had a first telescope at 10, I think. I was and remain truly obsessed by space, by astrophysics," said Whitacre. "I think what happened to me is I realized at some point I just don't have the brain to be an astrophysicist. I wish that I did, but I've got more of a musician's brain."
Whitacre has always been deeply moved by music, and by choral expression in particular. Composer of the Virtual Choir(s) as well as the film, "Deep Field." Whitacre's compositions pair perfectly with images from the Hubble Telescope Deep Field images.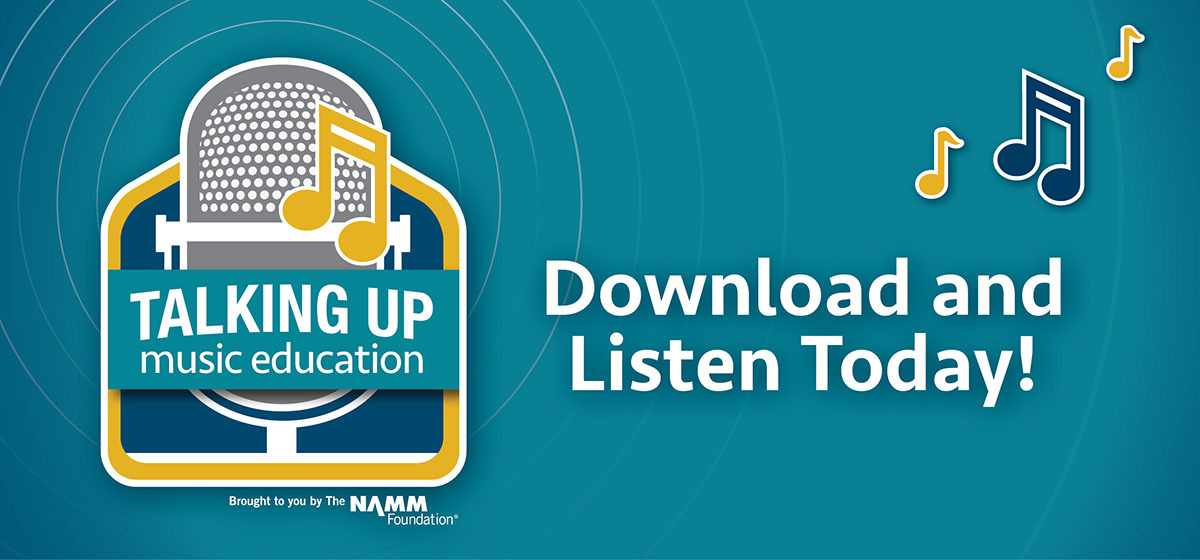 Listen to the Podcast
Sound Bites From the Podcast
"Music doesn't need to be a profession. Of course, it's beautiful if you can turn into your career if that's what you want to do. But also, just to have it in your life." – Eric Whitacre
"Music is transformative. It makes better people." – Eric Whitacre
"I was just one of those natural kid musicians. Apparently, there's lots of stories of me dancing endlessly, just dancing and dancing to whatever would happen. I didn't have much exposure at all to classical music. My parents tried to give me piano lessons several times through my youth, and they just didn't stick. But at the same time, I was in my room every day writing songs." – Eric Whitacre
"There's an emotional communication that's happening through the music somehow. It's the only way I know how to compose." – Eric Whitacre
Subscribe to Talking Up Music Education
Where to subscribe: iTunes | Google Play | Stitcher | Spotify
Talking Up Music Education is a podcast produced by The NAMM Foundation about music education. Host Mary Luehrsen chats with teachers, parents, students and community leaders who share stories about what they are doing to create music learning opportunities. Please download, share and subscribe to keep up with the stories that make a difference in music education advocacy.