Talking Up Music Education is a podcast from The NAMM Foundation that shares news and stories about music education. This week we are looking back to a podcast episode recorded live from Music For All's Grand Nationals, featuring guest host Mark Goff, owner of Paige's Music and guest Eric Martin, President and CEO of Music for All.
"[Grand Nationals] is one of the most welcoming communities on the planet," said Martin. "It's a major event that's in the top 10 in Indianapolis in terms of visitors, so it's very important."
Martin discusses all things Grand Nationals, the history of Bands of America and what Music for All is doing to promote access to music education for urban communities.
Listen to the Podcast
Sound Bites From the Podcasts
"People cite statistics, saying that we were losing ground competitively in the world in terms of test results and scores, but they failed to realize we are the most diverse nation in the world, and we have to have common language. Music and arts and even sports, all of those are common languages, and those are essential." – Eric Martin
"Mr. Patterson [at EE Bass Middle School], was the band director…and he wanted to cut out the noise that was outside the classroom. [He] explained [to us that] we were going to learn a new language to speak together, and we were going to have to work together to be cooperative and collaborative if we were going to be successful." – Eric Martin
"There's not the necessary recognition of music and arts education as a tool for engagement, for improvement, for community healing. You know, you can't be born, live, or die without music in the fabric." – Eric Martin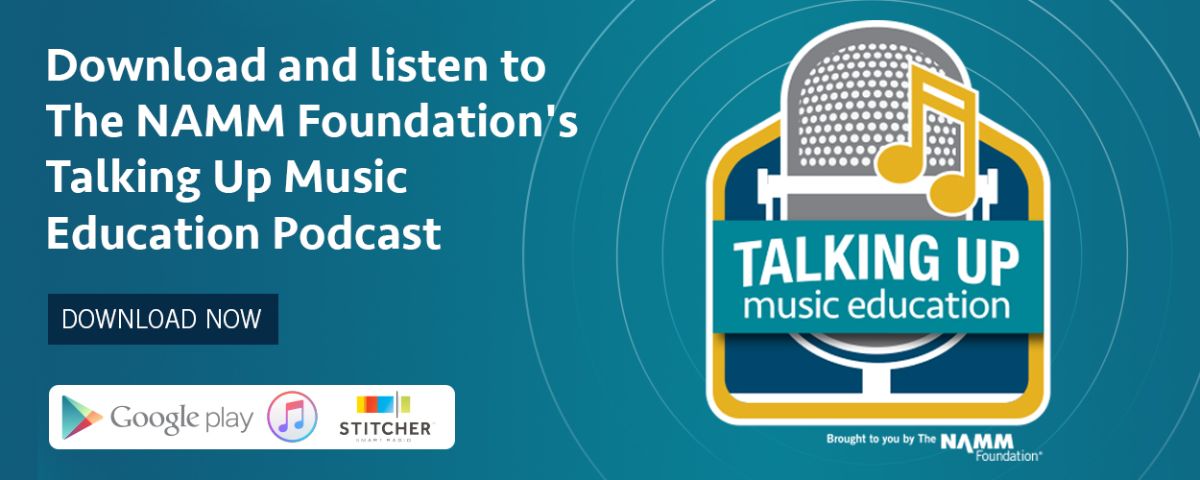 Subscribe to Talking Up Music Education
Where to subscribe: iTunes | Google Play | Stitcher | Spotify
Talking Up Music Education is a podcast produced by The NAMM Foundation about music education. Host Mary Luehrsen chats with teachers, parents, students and community leaders who share stories about what they are doing to create music learning opportunities. Please download, share and subscribe to keep up with the stories that make a difference in music education advocacy.