Talking Up Music Education is a podcast from The NAMM Foundation that shares news and stories about music education. Download and listen to episode 84 featuring guest Stephanie Landino, a college music student at Millersville University, PA, and past GenNext attendee.
"Last school year I felt like I got into a little bit of a rut. Being at The NAMM Show completely changed everything about what I wanted out of my career," said Landino. "It was just one of those moments that was a big wake-up call."
In this episode Landino chats about her experience attending The 2019 NAMM Show through the GenNext program and how it boosted her college-to-career path.
Listen to the Podcast
Sound Bites from the Podcast
"[The NAMM Show] was one of the best experiences ever. I loved getting lost through all the different corridors of music and instruments." - Stephanie Landino
"If you're thinking about applying for [a NAMM President's Innovation Award], just try. Be your authentic self and just try."- Stephanie Landino
"In terms of coming to The NAMM Show, whether you're coming over the summer or you're going to Anaheim in the winter, I highly encourage it because you will be able to find something there for you, no matter what you're interested in."- Stephanie Landino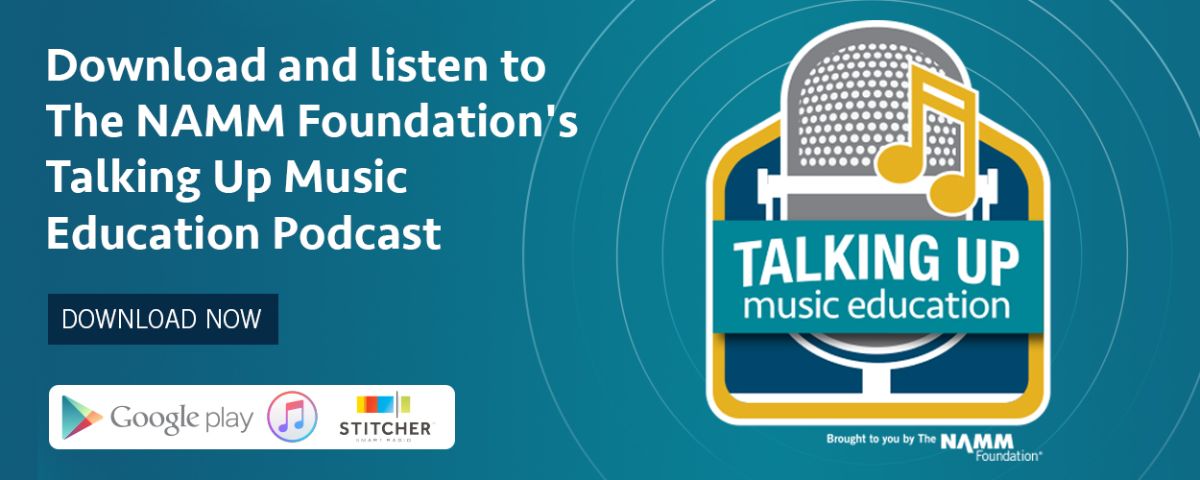 Subscribe to Talking Up Music Education
Where to subscribe: iTunes | Google Play | Stitcher | Spotify
Talking Up Music Education is a podcast produced by The NAMM Foundation about music education. Host Mary Luehrsen chats with teachers, parents, students and community leaders who share stories about what they are doing to create music learning opportunities. Please download, share and subscribe to keep up with the stories that make a difference in music education advocacy.