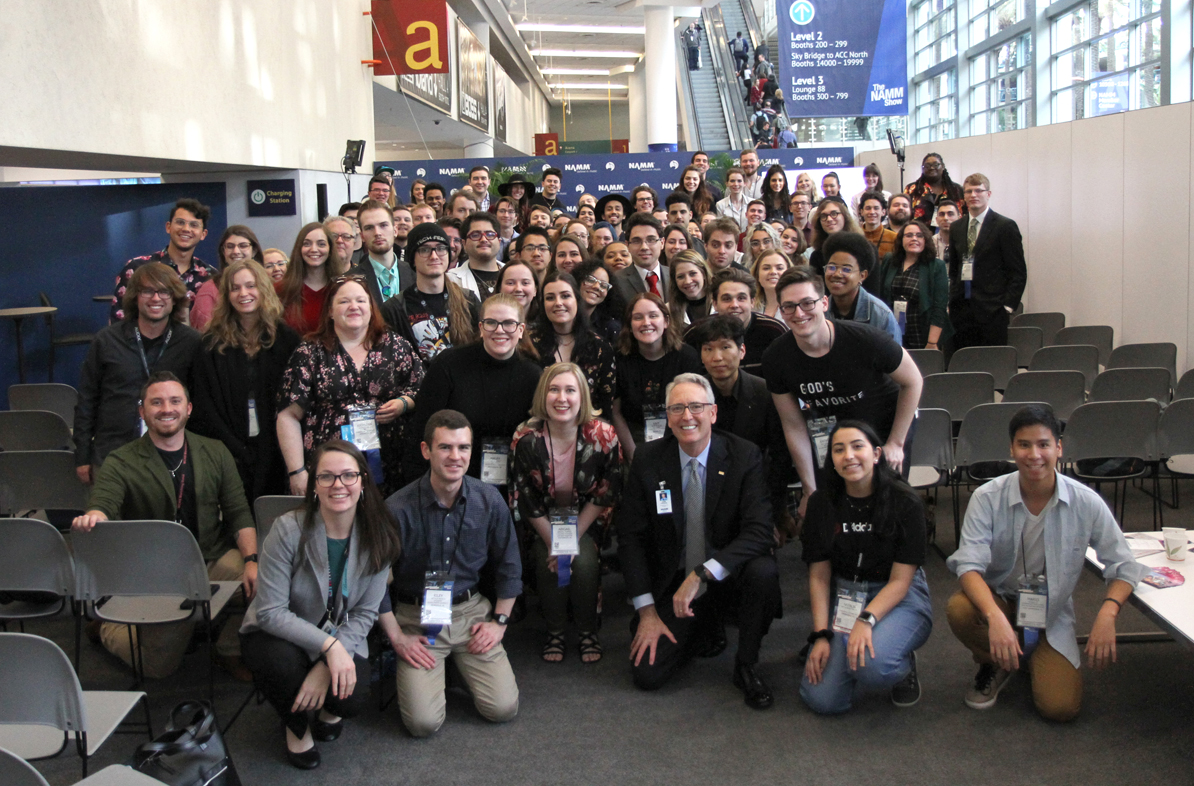 Photo caption: NAMM President's Innovation Award Winners with NAMM President and CEO, Joe Lamond.
Each January, college music students and faculty from across the U.S. gather in Southern California for GenNext at The NAMM Show. This music industry event is the largest music products trade show in the U.S. and, as a result, has been the industry trendsetter in unveiling cutting-edge technologies.
GenNext programming at The 2020 NAMM Show included The Grand Rally for Music Education featuring Bobby McFerrin, The College Music Society Plenary Featuring a performance by Melodica Men, GenNext Sessions presented by The College Music Society, and the Careers in Music Summit Featuring award-winning trumpeter Jonathan Dely and music industry professionals artist and sound designer Laura Escudé, owner/retailer Tim Spicer, CEO/founder of The Labz Farah Allen, and communications manager and culture ambassador at Fender Pauline France.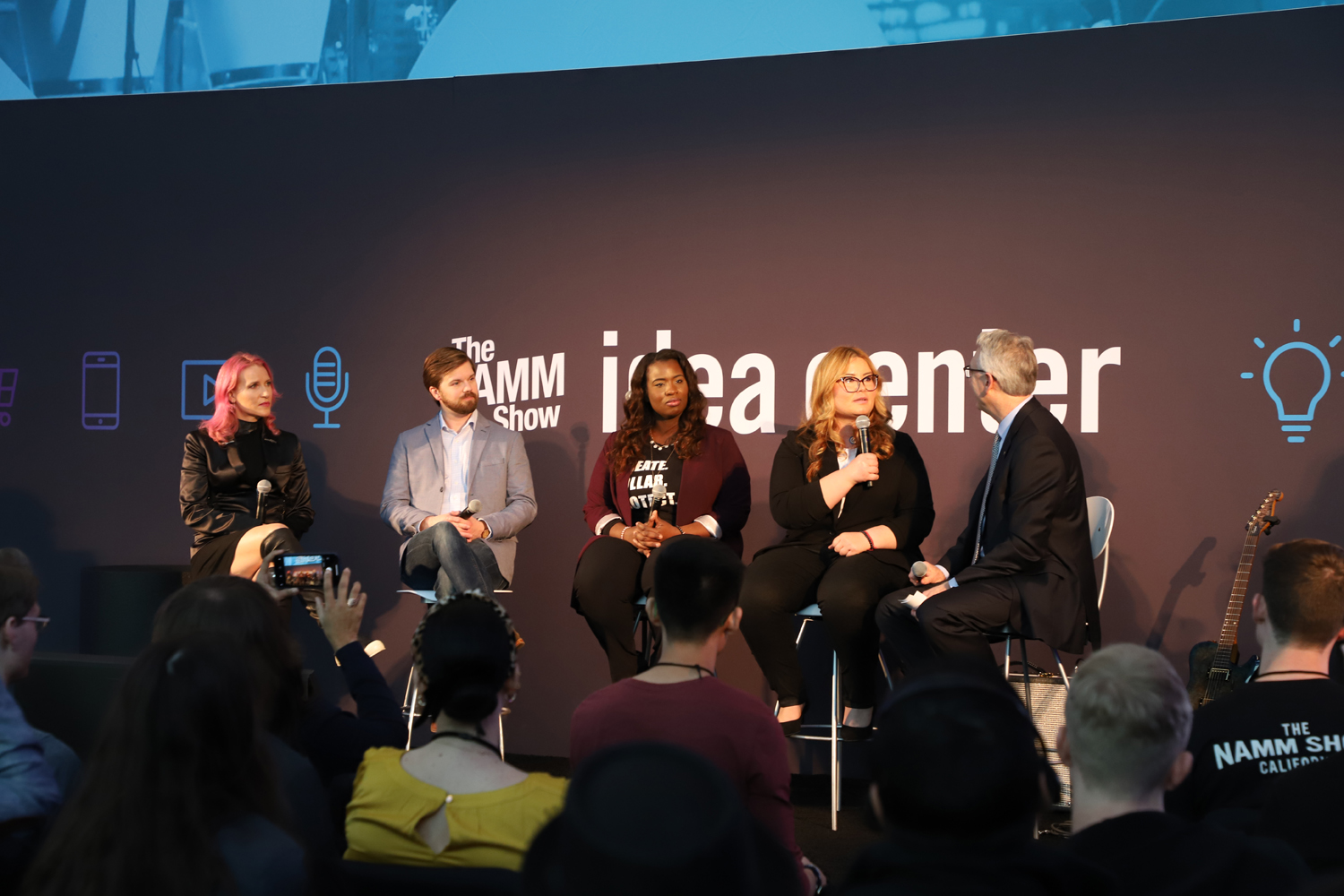 What Attendees, Speakers, and Press Had to Say About GenNext
On Networking
"Without mentors or positive role models around us, it can be challenging to trust that the next step is there waiting for us." – Laura Escudé, as quoted in College Magazine
"Attending The NAMM Show as a college music student gives you a real 'leg up' in the music industry. Networking at The NAMM Show gives an unparalleled opportunity to meet peers and possible mentors from around the world. Relationships are built and strengthened at social gatherings." – Tim Spicer, Spicer's Music
"The NAMM GenNext experience was an incredibly motivating, empowering, and inspiring activity as a young professional in the music industry. I made connections that will last for a lifetime that will propel me into a more successful future. Networking with my peers allowed me to gather more ideas about the trajectory of my career and gain valuable relationships that were cultivated at the show through shared professional experiences in music and relevant academic sessions." – Alex Alberti, Innovation Award-winner and NAMM Show intern
"Networking is an essential part of the NAMM Show experience. You can go to sessions and walk the show floor and still learn a lot, but it's those connections you make at the show that may give you opportunities in the future that you cannot yet imagine." – Madison Booth, college music student, Innovation Award-winner and NAMM Show intern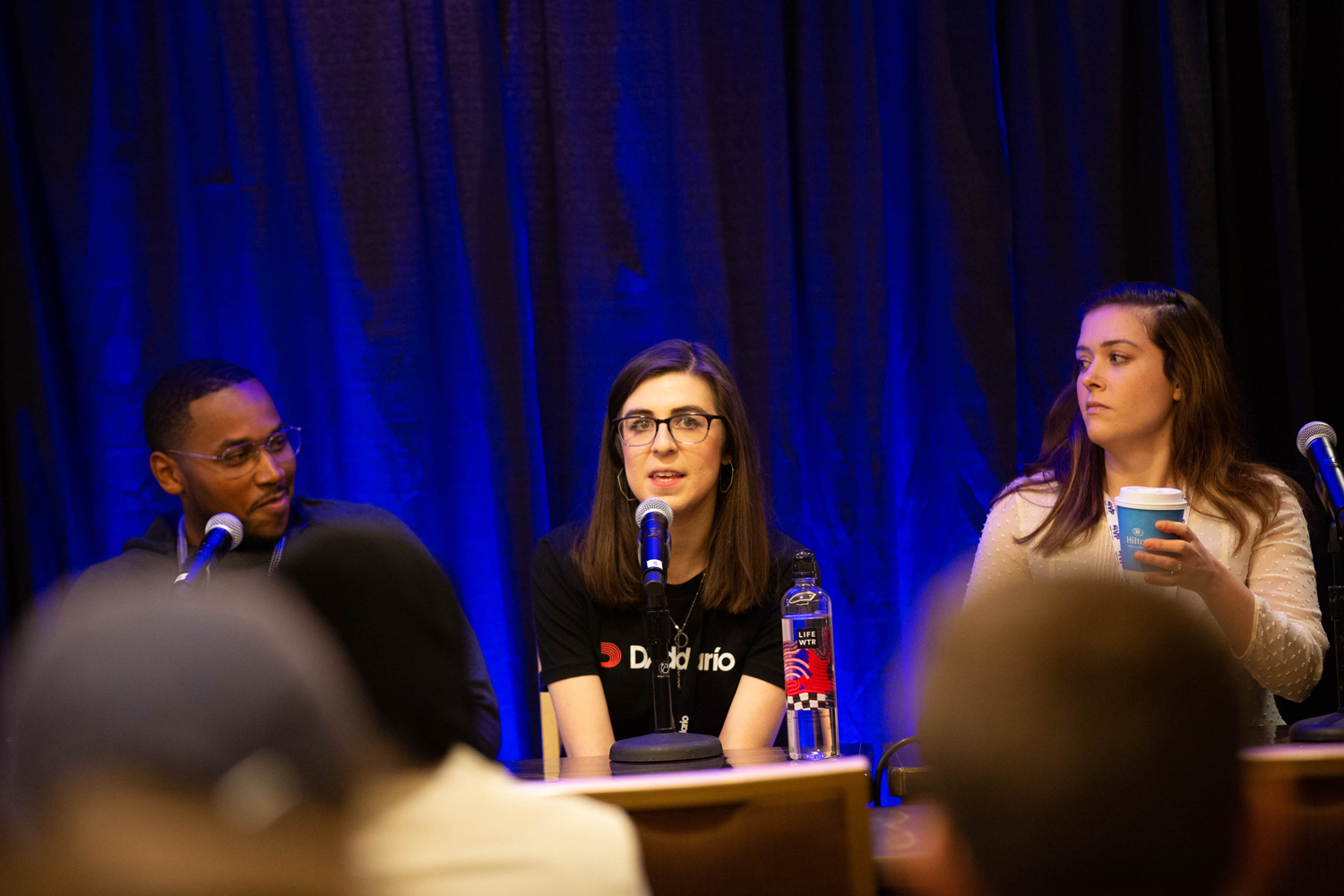 On Education
"Many of the education sessions discussed the steps one should take in their career, which was incredibly helpful. In college, you learn the skills that are involved in your field, but you don't take a 'Networking 101' or 'How to Get Your Career Started' class, but the GenNext sessions at the NAMM Show give you some insight into those areas." – Madison Booth, college music student and NAMM President Innovation Award recipient
On Finding Your Career
"There are a lot of things that you can do with a music degree. You have to market yourself. And then you have to keep marketing yourself!" – Dave Gerhart, Assistant Marketing Manager of Yamaha and NAMM GenNext speaker. As quoted in Violinist.com
"Be true to what feeds you as an individual and musician first, and then worry about a way to monetize it. As you do this, you will attract people and opportunities that match up with your ideals and you'll avoid burn-out." – Dr. Karali Hunter, as quoted in College Magazine
"The best value for students is the opportunity to combine academic discussion of the industry (internships, job trajectories, etc.) and direct contact with industry professionals in an environment that reflects the industry community." – Bill Pelto, Executive Director, The College Music Society