Wooten Woods: A Unique Blend of Nature and Music Education
Hosted by Mary Luehrsen, executive director of The NAMM Foundation.
This podcast is a 30-minute listen.
Subscribe to Talking Up Music Education
Where to subscribe: iTunes | Google Play | Stitcher | Spotify
About This Episode
Talking Up Music Education is a podcast from The NAMM Foundation that shares news and stories about music education. Episode 92-recorded LIVE at The 2020 NAMM Show-features Victor Wooten, a bass player and GRAMMY award-winning musician.
"People want to express themselves. People want to feel something," said Wooten. "You don't teach a kid how to paint by teaching them how to hold a brush. You let them paint. We don't celebrate the outcome; we celebrate their input."
In this episode Wooten talks about his Center for Music and Nature, dubbed "Wooten Woods," a retreat center for musicians and students outside of Nashville, Tennessee and the journey that every person can take to make music.
Soundbites
"Because nature's the key. Nature is the key." – Victor Wooten
"I was literally learning to speak English and music at the same time, and, more importantly, in the same way." – Victor Wooten
"We teach students that the note has to be right, and what I show them is that if the other things are right, the note can be whatever you want." – Victor Wooten
"As my mom would say, 'we have enough people leading the world down; we need more people leading the way up.'" – Victor Wooten
Tell us what you think about this episode! Email us at info@nammfoundation.com and follow/tweet at Mary Luehrsen on Twitter: @MaryLNAMM.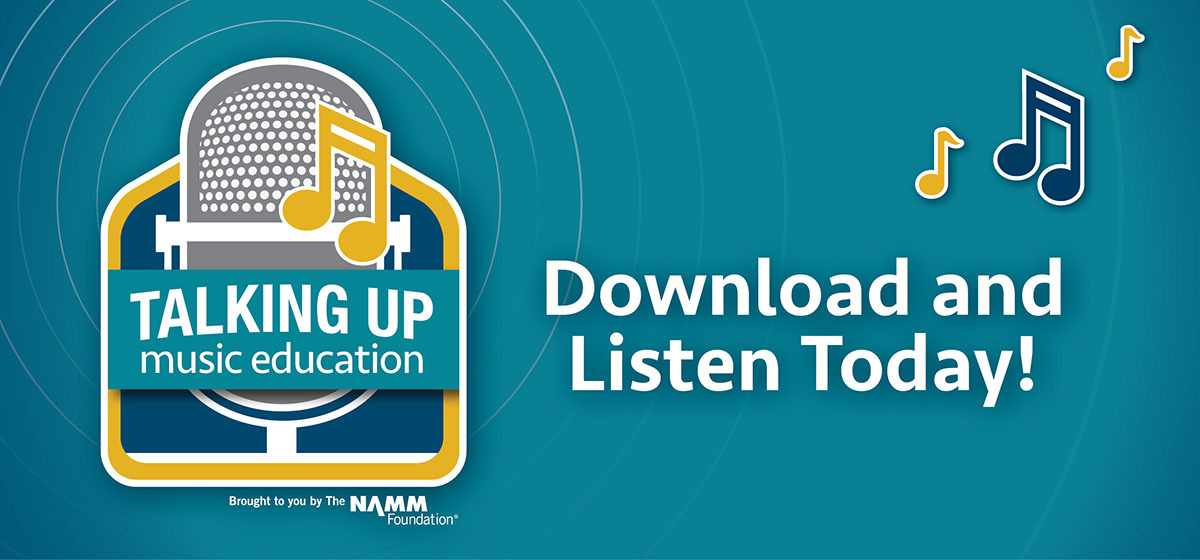 Talking Up Music Education is a podcast produced by The NAMM Foundation about music education. Host Mary Luehrsen chats with teachers, parents, students and community leaders who share stories about what they are doing to create music learning opportunities. Please download, share and subscribe to keep up with the stories that make a difference in music education advocacy.
Related Podcasts
Hunger to Do Something Amazing: From N.W.A. to Open Labs—Arabian Prince Gets Futuristic
The Intersection of Technology and Music with J. Dash
Related Stories
Talking Up Music Education Podcasts Recorded LIVE From The 2020 NAMM Show
Bassist Victor Wooten seeks to change the way we teach music