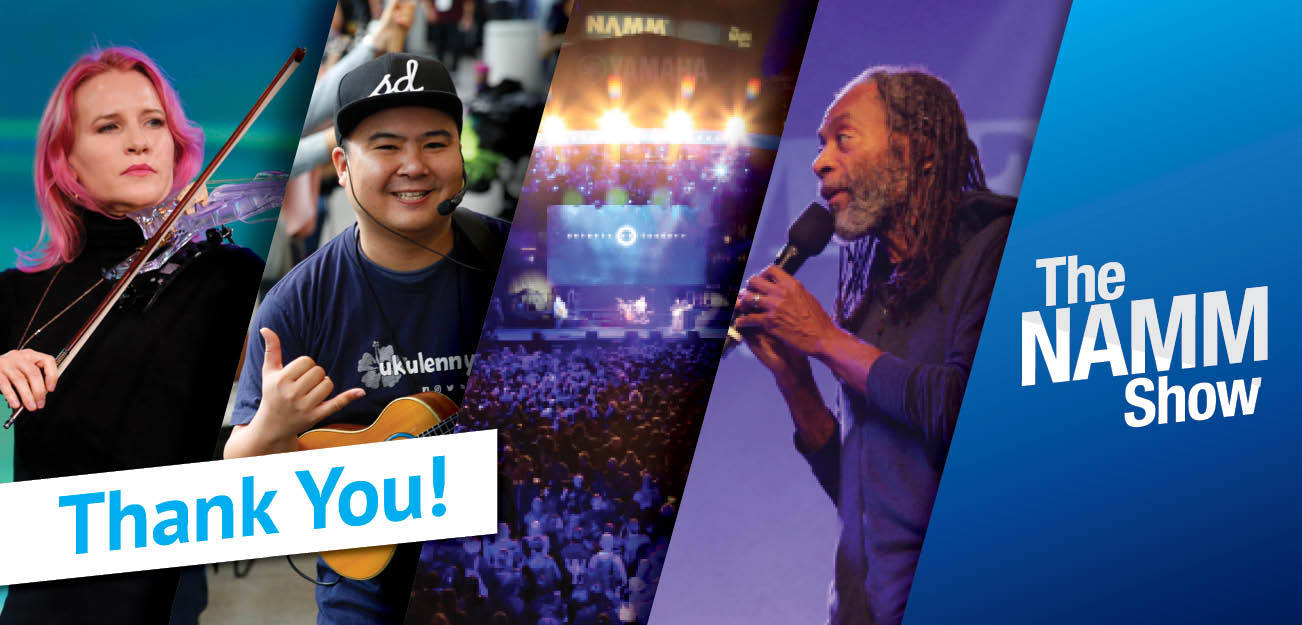 Thank you to the music educators, music college students and faculty, and nonprofit organizations who joined us at The 2020 NAMM Show! We hope your time at the show was informative, productive and inspiring. Revisit your time with us by viewing photo galleries and videos - see links below- and be sure to save the dates for the upcoming NAMM Shows.
Photo Galleries
NAMM Foundation Events (highlights)
NAMM Show Events (all)
Day of Service at Horace Mann Elementary School
The Grand Rally for Music Education
Ukulele Circle
All-industry Drum Circle
Video Coverage
Be Part of The NAMM Foundation: Mary Luehrsen's call-to-action during The Grand Rally
The Day of Service at Horace Mann Elementary School
The NAMM Show is about more than just great business for Jimmy Edwards—it's also his chance to champion music advocacy.
Ukulele Ensembles at The Grand Rally
ScatterTones - Grand Prize winners of A Cappella at NAMM- at The Grand Rally
Podcasts
Download and listen to Talking Up Music Education podcast episodes recorded LIVE from The NAMM Show here: Laura Escudé, Scott Page, ScatterTones, John Mlynczak and Victor Wooten. You can also watch several of the podcasts on Facebook and YouTube: Laura Escudé [FB | YT], Scott Page [FB | YT] and ScatterTones [FB | YT].
Articles
Bobby McFerrin and Gimme5, College A Cappella Singers and Student Ukulele Ensembles Bring Variety and Connection to the Grand Rally for Music Education
Talking Up Music Education Podcast Episodes Recorded LIVE From The 2020 NAMM Show
A Joyful Day of Music Making for Students and NAMM Member Volunteers at Horace Mann Elementary School
What Attendees Had to Say About GenNext at The 2020 NAMM Show
Organizations Convene at the Third Annual Nonprofit Management Institute to Share Best Practices at The 2020 NAMM Show
Music Educators Gather at The 2020 NAMM Show to Discover 'What's New' in Music Education
Community Music Making Sparks Joy in Southern California
The 35th Annual NAMM TEC Awards Winners
Jason Mraz receives Music for Life Award, credits the work of music teachers
Upcoming Shows