The Museum of Making Music's Pivot to Online Programming and Education
Hosted by Mary Luehrsen, executive director of The NAMM Foundation.
This podcast is a 34-minute listen.
Subscribe to Talking Up Music Education
Where to subscribe: iTunes | Google Play | Stitcher | Spotify
About This Episode
Talking Up Music Education is a podcast from The NAMM Foundation that shares news and stories about music education. This week we're highlighting episode 95, featuring the Museum of Making Music [MoMM].
In this episode, staff from the MoMM- Carolyn Grant and B.J. Morgan- reflect on the universal language of music, pivoting to online programming, and the museum's re-design for their 2021 reopening.
"It's a hard situation right now, but I think it has just made people realize how essential it is for us to communicate as human beings through music," said Grant. "Person-to-person interaction and sharing of the musical language [is important]."
Sound Bites
"Music is a connecting force. Making music and sharing that visceral experience is so important in bringing us together and continuing to help us move forward." – B.J. Morgan
"We have spent a lot of time and energy pivoting to this online format, and the other 50 percent, 60 percent of our time and energy is being focused on working on the complete renovation of the museum. We are in the middle of redesigning our museum, reorganizing the storyline, updating the technology, and increasing the interactivity of our museum, of the Museum of Making Music." – Carolyn Grant
"The ensemble experience for a while may look a little bit different, but the need to connect and the opportunity to connect will be stronger than ever." – Mary Luehrsen
About MoMM@Home: "We just have to keep connected, even if it isn't perfect. And I really applaud our staff for being willing to do that. And then, little by little, we'll have a little bit better presentation. It's been a fascinating and inspiring process to do it." – Carolyn Grant
Follow MoMM
Twitter
Facebook
Website
Tell us what you think about this episode! Email us at info@nammfoundation.com and follow/tweet at Mary Luehrsen on Twitter: @MaryLNAMM.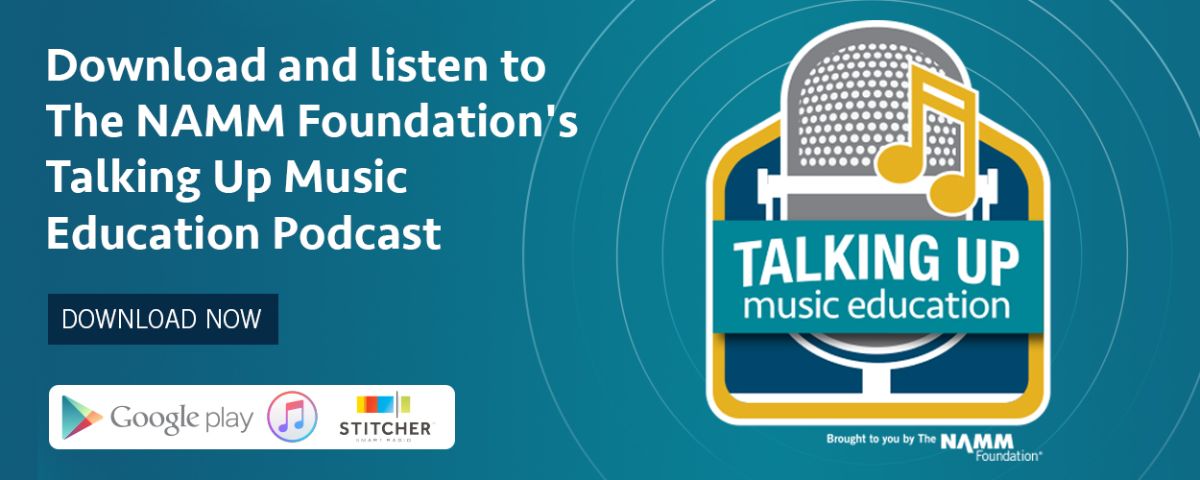 About Talking Up Music Education
Talking Up Music Education is a podcast produced by The NAMM Foundation about music education. Host Mary Luehrsen chats with teachers, parents, students and community leaders who share stories about what they are doing to create music learning opportunities. Please download, share and subscribe to keep up with the stories that make a difference in music education advocacy.
Related Podcasts
Eric Whitacre's Virtual Choir 6 Unites in a Time of Crisis and Isolation
Music Educator Anne Fennell on Co-creating Music with Independent Learners