Chilton Public Schools, a 2020 Best Communities for Music Education designee in Wisconsin, is currently following the guidelines of Colorado's performing arts aerosol study. We spoke with Aaron Juhl, Music Department Chair from CPS, to get his insight. Read the interview below.
Interview with Aaron Juhl

Q: Does Chilton Public Schools offer online or in-person learning? How was this decision made and how has it been received in your community?
AJ: This year, Chilton gave parents the option of full time in-person or full-time virtual learning. The decision was made with input from the community, staff, and administration. At times, some individual students, staff, or classrooms have had to attend virtually for a period of time due to an individual having COVID exposure outside of school.
The community has been very supportive. Many are thankful that we are doing our best to offer and maintain in-person learning to the greatest extent possible.
Of course, with such a wide variety of opinions out there, it is impossible to find complete consensus in any community or organization on the best approach. But required masking and distancing has thus far been very effective at preventing COVID spread within our buildings.
Q: How is Chilton Public Schools adapting to online learning? Please share challenges and any opportunities.
AJ: Our district's virtual learners have been using Google Meet to participate and interact in real-time with their in-person classmates. Although we feel much better equipped to meet the needs of virtual learners than we did last spring, there are still challenges to work through. It can be more challenging to build and maintain relationships with students and among classmates online than in person.
Sometimes technical difficulties and slow internet connections interrupt lessons. But since the pandemic has forced us to experiment with online options, we are quickly learning so much more about the technological tools that are available to us than we would have otherwise.
Q: What does a day in the life of a music student look like during this time?
AJ: We have tried to maintain as much consistency and structure in students' lives as possible by having students follow the same daily schedule virtually from home as they would if they were physically present at school. This means checking in with teachers and classmates during daily class meetings, and attempting to play along from home during rehearsals.
It is well known at this point that timing issues created by lag make rehearsing via videoconference impractical, but the students CAN play along from home with their microphones muted and avoid the lag issue. We have also made use of video sharing apps like Flipgrid for convenient submission of student recordings, as well as for providing feedback on those recordings. None of this fully replaces the experience of making music together, in person, without restrictions. While that fact is frustrating during the pandemic, I am ultimately thankful that in-person music making is an irreplaceable experience. We will be less likely to take that for granted when this is all over.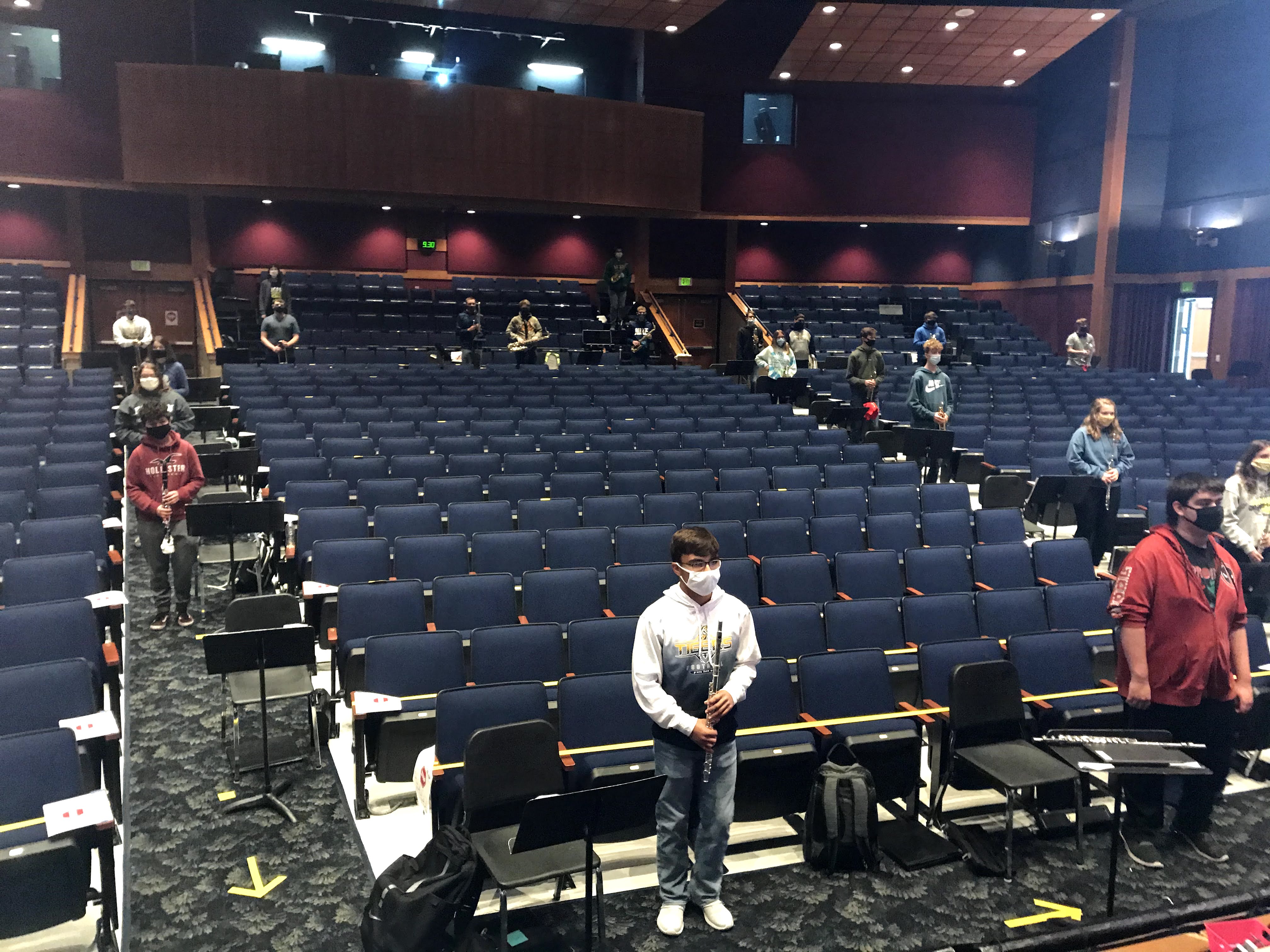 Q: What was it like implementing what was presented in the Colorado performing arts aerosol study?
AJ: I am so thankful for the researchers and all those who provided support to make the Colorado aerosol study possible. Without their work, we would only be making guesses about mitigation strategies based on anecdotal evidence, and might not even be teaching music this year at all.
The Colorado study provided us with guidelines and best practices that we could share with administrators as we planned how our classes would function. We made our own bell covers and restructured our classes to allow for 6+' distancing. In a typical year, our music ensemble classes have between 40-60 students in each, but due to distancing restrictions and classroom sizes, most classes have 20 or fewer this year.
While not ideal for performance preparation, this has actually been a blessing from a teaching standpoint. Fewer students in each class has resulted in greater progress for many students, especially students who might ordinarily struggle to keep up. I am seeing those students develop skills more quickly and, in turn, they feel proud of their accomplishments and are motivated to do more.