As the Director of Music Business at Western Illinois University, Courtney Blankenship has brought over a hundred college music students to The NAMM Show in the last decade. During our Q& A with her, she discusses the importance of bringing college music students to show, through the NAMM President's Innovation Award opportunity:
Q: Why do you think it's important to bring students to The NAMM Show?
I have been bringing students to The NAMM Show since 2009 and I've brought over 115 students to Anaheim, CA so far. This trip is always a highlight for my students and there are several reasons why I believe it's important to bring them to the show. As we are a school in the Midwest, this is an opportunity for students to travel to a place far from Illinois, where industry professionals meet and assemble, in a national music hub of activity.
Being in this energized environment is an opportunity to extend learning beyond the classroom, apply knowledge and skills in a meaningful way, and see the interconnections between the music products, music education, recording and live concert industries. When students attend the show, I see their view of the music world become forever expanded and their enthusiasm sparked in a way only a live experience could evoke.
Q: What advice you would give to students thinking of pursuing a career in music?
I would say that the opportunities are varied and there is a place for everyone. Finding your niche, and "your kind of people" is important and the only way to do that is to be open to opportunities. Opportunities within your classes, with mentors, alumni, within different experiences and events, and across work and internships, just to name a few.
Each experience builds upon the other. Even if you're not sure of the exact path you want to take, the next steps will unfold if you open yourself up to possibility, surround yourself with supportive people and take advantage of life-changing experiences like The NAMM Show.
Q: What is the importance of students networking at the show?
When instructors talk about networking and communication skills in a classroom setting, encouraging students to apply these skills can be done, but typically only on a smaller scale. When students are immersed in a concentrated gathering of thousands of professionals and brushing elbows with industry leaders they've heard about or read about, their networking skills are put to the test in a good way.
Embracing the opportunity of meeting and speaking with professionals who can assist them in securing internships and employment positions is priceless for students. And it's not just about meeting current and veteran leaders, but meeting other college students, who are their future peers in the industry. I also think it's important that my students see me modeling networking myself on a broader educational business platform like NAMM.
Q: Describe the value of students attending education sessions at the show.
The education sessions at the show are a beautiful, high-energy way to learn and to be exposed to all of the different educational tracks. GenNext sessions are geared more towards college students with sessions ranging from those on internships/careers, to hosting veteran industry panelists sharing wisdom nuggets like what they wish they would have known 20 years ago.
But it doesn't stop there because students have access to additional track sessions focused towards retailers, marketers, products buyers, and entrepreneurs. These sessions are open to 50, 250 and 4000+ attendees throughout the days of the show. Our students can pinpoint what they want to attend, mark it on The NAMM Show app and pack in a lot of learning over a short period of time!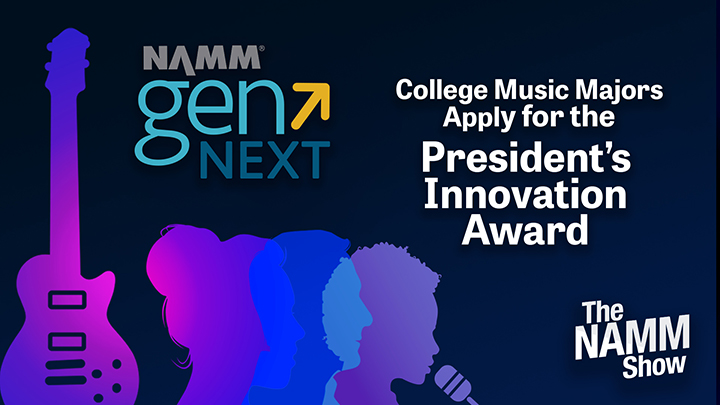 The NAMM President's Innovation Award honors college students who demonstrate excellence in the field of music and who are interested in pursuing a career in the music industry. Learn more.